Marketing is very essential for all types of businesses, from start-ups, small and medium-sized enterprises to large businesses. Thus, you need to spread the word about your products or services to reach a wider audience and have more leads that could convert into Sales. Once you make sales, you earn profits, and your business grows.
Today, there are so many businesses. As such, only the business that stays on top of marketing strategies stands a chance at the cut-through competition. Some of these trends of marketing include telemarketing. It's where your business initiates a call to its target customers to promote the business. The technology of telemarketing has advanced to ringless voicemail. It's where a pre-recorded voicemail is sent to the recipient without them having to pick up the phone. Technology like Drop Cowboy ringless voicemail is being used to personalize marketing without seeming like you're infringing on the space of your customers.
Other forms of marketing include SMS marketing, social media campaigns, and among others. This article will look at what SMS marketing and social media campaign is, as well as how to integrate SMS marketing into your social media campaign. Keep reading to learn more.
What Is SMS Marketing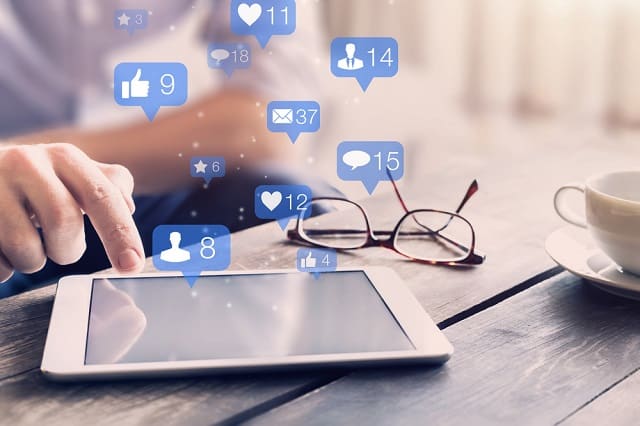 SMS marketing is the act of sending promotional text messages with the aim of marketing various products and services. These promotional messages mostly inform the target market about ongoing discounts and offers, appointment reminders, as well as updates on upcoming events.
SMS marketing is mainly used by businesses like travel agencies, eCommerce stores, service companies requiring appointments, and large companies with more than a hundred employees. However, not everyone receives these messages. Mostly, you use SMS marketing on people who have consented to receive promotional messages from your business.
What Is Social Media Campaign
A social media campaign is a marketing strategy using social media platforms to attain a business's goals. Business goals achieved through social media campaigns include attracting more website traffic, receiving customer feedback, increasing sales, and improving brand engagement. The most common social media platforms are Instagram, Facebook, Twitter, Pinterest, and TikTok.
After understanding these two marketing strategies, you can learn how to use both to improve your business.
Steps Used When Integrating SMS Marketing In Social Media Campaign
Here are the steps you can use as a guide when you want to add SMS marketing to your social media campaign:
First, Provide Social Media Offers In Exchange For SMS Opt-Ins
Having a social media campaign implies you already have some followers on social media platforms who are interested in the products or services you offer. Therefore, when you decide it's time to add SMS marketing, your followers are the best people to have as your first target. Since your followers are familiar with your business, they wouldn't mind being on your SMS list.
Unfortunately, not all your followers will agree to be on your business's SMS list. Some may think it's unnecessary since they can get the information they need from your social media pages. At this point, you can use social media to inform these followers about the offers you're providing in exchange for SMS opt-ins. Apart from convincing the said followers, these offers will also help attract a new audience of potential clients.
Organize Text-To-Win Competitions
Text-to-win contests require a keyword your target audience is expected to text to a short code. For instance, you can urge people to 'Text WINNER to 7294016' to stand a chance of winning various prizes. The prizes you offer depend on your business type. If your business is a tour and travel company, you can offer rewards such as staycations and vacation trips. On the other hand, if you sell various products, you can provide complimentary products or giveaways.
Moreover, there are practices that you can use for your win-to-text contests to be effective. Firstly, identify your target audience regarding gender, needs, age, interests, and many more. Secondly, have specific goals you want to achieve from conducting these contests. You may want to increase your brand awareness, improve engagement, or increase your followers. Lastly, have an auto-response that will inform the participants about any updates regarding the contest.
Have An Automated Reply System
When having test-to-win contests isn't the only time automated replies are helpful. Even in other events, customers like it when they get the help or information they want as soon as possible. For instance, if a client reaches out to inquire about your delivery fee charges, you can have an automated reply that welcomes them or appreciates them for contacting your company. This reply shows the customer that their request or inquiry has been delivered to the right business. Therefore, they expect to hear from you soon.
Besides the little welcoming or appreciative message, you can attach links that are part of your business. For instance, you can attach links to your latest product arrivals or updates with the hope they'll be interested and press on the links.
As much as customers appreciate being heard and noticed through your messages, this doesn't mean they'll appreciate receiving messages from your business every now and then. When integrating SMS marketing, it's good always to remember why you opted to do this. Try to achieve your goals or targets without coming off as too needy or pushy.
One way that can help you avoid spamming your customers has a messaging schedule. A messaging program will inform you when to send promotional or marketing messages. Any period not included in the plan can be used to focus on other things in your business. However, you can make exceptions when customers reach out to you in case of urgent issues and need a response as fast as possible.
Be In Touch With Your Target Market
Customers appreciate being involved in your business's growth. At times, informing them about the progress you're making, or you've made in your business makes them feel appreciated as you're on this journey with them. Therefore, as part of integrating SMS marketing into your social media campaign, you can send messages informing your target market about the updates or changes you're making in your business. For instance, if you're launching a new product, you can send SMS messages to inform possible clients about the latest products and attach links to the social media platforms they can use to buy the products.
Also, you can have two-way SMS marketing that promotes dialogues instead of monologues from your end. Dialogue conversations often help build healthy and long-term relationships with your target market. You can get returning customers from these relationships, which is a good thing in business.
Consider Getting An Auto Push
Doing the above steps may seem too much at times, and you may start doubting whether you'll manage. This doubt feeling may make you consider giving up on integrating SMS marketing with your social media campaign. Luckily, if you're in such a situation, you can work with an auto-push company to make your work easier. These companies handle SMS integration on your behalf and let you focus on other aspects of your business.
Benefits Of SMS Marketing
After understanding how you can integrate SMS marketing into your social media campaign, you may want to know how you'll benefit from SMS marketing. No need to struggle to look for this information as it has been provided below. Here are some advantages of using SMS marketing in your business:
When you have offers such as quick sales, it's best to use a communication channel that takes minimum time to deliver information to your target market. SMS has been proven to have a 97% read rate within fifteen minutes after the messages are delivered. Therefore, using SMS marketing will take a short time before your target market knows what's happening in your business. Also, it helps potential customers from missing out on offers they would be interested in. Further, 45% of SMS marketing has contributed to a triumphant return on investment (ROI).
It Can Be Used With Other Marketing Channels
SMS can be used as an independent marketing channel. However, combining it with different channels is better for achieving more. The good thing about SMS is that it works well with various channels, such as email and social media platforms. When used with other channels, SMS primarily informs customers to check new updates, remember their appointments, and take advantage of ongoing offers. With this information, your business gets more traffic on marketing channels, and sales increase, hence more profit.
It Helps You Understand Your Customers Better
Besides communicating with customers, you can also use SMS as a way that customers can use to give feedback about your products and services. One way of acquiring feedback is through surveys, whereby you ask questions such as your customers' preferences, how they can rate your products or services' quality, and many more.
From these questions, you'll understand what your customers prefer. Moreover, you can use this information to understand the various parts of your business that need improvement. As a result, you'll meet your customers' requirements and hence make them happy. As it's said, satisfied customers lead to a happy business.
It Only Requires A Smartphone Only
As of 2021, 85% of adults in the United States had smartphones. Do you know what this means? Using SMS marketing won't limit the people you reach since they already have the device needed. Besides SMS, these smartphones can also be used for social media campaigns. Therefore, your customers won't be disadvantaged when you integrate SMS marketing with your social media campaign.
However, to enjoy these benefits of SMS marketing, you need to abide by its best practices and rules.
Rules And Practices Of SMS Marketing
Sending SMS marketing to potential customers also follows the rules and practices in promoting positive and careful campaigns in all social media platforms. These include:
Ensure You Have The Consent Of The People You Send Messages To
Consent is vital in everything you do. And the lack of consent can be perceived as an intrusion of privacy which may land you in trouble. Therefore, before you add anyone's phone number to your messaging list, have their approval first.
Apart from their approval, provide your target audience with a way of opting out if they decide they no longer want to receive your messages. For instance, you can inform them that if they don't like to receive SMS messages, they can send the word 'STOP' to a specific code.
Be Mindful Of The Time You Send Messages
Similar to how you wouldn't want to be disturbed by work issues during your off hours, your clients wouldn't enjoy getting marketing and promotional messages every time. You may prefer resting or tending to your home duties when you're at home. The same applies to your target audience. Therefore, as much as you have goals to achieve, try to be considerate and respectful of their space and time.
Moreover, you may think that whoever you message has the choice of reading your messages at their convenient time. However, text messages aren't like emails or social media, which are checked a few times a day. People don't take long without opening the SMS messages they receive. As a matter of fact, some open their text messages immediately.
Always Add Your Business's Name In Your Messages
At times, your contacts may receive many promotional and marketing messages from various businesses. Therefore, if you don't have a way for customers can identify your messages, they may end up ignoring them. To avoid such instances, you can include your business name in your text messages to make it easy for your clients to know which notifications are yours.
Don't Forget To Add A Call-To-Action
Similar to other marketing messages, don't forget to remind your contacts to take some action after reading your messages. For instance, you may urge them to visit your social media pages, attend an upcoming event, or do anything you may like the people in your messaging list to do.
Summing It Up!
As stated in the introduction, business marketing helps your business in various ways. It increases your sales, increases brand awareness, builds a good reputation, and many more. However, it would be best to use marketing channels to your advantage to achieve these benefits. You can use a single channel or combine two that can work together. A typical combination currently being used is SMS marketing and social media campaigns. This article provides helpful information about integrating SMS marketing and social media campaigns. Therefore, if you're unsure how to use this combination in your business marketing, you can use this article as a guide.