Due to advances in technology, online education is now an aspect of what most institutions offer worldwide. From language learning, PhDs, certificates, to short courses, online learning is becoming easier by the day. It offers all the benefits of attending the University of your dream coupled with the fact that you can learn at your convenience.
Almost every course of study has an online study version. They also come with flexible course schedules to suit the lifestyle of each student. You may want to read this article to see the perks of online education.
More people are turning towards the direction of online studies as a feasible alternative to learning on campus. This is because they can study remotely in a university outside their home country. It could even be that your local university does not offer the course or there is a school abroad you would like to attend.
Therefore, if you plan to pursue a master's in criminal justice, and your job keeps you busy, you can opt for an online version. The course has a lot of advantages, which you will learn about in this article.
What's a Master's in Criminal Justice Degree?
This master's degree program provides extensive insight into the processes and organizational components of the criminal judiciary system. It covers criminal justice and crime from the perspective of different disciplines. It also provides insight from areas like criminal justice, law, sociology, and public administration.
Additionally, the students will learn to assess information derived from research and how it applies in real-life situations. The programs also cover the systemic, reintegration, and ethical sections of the judiciary. And the research is designed based on qualitative and quantitative analyses.
Choosing to get a master's in criminal justice (MCJ) online involves the following courses:
Terrorism
Policy analysis
Law enforcement
Judicial system
Correctional systems
Applications of leadership principles in organizations
Social control theories
Research methods
Juvenile justice
Statistics in criminal justice
Ethics in criminal justice
Administration in criminal justice
Analysis of criminal behavior
Pursuing an online master's in criminal justice degree involves an internship, completing research, and a thesis. The students can choose to focus on specialized courses in criminal justice. The online program offers specialization in forensics, homeland security, strategic management, behavior analysis, terrorism, security management, enforcement of federal law, and judicial management.
The Benefits of Studying Master's in Criminal Justice Online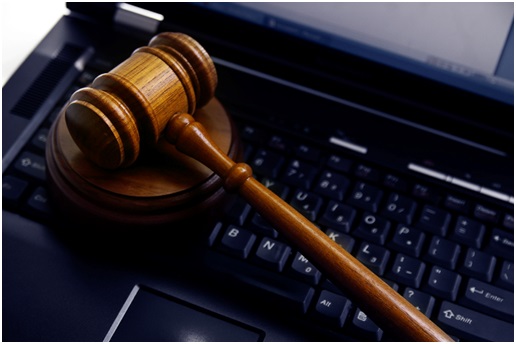 Obtaining a Bachelor's degree in criminal justice allows you to pursue various professional paths and positions. They include emergency management director, correctional treatment specialist, forensic science technician, and probation officer. Some people may feel that this degree can provide the platform for enjoying a successful career. However, others prefer to advance so they can move higher in the profession.
If you have a master's degree, it qualifies you for senior-level and managerial roles. This bestows more responsibilities on you, including an increase in your earning potential. Also, many public and private security organizations and government agencies are constantly looking for people with advanced degrees to fill high-ranking positions.
Furthermore, some people who seek degrees may consider studying for a doctorate. However, the right candidates for such programs usually have a vivid idea of the type of job they plan to do. The degree prepares learners for advanced roles in research and postsecondary teaching offers.
Tips for Choosing an Online Degree Program in Criminal Justice
Since there are many online programs on MCJ, prospective students need to take special care when looking for the right school and course. Public universities owned by states generally offer affordable options, which allows you to save more money without throwing away quality. Therefore, degree-seekers need to consider certain factors when deciding which school to apply to.
It is important to measure the reality of the programs to know if it is what you are expecting. If the programs do not meet your expectations, keep researching till you find a suitable one. Below are some things to check before applying to any school.
1. Program Cost
College expenses add up really fast except you secure fellowship funding, grants, or significant scholarships. Therefore, it is important to find a program that has low tuition and/or offers ample aid.
2. Transfer Policies
Sometimes, students may choose a school that does not fit what they want, even after all the research. As a result, consider a program that has transfer-friendly guidelines. This will ensure your credits are transferred to the new school.
3. School Type and Size
There are factors that may affect the size of the class. Generally, private schools offer smaller teacher-to-student ratios compared to state or public schools. However, some in-state schools place a cap on the class size to maintain an intimate learning environment.
4. Duration of Program
This will vary depending on whether you enroll in a full-time, accelerated, or part-time degree. Accelerated programs allow students to complete a degree within one year instead of the usual 2 years. Part-time programs can last for about 3 to 4 years.
5. Work, Thesis, and Fellowship Requirements
Most programs require a culminating project towards the period of completion. This project could be a thesis that was well-researched, a professionally written paper, or just a project that can demonstrate the learning experience. You may want to check out https://top5onlinecolleges.org/a-step-by-step-guide-to-choosing-an-online-degree/ to get more tips for choosing an online degree.
Conclusion
Pursuing an advanced degree is a critical aspect of one's career. This is because if you are towing the career path, you must take further studies so you can get promoted. A master's in criminal justice opens doors of opportunities that you may not get if you are satisfied with just a Bachelor's degree.