Google Flights – Google's Flight Searching Tool
Booking the appropriate flight could be a very confusing affair and booking of cheap flights is uncertain since they based on the time of the flight and its destination. However with a new feature from Google's flight searching tool, this issue has been resolved in checking the best time to book flights.  The search engine- Google Flights is said to provide information when the price of a flight is said to increase or enables the customer to track flights through email and be aware of how they tend to fluctuate.  The service is the latest feature of Google Flights, their own price comparison tools of the search engine which competes with Skyscanner and Kayak.
While opting for a particular route, the search result could show a notification stating when prices may rise depending on historical flight data.  On tapping the notification would provide details regarding how likely the price rise is and by how much it would probably be.
Choosing on a particular flight together with the data would probably be more precise informing the person in how many hours the fare would possibly increase.  For instant, above the button to go ahead, there could be a notification stating `£71 increase in fare is possible in eight hours'.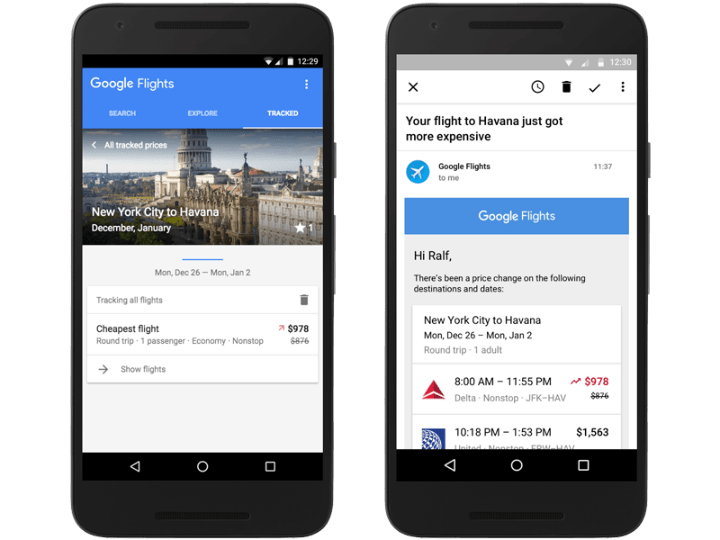 Beneficial in Monitoring Rise in Price
The Google Flights service is much more beneficial in monitoring the rise in price while purchasing tickets in the weeks during the flights.  However if one is looking at tickets some months in advance, they could also set up email notifications which could alert them whenever the prices are like to increase or when they essentially increase or decrease.
This feature has placed Google in opposition with Hopper which is a mobile app showing users the best time of purchasing a ticket. Hopper has provided one of the improved applications in assisting travellers in finding out when to fly.
It seems to be an easy-to-use interface enabling the user in locating economical travel flights and dates in various ways comprising of tracing historical pricing data, price drops as well as by providing suggestions on how to curtail the cost.
The company had mentioned that the feature would be made available in the forthcoming weeks. The company had raised $16 million besides extra funding to expand further towards international travel.
Mobile Optimized
Although Hopper is said to be a mobile-only service, Google Flights had started with desktop application.  Presently Google states that it is better mobile optimized since it can be tracked and tends to save flights on the phone.
It now comprises of an integrated `Explore' tab which enables you to find out where one would prefer to visit. For example if one intends to go to some place in the Caribbean, it would narrow down to those destinations with direct flights.
Google Flights has also been adding more features to hotel search focused in assisting users in locating the best deal, together with the changes to the flight search engine.  Earlier, Google would make pricing which would be lower than the historical rates or if the discounts had been made available.
However now one can toggle on `deals' feature to see the listings.  Moreover, Google mentioned that the service would also alert the user to savings which are available to loyalty members on the website of the hotel.