Graphene Light Bulb – First Commercial viable Consumer Product
A light bulb made with graphene as stated by its UK developers is set to make an appearance later this year and will probably be the first commercial viable consumer product. The Graphene light bulb is said to contain filament shaped LED coated in super strong carbon.
With regards to the Graphene light bulb , British researchers claim that will should last longer and would be cheaper to make than the conventional LEDS as well as reduce the use of energy by ten percent. Its appearance Graphene light bulb is like a traditional light bulb but the graphene covering permits it to conduct electricity and heat more efficiently to enable improved performance which means that users will not have to change their bulbs regularly.
The said Graphene light bulb was designed at the University of Manchester where graphene was discovered and will be developed by Graphene Lighting PLC which is a UK registered company that is a spin-out from the university.
As informed to BBC, by Deputy Vice-Chancellor at the University, Professor Colin Bailey, `the graphene light bulb will use less energy which is expected to last longer. The manufacturing cost would be lower and it uses more and more sustainable components'.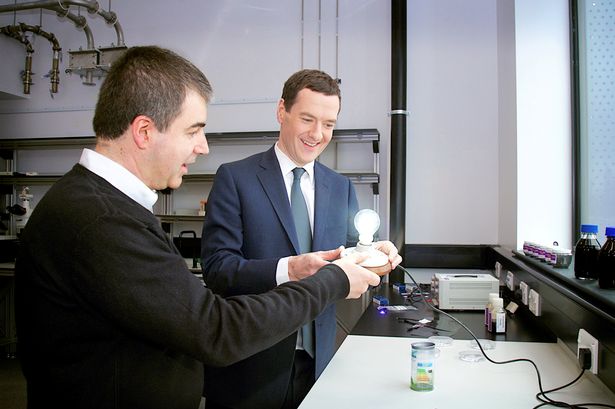 Cost Less than LED Bulbs
The university also mentioned in a statement that it expected the graphene light bulb to be on the shelves in a few months at competitive cost. This indicates that the Graphene light bulb could cost less than the LED bulbs that are priced at about £15.
Besides this, the Graphene light bulb is presumed to be the first commercial application of graphene to appear from the UK's £61 million National Graphene Institute – NGI that was opened in Manchester recently by the Chancellor, George Osborne. He states that he hopes the UK can see off competition from China and South Korea to become a centre of excellence in graphene technology.
A micro thin layer of graphene is much stronger than steel and has been dubbed as a `wonder material' due to its potential uses. This wonder material was isolated by university researchers Sir Kostya Novoselov and Sir Andre Geim, the two Russian born scientists, which earned them the Nobel Prize for Physics and knighthood in the year 2010.
The government has financed about £38 million in the National Graphene Institute through the Engineering and Physical Sciences Research Council with an addition of £23m which has been provided by the European Regional Development Fund.
Utilized for Nano-technologies
Over 200 researchers are now studying the material at Manchester to identifying its commercial capabilities. Though this product is difficult to develop in huge quantities, it could probably lead to lighter as well as more efficient nature of transport like planes, someday.
It could also lead to thinner, lighter, tougher as well as proficient laptops, smartphones and wearable like the smart-watches which may be charged quicker than the prevailing ones. Medical researchers overenthusiastic since graphene can be utilised in making nano-technologies that could someday provide improved cancer treatments and a filter system for safe drinking water from salt water.
The focus now is to develop other commercial and practical uses which include lighter though more tough car and aircraft frames and false teeth. Besides this the material has also been integrated into products which include tennis rackets as well as skis.