Megacorporations like Microsoft and Apple make products that are even harder to open by users, but there is a company that is the exception to the rule.  This is HP, which has shown a much more open mind to that right to repair. It has confirmed it recently with the launch of the HP EliteBook 800 G5, a family of laptops that has taken a surprising (in these times) 10 out of 10 in the index of repairability of iFixit.
The business laptop that many of us would like to have
The HP EliteBook 800 G5 was introduced yesterday, and they did it in various sizes and configurations.  We have models of 13'3, 14 and 15.6 inches with screens with different resolutions, different integrated graphics (up to Radeon RX540), Thunderbolt 3 port, up to 32 GB of RAM and up to 1 TB of SSD storage.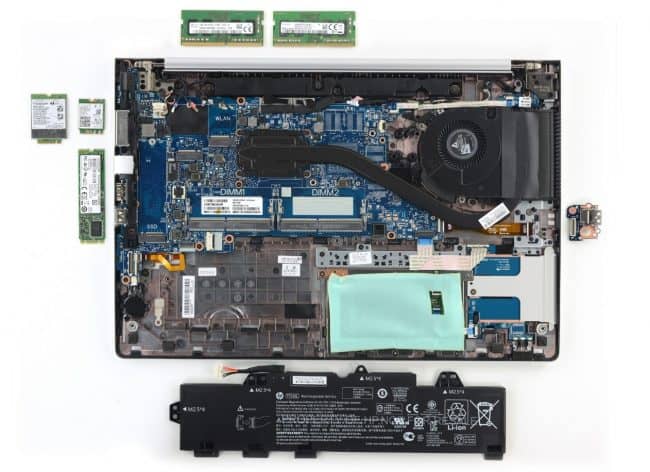 And not only that: they even have the HP Sure View system that allows covering the webcam, an increasingly fashionable element that helps protect our privacy.  Maybe these teams are more oriented to business environments do not have an ultra-thin or especially remarkable design and are not prepared for intensive gaming sessions, but all that is supplied with a really fantastic hardware offer (the inclusion of an RJ45 port is almost a miracle in these times) that adds to another equally striking section: they make it very easy for them to "put their hands".
In fact, what the HP EliteBook 800 G5 offers is not entirely new: other business (and non-business) teams from different manufacturers also facilitate these tasks. HP itself has been adopting that philosophy in this family for some time, but even the convertible tablet Elite X2 surprises by that facet. Several families such as Dell Latitude or Lenovo ThinkPad also usually have this capability, and this HP EliteBook 800 G5 is the latest example of a stream that we expect to go further.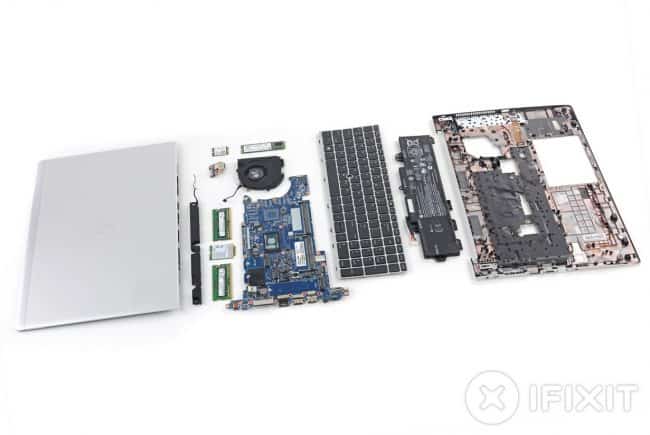 iFixit described this as "Friend of the user" and its managers dedicated several praises to a manufacturer that has done everything well at the time of offering users the ability to replace parts or repair them.  That is noticeable from the first moment: the lower cover makes use of simple Phillips screws that also remain "captive" so that they do not get lost when closing the equipment and ensuring that closure.
Once the lid is open, the device shows its interior enviously: the battery, the screen, the USB ports, the RAM memory, the SSD or the WiFi card are easily accessible and replaceable. Neither glues, nor solders: HP almost begs you to shout and put at your whim.
HP not only does not prevent it: it gives you instructions to repair the equipment
The thing does not stop there: HP not only does not prevent those repairs and replacements of components, but it offers precise instructions to do it: the screws of this HP EliteBook 800 G5 are labeled on the motherboard so you do not make mistakes, the identified cables and even the connection slots of the different peripherals show what they are without shyness.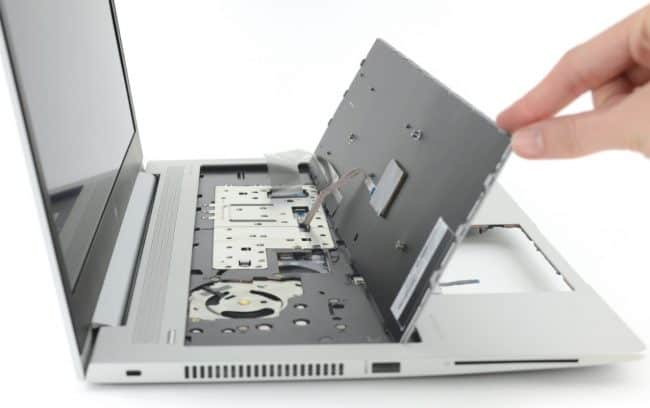 As they say in iFixit, "this manufacturer wants you to update and maintain this equipment as long as possible physically." There are some shadows, such as the fact that you have to remove the keyboard before you can remove the fan and the motherboard, but HP does not hide how to do it: there are detailed instructions to carry out the process on the HP support website.
Although there are some other external ports welded, there is still a USB port that we can replace, as is the screen, the hinges or the cable that connects that screen with the base of the computer. Even with some small welded components and some confusion with the cables, these experts in repairing what is irreparable are clear: HP is an amazing exception to the usual rule.