The E-Bike SmaCircle S1 should be folded in only a few steps. It fits easily into a backpack. The futuristic seat wheel should always be there. There are many innovations in the field of moving around today: car manufacturers are researching autonomous electric cars, the first car-airplane hybrids are developed, and start-ups in particular bring more mature hoverboard or skateboard models onto the market. Smacircle S1 also hits the notch of the innovative means of transport: With its collapsible design, the e-bike opens up completely new possibilities.
Visually, the SmaCircle S1 has little in common with a traditional bicycle or other e-bikes. Its carbon fiber frame makes it appear like a pair of spectacles on wheels. But this is exactly what the small wheel should make so clever, at least its Chinese fellow inventor Shanggui Wu. The small seat roller can always be carried along while an e-wheel is always pushed alongside or left at home or at the railway station. The vehicle, which is only seven kilos in weight, can be folded into a 30 cm wide and 40 cm high package with a click and fold mechanism in just a few steps.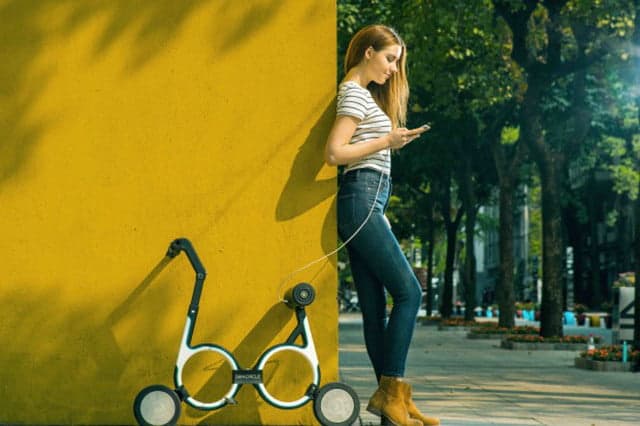 The Smacircle S1 is a very high-quality product, considering the materials and components used. The carbon fiber is used for the frame, a material which offers considerable advantages in terms of weight and stability compared to normal metal; The drive is a brushless DC motor, which accelerates the modern vehicle up to 20 km / h. The whole comes in a quite futuristic design, which gives the Smacircle S1 a particularly fresh look.
So the Smacircle fits in almost every backpack or a large carrying bag. On the other hand, it is a full-fledged, albeit fragile mini-scooter, which can be loaded with up to 100 kilograms. The SmaCircle is accelerated and braked not with pedals, but with sliders on the right and left handle. The 240-watt DC motor brings it to a maximum speed of 20 kilometers per hour. Exactly as long and far-reaching also a charge, the battery pack installed in the cylindrical seat. This makes it a means of transport to bridge short distances but not for long trips or challenging terrain.
The Smacircle is operated completely via the smartphone, which can also be loaded directly at the wheel. With the appropriate app, the battery level, the current speed are controlled and the wheel is deactivated and locked. For this purpose, stretch data and various statistics can be stored.
On the crowdfunding platform Indiegogo the developers of Smacircle from Shenzhen asked for 30,000 US dollar start-up funding. They have so far received more than 155,000 US dollars. A fully functioning prototype is already ready. Production and delivery will begin in October. The price for Crowdfunding supporters is 649 US dollars. In the store, the Smacircle is later to stand for 1500 US dollars.