Marketplace – Destination for User – Buy/Sell Products
According to ABC News, Facebook has recently announced the launch of Marketplace which is a feature within its app on Android and iPhone smartphone enabling users to purchase and sell product with others.Marketplace is a destination for users to find and make offer for products directly via Facebook's mobile app.
A button for Marketplace will now replace the Messenger icon towards the bottom centre of the app.   Users may have come across a post from a friend or stranger asking if one would desire to purchase a product or sell it, on a Facebook neighbourhood group page.
As per Facebook, almost a fourth of all users on the platform or around 450 million of the 1.7 billion users tend to visit buy and sell groups each month.  This rumoured feature which had been going on for some time is said to be a challenge to sites such as eBay and Craigslist and would be constructed on same assembly functionality in the social network.
The Marketplace feature in the forthcoming days would start appearing to individual of 18 years and above, towards the bottom row of icons within the Facebook app.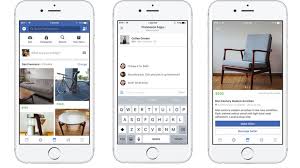 Facebook not Facilitating Payment/Delivery
According to the social media company, at the start it would be restricted to users in the United States, Australia, United Kingdom and New Zealand.
As per a forthcoming blog post attained by ABC News, on opening the marketplace, users would view items that have been listed nearby though would be capable of narrowing down by category, price or location.
When the required product is located, user could then link with the seller through private messaging and work out the process of payment and delivery, Facebook has informed that it would not handle the details of the same, stating that the company would not be facilitating the payment or delivery of items and will not take a cut from any of the transactions.
According to the company, selling of a product would be up-front and users can take an image of the product for sale, write a short description with the verification of the location.
The latest mobile app feature is said to be built on Sale Groups, a feature which has been on the website from February 2015. The company has mentioned that Marketplace would be rolled out in the other countries together with the desktop website in the forthcoming months.
An Attempt to Progress Further in E-commerce
Facebook had stated last year that it was testing many ad features which enabled users to shop directly via its app, in an attempt to progress further in e-commerce.
Facebook's director of product management, Mary Ku had mentioned in a blog post that in order to assist people make more of these connections, the Marketplace had been introduced, a convenient destination to discover, buy and sell products with people within the community.
She further added that the Marketplace tends to make it easy to locate new things one would love and find a new home for the things one would be ready to part with and that they would continue to build new possibilities and features in making this the best experience for people.