To expand the scope of business interaction and simultaneously engaging IT proficiency to use, some powerful tech developers have designed this system called Google Appmaker which is a low-code development.
Google has announced the birth of a low-code development cloud project called Appmaker, which will be spread within the entire net of Google G-suite. Still at a beta stage, this app is made available to testers and developers to understand the rate of proficiency and the ease of use with which they can create usable apps from existing set of templates.
To be released well later into the mid 2017, this app aims to make IT involvement quite effortless as a wide string of people; say students, businessmen, software developers, analysts etc can utilize it hassle free and suit their needs for the smallest of assemblage requirements.
Low-code development is an attempt to steer clear of the slower constraints of hand coding. This low-code tool is designed to provide quick produce depending on the necessity to deliver according to  urgency.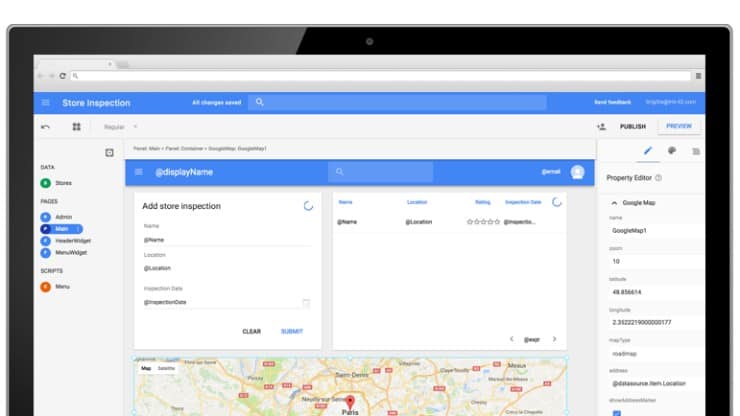 This can be exceptionally handy in business transactions and consumer interaction where it will be easy to modify these apps as per market trends. As a result even general  employees can use this app for maintaining business which will lead to greater efficiency in handling technology and an app boom that may benefit them in the long term usage.
Google is ready to lend the staple Google apps like Gmail, Drive and Docs to be used for Appmaker. The low-code technology will be using a combination of easily usable templates, drag and drop facility and visualization templates, it also has a underlying system of integrated development environment using HTML, Javascripts which is a provision left for developers to work on to modify the apps.
Google has stepped into the market which already has companies like Mircrosoft, Oracle; they have been using these low code development platforms to expand their businesses, Salesforce being one of the most experienced names. Google plans to create apps through Appmaker and move it to the G-suite where it may be made freely available and can be directly accessed. This is modelled after Salesforce's Lightning Builder relationship, which used low-code tools for Customer Relationship Managements and links the same with clouds.
Alongside  Appmaker, Google plans to expand the mesh of work ecosystem that will be planted in G-suite. "Recommended for G-suite" , having launched in 2015 with a couple of associates, is one such example of the greater project in mind. Keeping this two aside, seven more new partner inclusions have been made as per recent reports by the Alphabet.
Elissa Murphy of Google has stated that Appmaker has been used to create apps and deploy data successfully over the course of past few months. In the upcoming months, it will await more feedback from partner analytics firms. As of now, Google holds all the reins of Appmaker but it intends to give administrators and creators of apps total control once the technology rolls out.