The market for action cameras began with GoPro and although later came more affordable options and different models for different needs, remains the brand that most bet for it. One more year, a further renovation of the GoPro Hero6 Black, its quintessential camera now reaches version 6 and in addition to doubling the frames per second in 4K resolution, adds other improvements.
The new GoPro HERO6 Black maintains the design of the previous generation but improves in the interior, both in camera and in power. Video stabilization, voice control, noise reduction or water resistance, of course, are features that come included.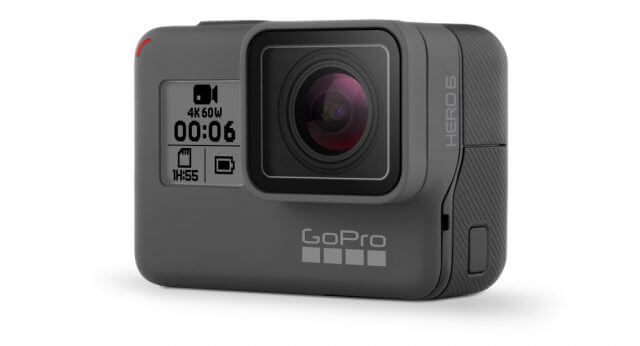 The new GoPro Hero6 Black comes with a new processor called GP1 that allows shooting in Ultra HD resolution from 4K to 60fps and superlative camera at 240fps with 1080p quality in Full HD and that also improves in other respects with respect to Hero5 Black, like video stabilization, noise reduction but maintaining the format and main features of the previous model, such as voice control water resistance up to 10 meters, GPS, among others.
Another advantage that incorporates GoPro Hero6 Black is the WiFi connection over 5GHz and maintains the Bluetooth, which are connected simultaneously to our smartphone, either iOS or Android. The purpose is to use the WiFi to transfer photos and video quickly, while the Bluetooth keeps the connection at all times and saves energy in the camera.
One of the features found in GoPro Hero6 Black that has worked intensely for this new GoPro Hero6 Black has been the software. GoPro Hero6 Black users like to live and record the experiences they have, but not so much edit and create the final videos, which is usually a more cumbersome process. To do this GoPro Hero6 Black offers its users a proprietary software called QuikStories that allows to facilitate and automate the process.
QuikStories automatically collects videos from the GoPro Hero6 Black and using the smartphone app generates a montage by adding effects, titles, music or other elements. The user will receive a notification directly warning you that there is a new video ready to share on social networks.