Rarely has the nature of mobility faced such radical change as in those years. New technologies, visionary concepts, the transformation of urban structures and society itself as we move through the world. Sharing Economy, E-Mobility and Automated Driving: Much is already a reality and much more is possible. The Mobility Quotient loaded! Around 400 experts, thought leaders and pioneers have come together in Ingolstadt to ask questions about the future of mobility and to find answers. The two-day conference showed that mobility quotient can and does mean more than movement through space. Namely as digital freedom, social networking and the courage to perhaps unimaginable. Apple co-founder Steve Wozniak notes as a keynote speaker that "artificial intelligence will make our lives much easier". While the human brain is "very powerful," artificial minds could provide solutions to problems we despair of.
"Every person in the world should have free access to human knowledge," claimed Wikipedia founder Jimmy Wales, whose project Wikitribune should soon enable transparent journalism. The smart city and mobility quotient researcher Carlo Ratti, in turn, drew a future in which autonomous boats are revolutionizing the flow of traffic in cities like Amsterdam. Dirk Ahlborn, CEO of Hyperloop Transportation Technologies, outlined his vision of supersonic trains and vacuum tubes designed to reduce travel time between major cities from hours to minutes. These are witty ideas that the speakers gave away.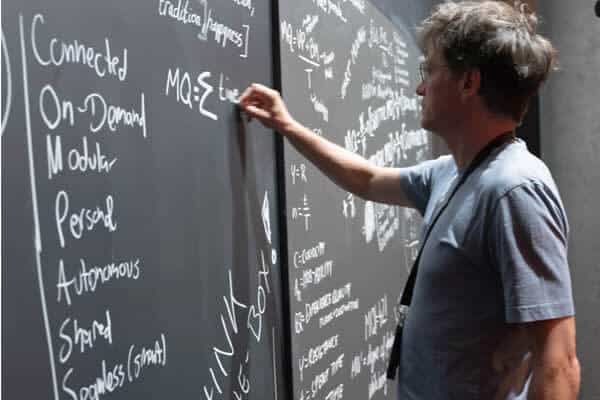 In twelve professionally structured workspaces, the conference participants were able to openly and critically debate with Audi experts about future technologies and their implications for our lives. "We have to extend our expertise to new areas," said Audi expert Sebastian Falk. "For this, we need impulses and knowledge from outside." Topics discussed included autonomous and swarm-organizing vehicles, smart on-board assistants, emission-free propulsion concepts and virtual reality. If you wanted, you could also immerse yourself in virtual reality with VR glasses right on the spot.
What was not mentioned in full, the participants wrote down on the mobility quotient! They left notes, suggestions, and questions. But the goal of finding a formula for the mobility quotient of organizations and individuals – the "mobility quotient" – has also brought initiators and visitors closer together: it must combine spatial, temporal and sustainable mobility quotient as well as social mobility. For Steve Wozniak, the mobility quotient is therefore defined as one: "individual freedom".