Smart Bandages with Stretchable Hydrogels – Properties of Human Tissue
Researchers at MIT, who have been developing stretchable hydrogels which tend to share several of the identical properties as that of human tissue, have informed that electronics wearable will now transform the way doctors tend to diagnose as well as treat patients. Some of the smart bandages are inserted with medicine in order to treat wounds, but the researchers have come with sophisticated way for the future of chronic wound care, the smart bandages.
According to an associate professor of mechanical engineering at the Massachusetts Institute of Technology – MIT, Xuanhe Zhao, `hydrogel is a polymer network infiltrated with water and though it is only 5 to 10% polymer, this network is very important. Reuter's Ben Gruber reports that `by incorporating sensors and electronics into a gel like stretchable material which mimics human tissue, researchers hope to develop new biomedical tools to monitor and heal the body'. It is said that the polymer network which Zhao together with his colleagues have been developing, make up a microscopic scaffold which provides bio-based hydrogels having special properties unlike synthetic hydrogels. It seems to be extremely stretchable and can easily abide to the surface.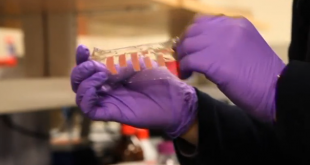 Smart Bandages Designed to Suit Human Body – Inside/Outside
Zhao states that Smart Bandages is specially designed to be well-suited with the human body both inside as well as outside. This could probably give rise to a new class of biomedical devices. Zhao has further added that they had `embed electronic devices like sensor, such as various drug delivery devices in this matrix in order to achieve what is called the smart applications'. These applications could change an ordinary band-aid into a tool to actively monitor as well as heal wounds independently. Zhao has informed that once the sensor tends to sense an abnormal increase in temperature, for instance, it would send a command. Thereafter the controlled drug delivery system would deliver a precise drug to the exact location.The researchers are in the process of fine tuning the properties and functions of their hydrogels and hope that healing would soon take place in everything from scratch to an ulcer which would be as simple as putting on a band-aid.
Implanted Biocompatible Glucose Sensors
Researchers are bringing together advances in biomaterials, sensors, tissue engineering, microsystems technology and microelectronics in creating smart bandages for wounds which would need anon-going care, like burns, bed sores, and diabetic ulcers etc. The material had been designed to be implanted with medically useful electronics like conductive wire, LED lights, semiconductor chips and temperature sensors as per a study published online in December in the journal Advanced Materials. Electronics which are coated in hydrogel can be placed not only on the surface of the skin but inside the body also, like implanted biocompatible glucose sensors or soft yielding neural probes, as mentioned by the researchers.
The latest invention known as the flexible bioelectronics would do much more than delivering medicine and will be capable of monitoring vital signs of the healing process like oxygen levels as well as temperature, making adjustment whenever needed and inform the health professional who will be off-site. Hydrogel the new material is being tested by the team in order to fulfil the critical need for the device to be flexible which would cover a wound with the precise amount of stretch that would be comfortable as well as aid in the healing process of the wound.