The digitization of our everyday items has long been on the rise and now it hits the wallet. The talk is of Volterman Smart Wallet, a wallet that promises much. Through the achievements of modern technology, the developers try to expand the wallet to include some multifunctional features and even to protect it from theft. The Volterman Smart Wallet makes a pretty good figure.
In the production of gadgets for everyday use, it is always a question of how practical the final result is. Developers could easily have a Powerbank, a GPS tracker, an internet stick and from me from a toaster to stick together, the question is, do people carry such an extra things also with themselves? It is much more purposeful to retrofit existing objects without which we do not leave.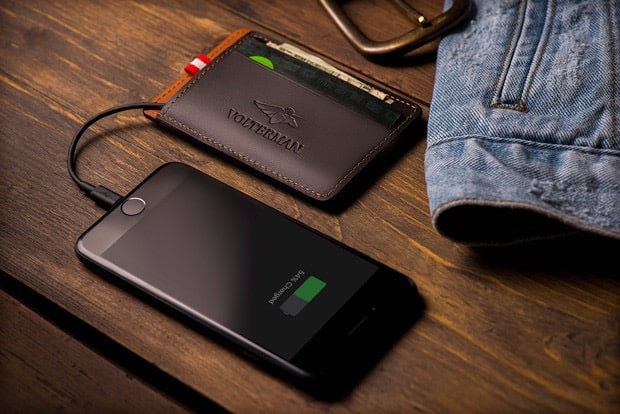 Practical travel companion for the generation smartphone
The Volterman Smart Wallet is a smart leather purse with some surprises on board. It promises the user in space-saving ways to make life easier. If you are often on the road, you know the narrow ridge between sufficient and too little equipment. Every gram is too much to avoid – while still covering all needs! It is very convenient to hit two or more flies with one flap. Thus, the Volterman Smart Wallet combines the Powerbank (2,000 to 5,000 mAh) with the purse and even the cordless!
A particularly practical feature is the global WiFi hotspot that allows you to use. The Internet is thereby up to three times cheaper than foreign tariffs with a local provider (of course depends on the traveled country). The users must therefore only briefly bribe their money bags, activate a hotspot and can thus cost from anywhere cheaply into the net. The Volterman Smart Wallet is available in three different designs; The small card holder, the elongated travel variant and the classic wallet.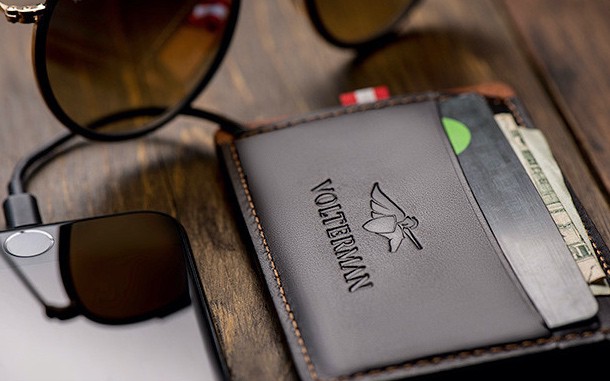 Effective protection against theft and forgetfulness
The developers have shown special refinements. Once connected to the smartphone, Volterman Smart Wallet records each hit and also triggers the cell phone alarm when they are separated from each other. Thus, the mobile phone secures the Volterman Smart Wallet and vice versa. If the good piece was not only misplaced but was actually the victim of a theft, then the somewhat tougher guns were raised. The Volterman Smart Wallet has a tiny camera that will start shooting photos when the wallet is opened in "lost mode". These involuntary Selfies are then sent immediately to the mobile phone.
In addition to these measures, money can be collected globally through GPS. In a theft scenario, it is therefore easy to report to the police not only a photo of the thief but also its exact current location. Thus the chances of getting back to their own possessions are much better. The Volterman is the ideal money bag for all technical fans and friends of unusual ideas. The different models can be pre-ordered on Indiegogo from as little as 85 euros.