Google's Android 7.0 Nougat – Two Apps Run on Same Screen Simultaneously
Android 7.0 named Nougat has been released by Google and the operating version of the new version enables two apps to run on the same screen simultaneously, making it possible for devices to manage more multifaceted 3D graphics.  Presently only the Nexus branded handset and tablets can avail the update.  Google has informed that an upcoming phone from LG would be having the pre-installed software though other devices would have to wait for the makers in implementing their own checks before installing the code.
This status quo tends to be a challenge to Google who desires many users as possible to upgrade. As per the figures of the firm, around 15% of Android devices in use had received the earlier version of Android.  Rory Cellan-Jones, technology correspondent had asked one of Google's senior engineers regarding the release.
A different approach had been taken in building and launching Nougat this year and for starters, developers had been invited to check on Android N way back in March so that they could bring their apps to the new platform much earlier. Android Nougat tends to reveal contribution from thousands of fans and developers all across the globe.
Expanded Emoji/Quick Setting/Multi-locale Support
With more than 250 major features in Android Nougat, a few features are highlighted.  Android has been leading the way from day one with more ways of customizing your phone to suit ones personality.   Having an Android Nougat, one would have more options of making your phone your own by:
Expanded emoji where there are more than 1,500 various emoji that are built into Android inclusive of the 72 latest one which is easy to express yourself.
Quick Setting controls which provides an easy option to things such as Bluetooth, Wi-Fi and the all-important flashlight. You could also control what tiles go where, moving them around to fit your requirements, with Android Nougat.
Multi-locale support where the apps can tailor their content depending on your location setting. For instance if one tends to speak several languages, the search engine tends to show results in each of those languages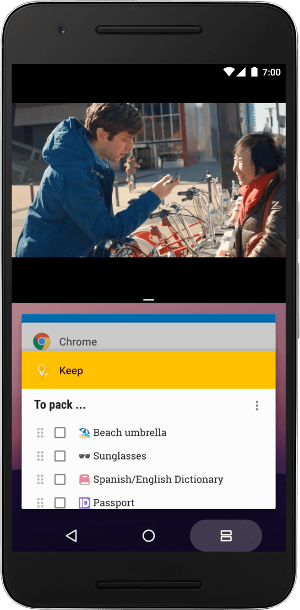 Multi-Window/Quick Switch/Direct Reply
Irrespective of responding to work emails or making plans with friends, Android Nougat is said to assist in multitask easily with latest features such as Multi-window, Quick switch and Direct reply.
Multi-window tends to run two apps alongside each other, where the windows can be resizable by dragging the divider
Quick switch tends to switch between your two recently utilised apps by a double tapping the Overview button
Direct Reply tends to reply directly to the notifications without the need of opening any app
Nougat Dropping to Lower Power Usage
Last year with the release of Android Marshmallow, the battery had been made smarter and the Doze feature had been created which is even dozier with Android Nougat. The device has the tendency of dropping into the lower power usage when it tends to get jostled around in one's bag or pocket while moving around.
Android Nougat has been intended with immersive involvements in mind that comprises of support for VulkanTM,an innovative 3D   rendering API and Daydream, a platform for mobile virtual reality of Google.  It is also built with powerful layers of security as well as encryption for keeping the personal data private.