It was the eighteenth century when mechanical pencils were used for the first time. As the days have gone, the new designs came gradually. Nowadays, we can get a mechanical pencil in many designs. Writers, designers, and students use it mainly.
Here, we have enlisted the top and most-demanding best mechanical pencil, as well as we has elaborately described the types of pencils according to the usage purposes. Let's have a look.
1) Pental GraphGear 1000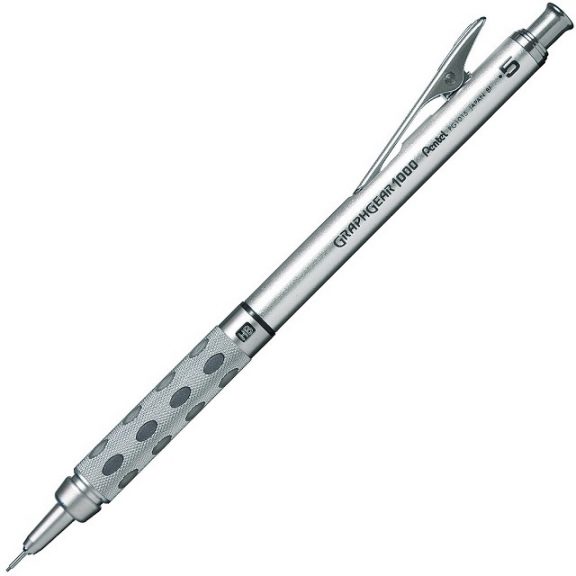 If you want to buy a mechanical pencil for overall purpose, then this GraphGear 1000  will be a great pick for you. Pental GraphGear 1000 can meet your needs with ease as it comes with a lot of upgraded features. People who draw lines, diagrams for them, this pencil can come to favour.
The pith constructional component of this pencil makes it both durable and sturdy. It is perfect for an architect, artist, or a pencil enthusiast. If you want to know the type of Lead the pencil has, you can use a lead hardness indicator. It will let you know which kind of Lead is present inside the pencil.
As it has a Super Hi-Polymer HB lead, therefore you don't need to sharpen it. With the help of this pencil, thou can draw a sharp and precise line. It comes in various sizes and designs. The grip of  this pencil is undoubtedly praiseworthy.
PROS
Super High-Polymer lead
Chiselled metal grip dotted
CONS
Seems too heavy for a few users due to the metallic design.
Uni Core Keeps Sharp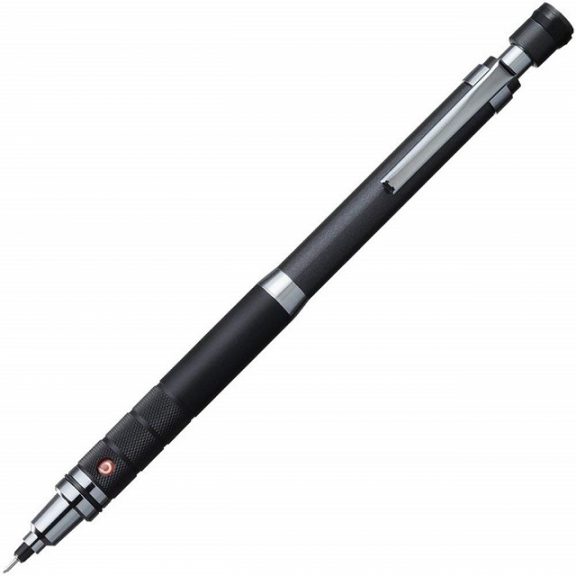 After Pental, We have given Uni Core the second place on our list. The Uni core brand had made its debut many years ago in the market. Their pencil uses the ratchet mechanism that helps you to rotate the Lead inside the pencil. As a result, it always offers you a sharp point while writing.
It also uses the Lead rotation mechanism in its superior metal body. This Uni Core Keep Sharp has a metal grip part that allows you to hold it perfectly. Therefore, you will not face any difficulty while writing long papers. There exists a dotted metal surface that makes this pencil top-notch one.
PROS
Sharp Lead
Comfortable and easy grip
Lead rotating technology
CONS
The size of the eraser is small.
Rotring 600 Black Barrel

Do you want to buy a mechanical pencil mainly for sketching purposes? If yes, then this Rotring 600 Black Barrel can be beneficial for you. It comes with the hexagon-shaped design. With the help of these, you can hold the pencil properly while sketching & drawing.
It is an ideal tool for artists. This pencil is perfect for long-term use. The sleek and smart design of this pencil makes it stylish. In this pencil, you can see the application of art and creativity along with modern technological design. The Rotring 600 Black Barrel consists of a full metal body that allows you to hold the pencils without slipping.
Rotring 600 Black Barrel has an ergonomic design. It helps to decrease fatigue on the fingers. The lightweight body and the unique crafted barrel help you to provide comfort while writing. It has a Rapid B Eraser also that can erase polymer and graphite pencil marks.
This pencil has various sizes of leads that are available in packs of 12. You can quickly draw, sketch and write with this pencil.
PROS
Creates clear and precise lines
Ergonomic design
CONS
The retractable tip is unavailable.
Hard to work with on a single sheet
Paper Mate 1952700 Paper Mate Clearpoint Mechanical Pencil, 0.7 mm, Black Barrel, Refillable, 4-pack
If thou are looking for the best mechanical pencil for smooth and comfortable writing, it is ideal for you. When you use these Pencils, you must get the feeling of a pen. The refills of this pencil are designed such that it can provide the Lead constantly. Therefore, you can make clear, precise lines with ease. This Paper Mate Pencil comes with a side-click lead advance feature. It helps to extend the Lead without interrupting your writing. Besides, this pencil doesn't need sharpening.
Side-Click Design: Paper Mate 1952700 has a side-click lead advance feature. Consequently, you won't lose the grip on the pencil.
Easy to Hold Textured Grip: As this pencil has a colourful textured grip, it can offer you comfort during lengthy writing sessions.
Pros:
Value for money.
Suitable for school usage
Cons:
Pentel Sharp Kerry Mechanical Pencil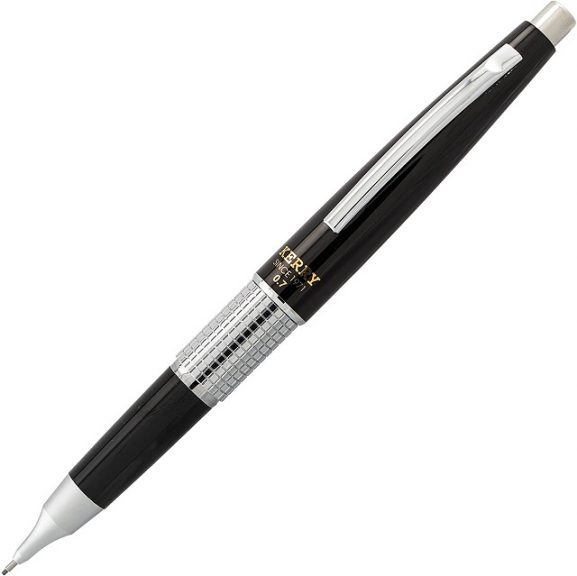 It is the best mechanical pencil that can be used for schools and colleges purposes. Pental Sharp Kerry pencil has an ergonomic design along with a cap. The length of the pencil is 4.9″ inches. But if you measure it with the cap, then the length becomes 5.2″ inches. It has a Pentel Super Hi-Polymer HB Lead that can offer you smooth and sharp writing. It is available in two sizes, which are 0.5 mm and 0.7 mm.
Pentel Sharp Kerry  is very durable. These ones are exoteric for their unique design and innovative technology. You definitely know the popularity of this brand named Pentel Sharp Kerry due to creating innovative and unique pencils. This one also says the same about the brand. If you buy this pencil, you will not face any lead break issues at the time of keeping the pencil in the pocket.
Designers made it in a way so that it can fit in pockets with ease. This pencil has the perfect weight and balance. Therefore, it allows you to write it for an extended period. What makes this Pencil best is that it comes with a clear plastic box that is useful for gifting purposes.
This pencil has an attractive resin barrel that helps to deliver the pencil a unique look. The cap this pencil contains has an integrated button. Besides, you can see a cap under the eraser. Now, you don't need to sharpen the Lead as it is already very strong. This pencil can create a clear dark line that you can scan all standardized tests.
PROS
Strong Lead
Elegant and thick crystal clear line
CONS
Expensive one compared to other pencils.
LAMY 7 mm 2000 Mechanical Pencil with Brushed SS Clip (L101-7)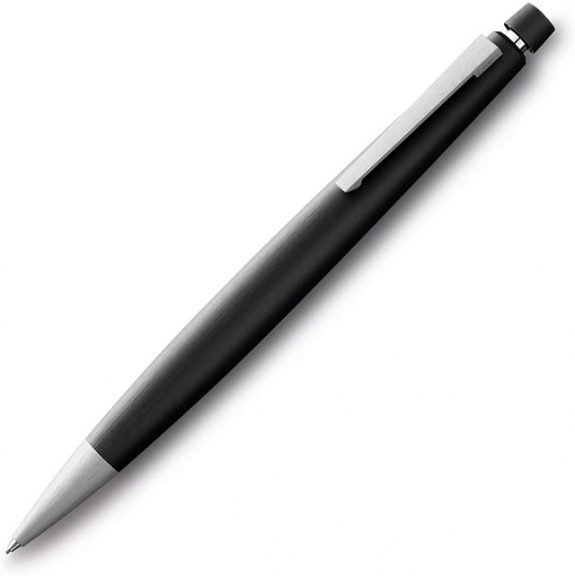 This pencil contains a pocket-safe conical tip. Especially for the sketchers and writers LAMY 7 mm 2000 Mechanical Pencil is suitable. If you don't hesitate to pay extra money in terms of purchasing a durable pencil, then you can definitely purchase this one. It comes with a replaceable eraser that contains a clean-out rod. LAMY 7 mm 2000 has a lead size indicator that remains on the top of the push button. Besides, it is also equipped with a brushed Makrolon resin barrel and brushed stainless steel trims.
This pencil comes in 138×12×12 mm in size. And the weight of the Lamy 2000 Pencil is 18g. It has a built-in eraser with cleaning needle.
Pros:
Cons:
Creates annoying rattle sound
Jimmidda Mechanical Pencil
Jimmidda offers both a 0.5 mm and 0.7 mm size of the lead pencil. The  various size of the Lead, allows you to use this pencil for different writing tasks. It has a threaded metal grip along with anti-skid design. Jimmidda pencil has a side clip that helps to attach it with a pocket. It offers an eraser and Lead refills. And it comes with a retractable nip that can protect the Lead.
It comes with a break-resistant design. The bracing Pencil leads can help you in this case by preventing the lead from getting broken. Jimmidda has a unique lead lock function that controls the lead length that comes out while writing.
Pros:
Sleep resistant rubberized grip
Cons:
Pilot Dr Grip Limited Mechanical Pencil
Coming with a painted metallic barrel and an ergonomic cushion grip, Pilot Dr Grip conquers the mind of the users It has a durable platinum metallic barrel.
It has a retractable eraser. Besides, it has a 0.5mm refillable lead. This Pilot Dr Grip pencil has a wide contoured barrel that assists in decreasing the gripping system. It can be used by office workers, pupils and those people who need to write a lot in a day.
Pros:
Comfortable to hold
Comes with super comfort grip
Cons:
Pentel Graphgear 500 Automatic Drafting Pencil
The weight of Pentel Graphgear 500 is 22.7g. It comes in 0.9 x 14.7 x 0.9cm dimensions and a variety of Lead diameter— 0.3, 0.5, 0.7 or 0.9mm. This pencil has a 4mm fixed sleeve that makes it perfect for technical drawing. It contains a metallic-mesh grip and a barrel. The innovative design of this pencil offers the users full control while sketching a line. Pentel Graphgear 500 offers a built-in lead hardness indicator that helps to let you know the type of the Lead.
Panel Graphgear Automatic Drafting Pencil is perfect for the professionals, especially for template work. It doesn't require sharpening. It contains a Z2-1 eraser.
Pros:
Lightweight
Various size of lead diameters
Cons:
American Classic Mechanical Pencil 0.9mm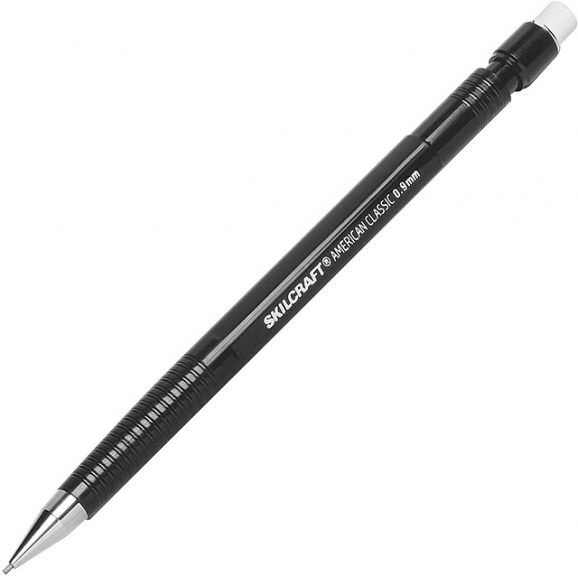 It is one of the most durable pencils on this list. It weighs 7.8g. The dimensions of this pencil are 15.24 x 5.84 x 1.78cm. Although it is a little bit expensive, thou can have faith in the quality of the brand. It is mainly famous for its use in the armed forces and public institutions of the US. The hard Lead of this pencil will not be going to break easily.
This American Classic pencil comes with a sliding metal design that helps to reduce the lead movement and and prevent it from breaking. It comes with an interior compartment that stores lead refills. Besides, it offers the customers a spring pocket clip and replaceable eraser. This pencil consists of four thick 0.9mm bold point leads that are durable enough.
<iframe width="640″ height="360″ src="https://www.youtube.com/embed/8fQNW5xrklw" frameborder="0″ allow="accelerometer; autoplay; clipboard-write; encrypted-media; gyroscope; picture-in-picture" allowfullscreen></iframe>
Pros:
Cons:
Expensive compared to other Pencils
Eraser is not good.
Best Mechanical Pencils For Drawing
rOtring 600 Mechanical Pencil

When it comes to drawing, you should definitely use the rOtring 600 Mechanical Pencil. Germany is the country where this mechanical pencil was released first. It doesn't need any soft pads to offer coziness.
These are designed in a way so that people can use it for hours without facing slipping issues. It contains a built-in indicator that lets you know about the hardness of Lead loaded in pencil.
This pencil comes with a metal body and a knurled grip. Along with these, it also contains a hexagonal barrel and a needle tip.
Pros:
Sturdy solid metal construction
Comfortable knurled grip
Cons:
The size of the eraser is small.
Sheaffer Prelude Mechanical Pencil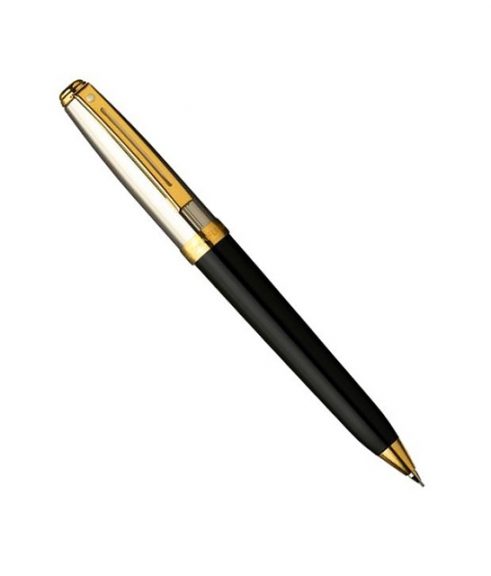 This Sheaffer Prelude pencil is best for sketching. It comes with black matte and 22KT gold plate trim. As this pencil can hold 0.7mm Lead, therefore it allows people to give a lot of pressure while writing. It has an elegant design.
Pros:
Works smoothly
Excellent design
Cons:
Best Mechanical Pencil For Woodworking
ForestChoice carpenter pencil
People who are involved in woodworking must need quality pencils. It plays a vital role in their working lives. ForestChoice is the best mechanical pencil for woodworking.
This carpenter pencil has a sturdy body. And the Lead of the pencil is strong as well. Therefore, You don't need to take any tension from accidental breakage. You can now sharpen your pencils to a fine point. But, it has not so many colour combinations.
Pros
Sturdy barrel
Strong Lead
Cons:
Comes in only green colour
The built-in sharpener is unavailable.
Best Mechanical Pencil For Math
Pantel mechanical pencil
If You are in need of the best mechanical pencil for math, Pantel is the one that should come to your mind at first. This brand has been maintaining its reputation for more than 70 years in the market. This pencil comes with several designs that are suitable for writing, drawing, math, and so on.
It doesn't matter whether you are doing maths or write down anything on paper. This pencil can offer you impressive results for sure. Sometimes, we get pain in our hands after doing maths for a long time. The firm grip of this pencil can solve this issue with ease. It helps to reduce the pain with its soft, latex-free pads and offer painless writing for a long period. People with sweaty hands should definitely use it.
This Pantel pencil has a dual-action retractor that can withdraw your pencil's tip when you are writing it.
This pencil doesn't need any sharpening as it has the Pentel Super Hi-Polymer HB lead. This mechanism allows the Lead to rotate automatically. Therefore, you don't feel any disturbance while writing or doing maths. Besides, it comes with a replaceable eraser also.
Best Mechanical Pencil for Engineers
Staedtler Mars 780 mechanical pencil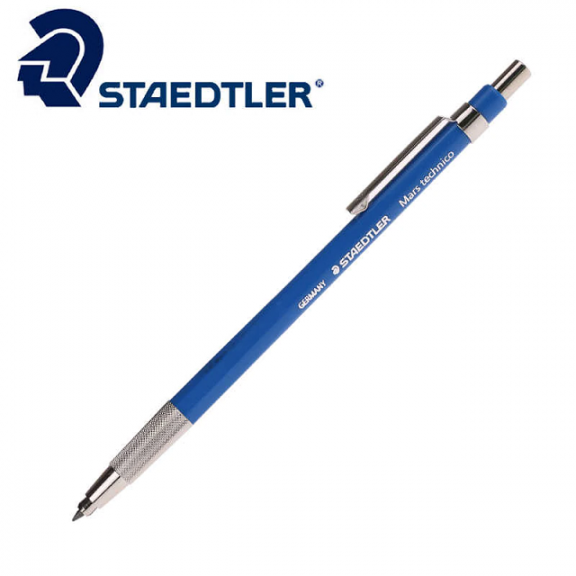 Staedtler Mars 780 is the best for engineers. If you are looking for any pencil for drawing, sketching, and writing purposes, it is an excellent option. This pencil contains a push-button sharpener that is useful for keeping the lead points sharp.
It is an excellent option for those ones who spend most of their time by writing and sketching. Engineers, architects, and artists mostly use this pencil. By using the lead sharpener, you can maintain the smoothness of your writing. Besides, it comes with a metal grip that helps you to hold it easily. The users can write with this pencil for a long time.
You can make lines precisely with the help of this pencil. Besides, this Staedtler Mars 780 pencil has a firm build quality and unique look that makes it the superior one.
PROS
Presence of the Lead sharpener
Sturdy design quality
Powerful grip
CONS
The retractable tip is unavailable.
Rotring Rapid Pro Mechanical Pencil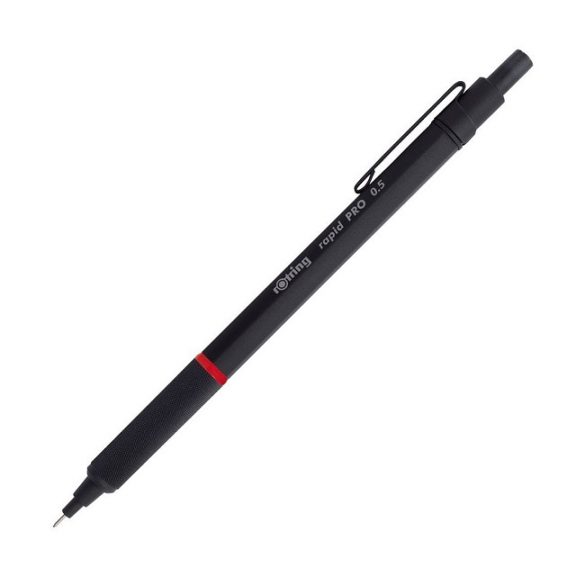 This long-lasting, smooth, and precise mechanical pencil is the best one for professionals. It allows the users to use this pencil for sketching and drawing. Rotring Rapid Pro has a perfect weight balance because of its metal body. There exists a comfortable non-slip, knurled metal grip.
With the help of the sliding sleeve and cushioned lead method, this Rotring Rapid Pro pencil can offer good writing and utmost comfort. It allows you to control the use of lead transportation. Besides, it comes with a built-in sharpener that you can see under the push-button cap.
Features:
Cushion lead mechanism: This cushion lead mechanism can provide the utmost coziness while writing.
Metallic barrel: It comes with a metal body that can offer an ideal balance of weight. Besides, there exists a non-slip metal knurled grip.
Lead sharpener: When you will use it, you can find a Built-in sharpener. It remains under the push-button cap.
Pros:
Top-quality and well-balanced writing utensil
Outstanding lead holder
Cons:
Clean out wires are unavailable.
The inside parts are made of plastic.
Best Mechanical Pencil Lead
The size of Lead varies according to the purposes of uses. As a result, the quality of the pencil also varies. A Lead of 0.2mm to 0.4mm size is perfect for those who prefer detailed drawings and writing. If thou want to use it for regular purposes, then a pencil having a 0.5 mm length of Lead is the best. And Leads of sizes 0.9mm and more than that can give you the facility of bold writing and sketching.
Best Cheap Mechanical Pencil
Zebra 54012 Stainless Steel mechanical pencil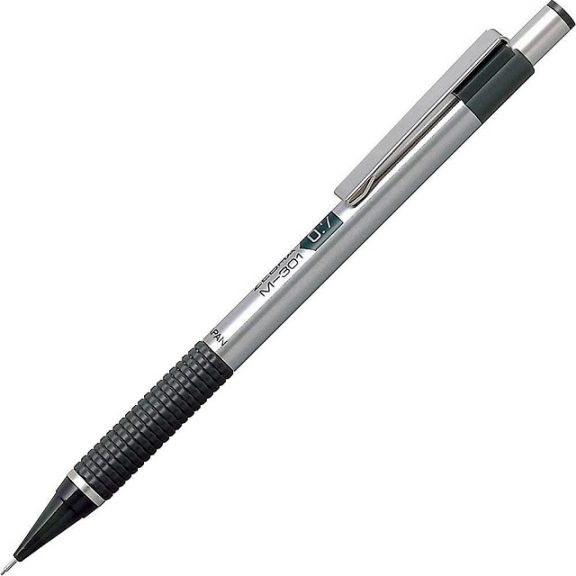 Zebra 54012 Stainless Steel is the cheapest one among all the mechanical pencil that is available in the market. This pencil is very durable, and due to this, it is the exact one for long-term uses. These pencils come with a stable build and sturdy metal construction. From kids to artists and architects, anyone can use this pencil.
This Zebra 54012 comes with such upgraded features that are not available in ordinary and daily purposed used pencils. This type of pencil consists of such materials that help to last the pencil long.
It has a rugged steel body and gives the pencil a sleek look. The most attractive feature of this sturdy pencil is that you can keep it in your pocket due to its smaller size. This pencil comes with a replaceable eraser at the back. Usually, the pencil offers an average size of Lead.
PROS
Affordable price
Comes with a replaceable eraser at the back
Made of sturdy stainless steel
Convenient metal clip
CONS
The retractable tip is unavailable.
Lead doesn't last long due to its small size.
Conclusion:
In this article, we have defined the most demanding mechanical pencils that are used for different purposes. Now, it's your turn to pick your preferred one according to the usage purpose and draw the smooth and sharp strokes.
Frequently Asked Questions:
Should I use mechanical pencils for drawing purposes?
When you are going to draw something, you can use a mechanical pencil. Many people use the usual pencils to draw lines, margins, etc. Here, you don't need to sharpen the pencil repeatedly. These pencils allow you to reuse it, which is the main benefit of it.
What is the process that you should follow to keep a mechanical pencil sharp?
This type of pencil allows you to extend the Lead. When you sharpen the Lead, you can use a normal pencil sharpener. It enables you to make it sharp as you want. It is because the sharpness of the pencil depends on usage purposes. Artists, writers, normal users all belong to various categories. That's why they need different types of sharpness for the Lead.
What is the method that you need to follow while choosing a mechanical pencil?
When you are going to choose the best pencil, you need to follow some guidelines. First, thou need to think about which purpose you will use it. Then you need to choose the type of pencil according to the usage purpose. If you want to buy a pencil for drawing purposes, then a finer point can be an excellent option. For shadows, you can choose a softer pencil lead as it helps to make smoother lines. Usually, the hardness of graphite varies from 9H to 9B. The hardest is the 9H, whereas 9B the softest. And the HB graphite is in the middle of this line.