Screws support almost every mechanical joint. That's why you require a tool that can help you to tighten or loosen the screws. Whether you have used the traditional ones before, then you must know how much effort is required. Hence, we have listed best cordless screwdriver and electric power screwdriver  and elaborated on this tool's nicely. Let's check it.
Key Features of Cordless Screwdriver
The key features of this type of tool are as follows:-
Speed: A power screwdriver having variable speed gives you greater control. These tools have reverse action also by using which you can remove screws.
Torque control: Torque is known as the rotating force. The bigger and heavier the screw will be, the more force it needs.
Spindle lock: You can't get this feature in all tools. However, you can utilize it like a manual one.
Handle – You can get a better grip with a rubberized or soft handle. These allow you to do more challenging jobs, even if your hands are sweaty.
Cost: The cost depends on the voltage of the battery. So, you need to think at first for which purpose you will use this tool. Although you can save your money purchasing low-voltage tools. But you can face issues while using them for more heavy-duty tasks.
Additional features: A few screwdrivers come with carrying cases or selecting screw bits and LED lights.
Tips for Using a Cordless Screwdriver 
Here, we have given a few tips that you can follow while using this tool.
Use the correct bits while working: It becomes vital for you to select the right bits while working with the power tools. Various types of bits are available in the market. And which type of screw you are also using matters. The most common bit which can fit with the medium wood screws is the PZ2.
Test to check whether you are using the right bit or not: First, you need to determine the bit that you will use. As soon as you choose the bit, make sure that you place the bit tightly on the head of the screw. In case you are unaware of it, you need to hold the bit at a 45-degree angle. The screw stays on the right bit, and the right one does not fall off from it. If it happens, then you can make sure that it is the right one.
Make sure that you place the bit firmly on the head:
While working with these, make sure that you place the bit firmly on the head of the screw. You need to ensure that you apply the right amount of pressure at the top of it while drilling. It ensures that the cordless screwdriver bit will stay in the head of the screw.
Holding the screw properly:
Always grip the screw's sides gently so that the bit won't slip. If you follow the process, you can hold the bit in place.
Opt To Pre-drill A Pilot Hole On Hardwood: If you are using pine woods, you must hold the screws in place appropriately. However, you need to pre-drill a pilot hole if you are using hardwood. It helps to make your job easier.
Apply extra pressure using hands: Sometimes, you can see the bits slipping out of the head of the screw. It means that you are not applying the proper amount of pressure on the tool. Here, you need to apply pressure on the top of the back portion of the drill.
Get Controlled Pressure Using On And Off Process: Always remember to ease back on the pressure when the bit is almost in place. In case you can't, then the bit will end up sinking into the wood. The on and off technique can help you by giving you more control.
Always practice before working on a project: Those who didn't work on the actual project should practice on a piece of wood first. When you practice it, you will know how to get control.
Types Of The Cordless Screwdriver
Straight – This type of tool contains a straight handle with a bit at the end.
Pistol– These weigh lighter than the cordless drills. But it looks similar to the cordless drills. However, the pistol ones are not as powerful as the drills.
Variable –It comes with the benefits of both straight and pistol models. You can hold it in a straight position or bent at a pivot point also.
Simple electric screwdrivers– These ones resemble a traditional screwdriver. You can use these for light tasks and small spaces. But these ones are not perfect for more challenging jobs.
Impact screwdriver– You can remove rusty or damaged larger screws using these ones.
Drill driver – These can do both drive screws and drills. It can fit both drill bits and screwdriver bits.
Which cordless screwdriver is best?
There are plenty of screwdrivers available in the market. The power of the product depends on the voltage of the battery. The tool will become stronger with the increase of voltage. The weight of the higher voltage ones is more than lower voltage ones. But if you want to use this cordless screwdriver for occasional purposes, then the weight will not matter. You can see the voltage printed on the battery or the side of these tools. However, there are various factors while choosing the best one in the market— types, core features like speed and torque power, and the project type for which you will use the tool.
Top 10 Best Cordless Screwdrivers
Here, we have enlisted the top 10 best cordless screwdrivers. Let's check out.
Dewalt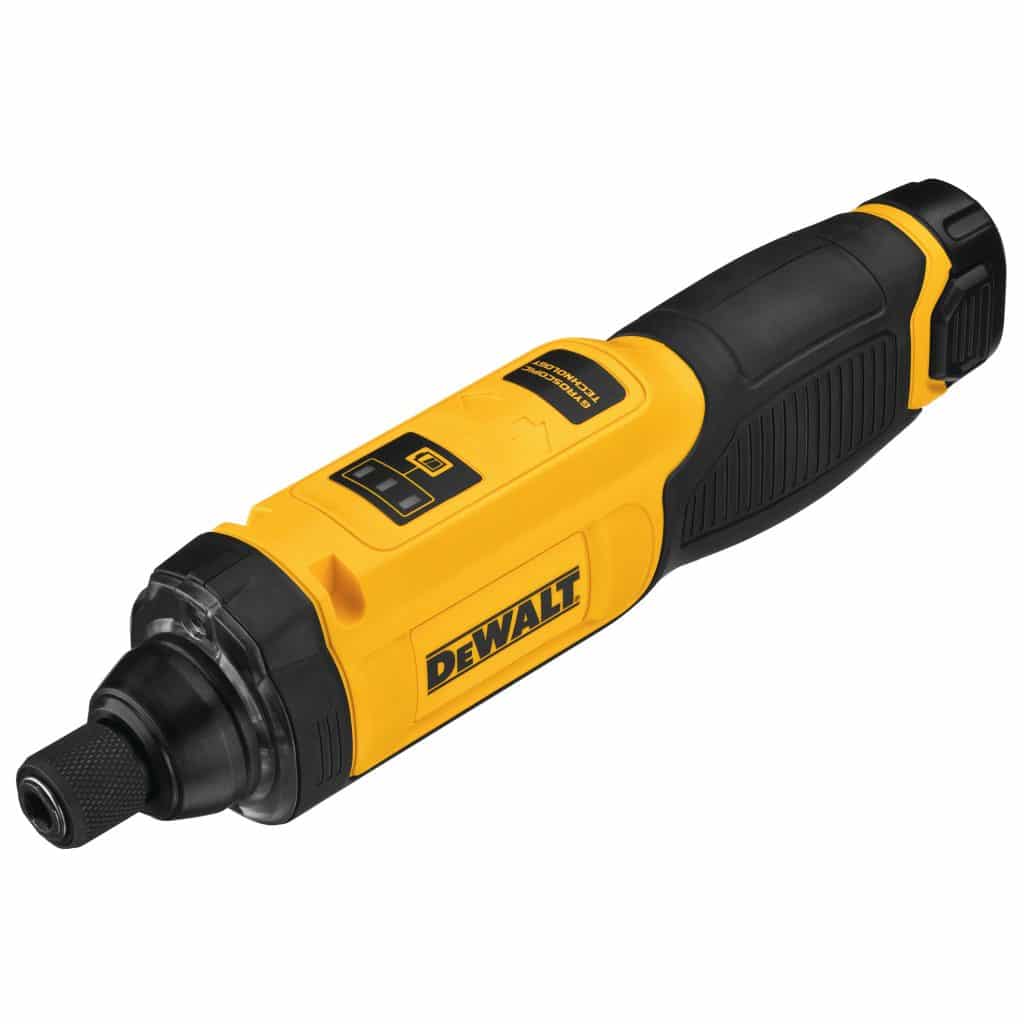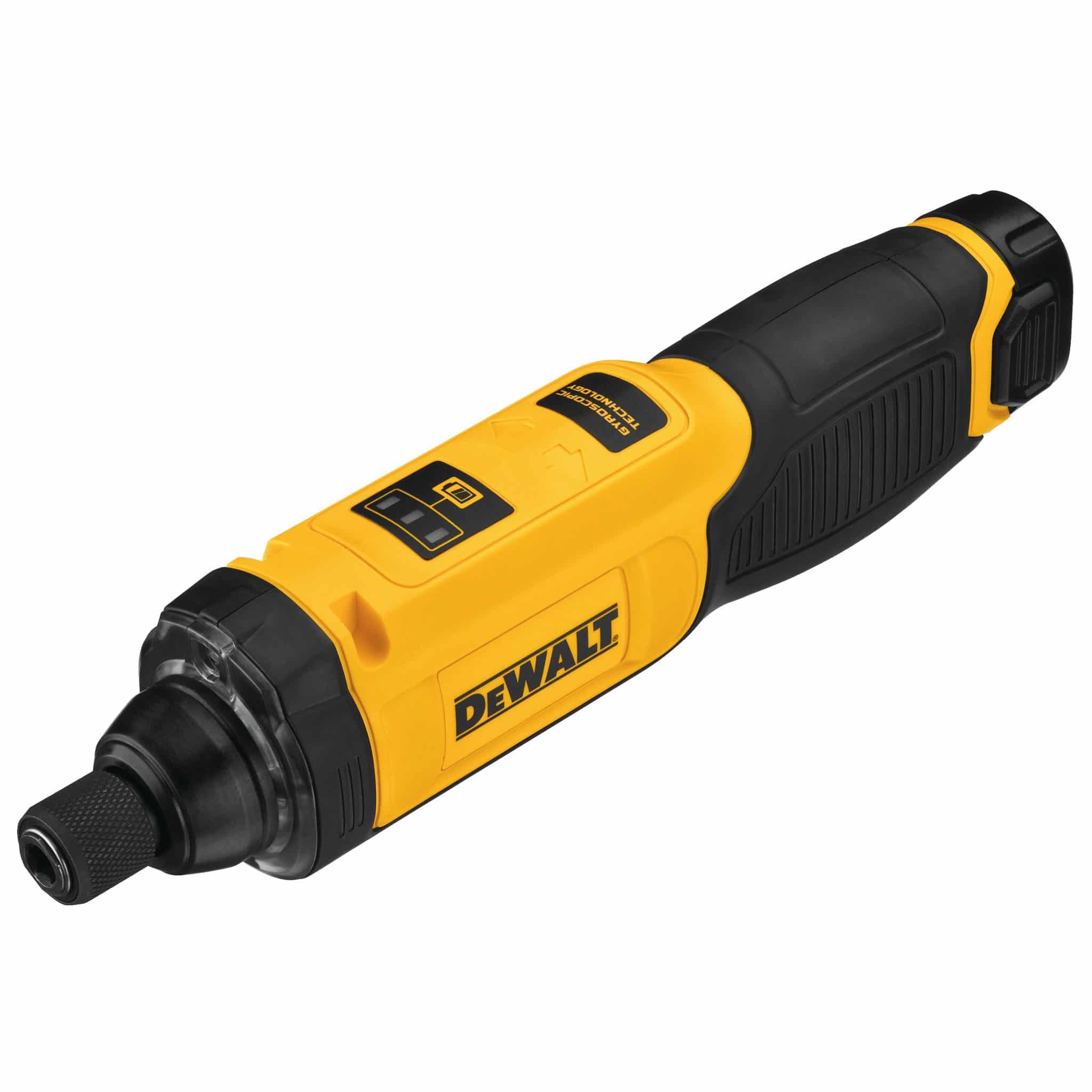 You are definitely aware of the kudos of the brand named DeWalt. This product from the brand DeWalt comes with an 8 volts battery. Besides, its maximum speed is up to 430 RPM. This variable speed electric screwdrivers enables you to adjust the rear handle angle according to your comfort. The robust construction makes this product immensely durable.
It is very convenient when you need to operate a tight spot. Moreover, it allows you to adjust the speed with the speed control knob located in the front. These ones have reversing control buttons, which allow for rotating it in both forward and reverse motion. It also offers you a LED illumination that you can operate in the darker space. Besides, it will notify you when the device is fully charged. The manufacturers offer three years of warranty.
Awesome Features: 
Motion activation: DeWalt features motion activation that enables you to control the speed. You only need to twist the screwdriver left or right for both forward and reversing motion. The speed range of the remains from 0-430 rpm.
Intuitive motion-activated speed: The motion-activated speed offers a precise fastening into wood, plastic, and light-gauge metal.
Two-Position Handle: It features an adjustable two-position handle. The handle allows you to select either the straight in-line position or pistol-grip configuration. When it comes to fastening any light fastening applications, you need to use the 15 clutch position settings. It helps to control the handle during that time.
LED headlights: The cordless screwdriver also comes with two LED headlights. These help to illuminate the dark areas. Besides, it has a battery indicator on the tool. It lets you know when to charge packs. Each pack can cover five days of runtime with the typical user. The 8V MAX battery pack makes the product long-lasting. You can charge it within one hour.
1/4″ hex-shank chuck: The 1/4 inch hex-shank chuck allows faster bit change. In its ¼ inch hex, it holds 1 inch bit tips. It is a perfect choice for any professional end user. If you want to buy a compact and portable model with precise speed control, it is a perfect option.
Battery and Motor: Dewalt cordless screwdriver comes with a fan-cooled motor. It is equipped with two 1. 0 Ah batteries. The type of the clutch is Adjustable Clutch Collar.
Pros:
Cons:
Hychika Driver
The Hychika Driver  has a maximum torque capacity of 6 Nm. It consists of a 6.35mm quick-change chuck that is available on the front. It enables the tool to replace the bits quickly. When it comes to bits, you will get about 36 different pieces. These are beneficial for all kinds of general applications.
Hychika Driver is equipped with a 3.6 volts battery that can give you up to 180 RPM. You can charge the battery with the help of a USB port. It has a removable handle that makes this product exceptional. A single lock button can help you in this case. Besides, the dual position handle also helps you to intricate positions. Hychika Driver comes with two years of warranty.
Awesome Features:
Quick change chuck: The maximum torque of the product is up to 6.0 Nm. You can operate this cordless screwdriver efficiently. The 6.35mm quick-change self-locking chuck can help you hence. The chuck makes it simple to replace bits. The 36 pcs different accessories help to fasten and loosen all furniture screws.
Adapter and battery: It comes with a charging adapter and built-in rechargeable 2000mAh lithium battery. The in-built battery allows DC charging directly for endurable power. It offers a maximum of 1A input current, along with a USB charger. With the help of these, you can charge the tool quickly. You only need to plug it into any ports like your laptop, car charger. It can make the remaining job done. The tool allows to charge itself over 300 times with any standard USB port. It can accept any micro USB to USB charging cable.
LED light: Most of the time, you can face difficulties working in dark rooms. The bright front and rear LED lights are helpful here. The front LED can illuminate the screwing part. What you need to do here is only to push the "LOCK" button. Hychika Driver weighs very light. And it has a dual-position rubberized handle for a comfortable grip in a confined space.
36 pcs accessories: The 36 pcs accessories of the product help to hang and adjust pictures, fix cabinets, furniture, and its assembly. Besides, it has Ratchet wrench. It makes the tool able to work in a confined space and different working conditions.
Package contents: The Hychika Driver cordless screwdriver comes with 36 accessories, one charging adapter, one USB charging cable, a user manual, and a storage box.
Pros:
Multiple bits are present.
Comes with a user manual and a storage box
Cons:
Low Battery capacity
Slow speed
Dremel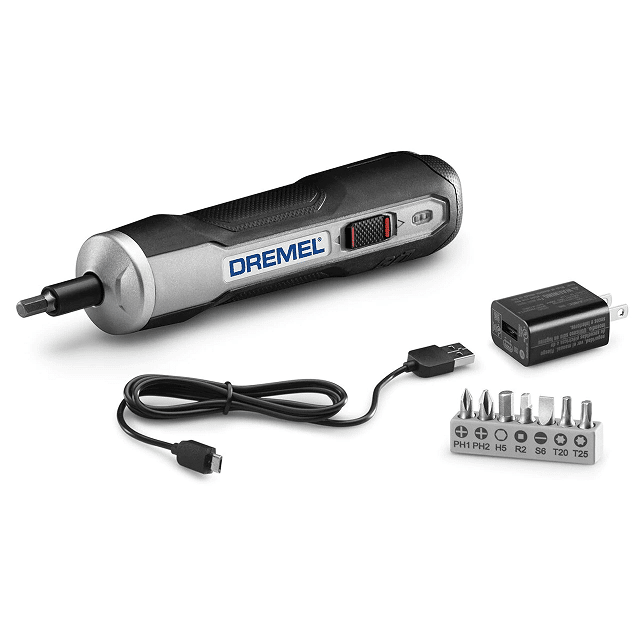 It is a compact and robust model from the brand Dremel and capable of holding the driving bits. This one has a standard ¼ inch chuck. The tool comes with the most compact design on the list, and it doesn't need any handle. The 3.6 volts battery is capable of offering up to 360 RPM speed. This cordless electric screwdriver comes with seven different bits included in the package.
You can charge the Dremel cordless screwdriver very fast. It can last for a long time. With the help of the USB charger, you can charge the tool. A tiny charging indicator is available in the front. It can help you to keep track of remaining power. The warranty period for the product is two years.
Awesome Features:
Robust construction: With the tool's help, you can drive up to 2 inches screw without facing any issue. The height of the chuck is 9.5," and the battery Voltage is 3.6 V. The width of the tool is 6.25″ whereas the tool's maximum speed is 360 RPM.
Convenient charging: The tool's compact size makes it easy to carry from one place to another. Besides, it has ¼ in the chuck that can hold the bits.
Integrated battery: The Dremel tool comes with a 3.6 Ah rechargeable integrated battery. You can charge the battery using the USB charging system. The torque setting is variable, and it can prevent the stripping screws. It comes with a brush-less motor. You can use this product for general purpose. The chuck size is ¼ in, and the clutch type is single speed. It is equipped with a brush-less motor.
Battery charge indicator: The charge indicator displays the charge level when the tool is in ON mode.
Push and go activation: It is very easy to use. You only need to push a button here and set the switch in neutral mode.
USB fast-charge: The tool comes with an integrated battery that allows for fast and convenient charging. There exists a USB charger also.
Pros:
Compact design
Comes with seven bits
Battery charge indicator
Rechargeable battery
Cons:
Short warranty period
Low battery capacity
Skil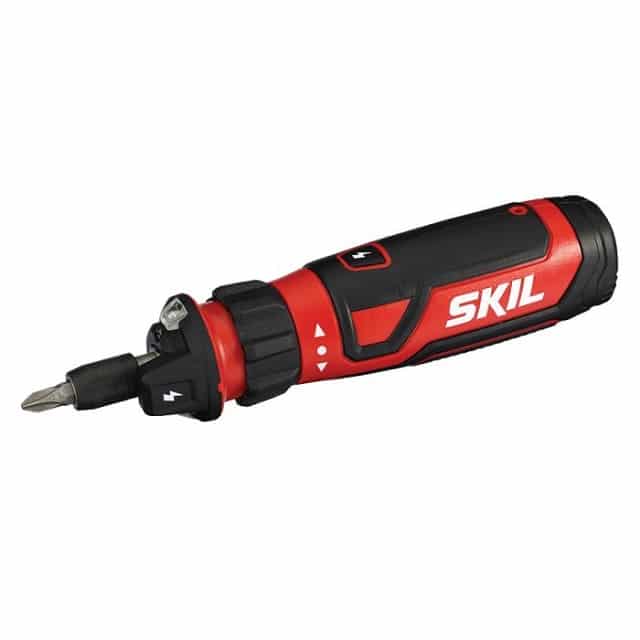 If you are looking for a budget-friendly tool, then you can choose this brand. It is the most affordable one available on this list. The tool comes with a 4-volt battery. It can offer up to 500 RPM when you require. Skil offers high-speed machines having a low price tag.
The tool is equipped with a ¼ inches hex drive. It comes with a magnetic bit storage that helps to store the extra bits right on the drive. You can use the driver in both clockwise and anticlockwise directions. It comes with a charging indicator located on the front. Here, you can see the remaining power also through the indicator. The tool has a 4V pistol grip that helps you to do most of the household tasks. The LED lights of the tool help to illuminate the work area. It has an integrated Lithium-Ion battery that can recharge the tool anywhere via Micro USB. You can use this tool for different types of applications around the home, such as tightening cabinet hinges, replacing wall covers, installing shelves. It offers a five years warranty.
Awesome Features:
Easy to use: People who are looking for a product for their DIY projects can use it.
Easily fits: Due to its compact design, you can use Dremel even hard to reach places.
Ergonomic design: The ergonomic design allows you to control the product using two fingers only. It helps you to get a comfortable grip also.
Long-lasting: The superior construction of the product makes it long-lasting. You only need to charge it for one time. The Dremel cordless screwdriver has a micro USB charging port.
Pros:
Long Warranty period
Fast speed
Long-lasting
Cons:
Stalwart driver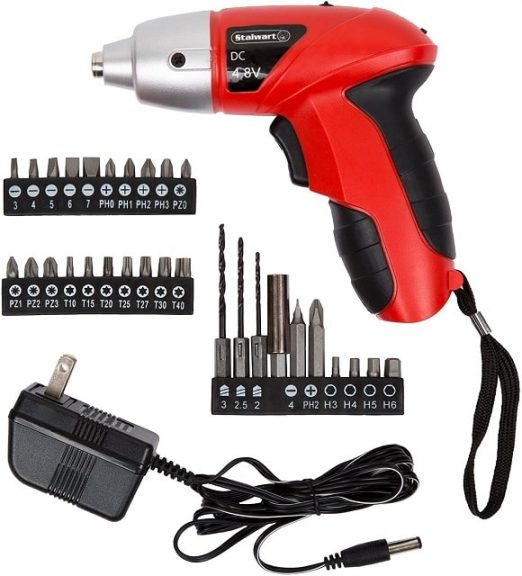 It is one of the best and pocket-friendly drivers that we have given in the list. The tool contains a 45 piece bit set. These bits cover almost every single application with ease. The robust carrying case, all the bits, and the charger make the tool suitable for transportation. It has a 3.6 volts lithium battery, which can last for a long time on a single charge.
The driver comes with the industry-standard ¼ inches chuck. The chuck can hold many bits included in the package. The tool allows you to use it both forward and reverse motion and lock and loosen the screw. The driver had a three year warranty period.
Awesome Features:
45 PC. Set- The product contains a charger, a case, and different bits and sockets in multiple sizes.
Two LED flashlights: The two built-in flashlights help you to lighten your working area. It has one light on the front drive section and another on the bottom of the handle.
3.6V lithium battery: This cordless screwdriver comes with a 3.6 Volt Lithium battery. The tool is not only compact but also portable, powerful, and long-lasting. You can gift it to your friends or any close ones who make DIY house projects and crafts.
Additional features: The drive section's size is 5.50," whereas the Grip Section is 5.0″. The dimensions of the tool is 2.75″ x (W) 9.25″ x (H) 9″. It comes in Pink and Black color.
Pros:
Portable
Comes with 45 pc set
Compact design
Cons:
The speed rating is absent.
Lower Battery capacity compared to others.
HIKOKI DB3DL2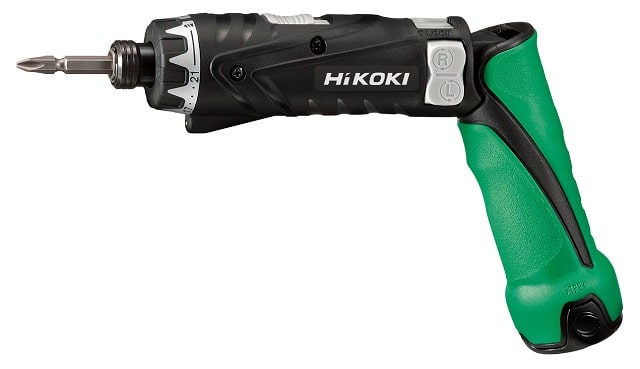 The driver made of plastic comes in green color. It comes with dual Lithium-ion batteries. The dimensions of the tool is 268mm x 83mm x 274mm. It is designed especially for regular use. It features an adjustable handle for a straight or pistol-like grip.
Besides, the driver contains a quick lock hex bit holder. It can fit most standard screw bits for rapid bit changes. Moreover, it has a lock-off switch also that doesn't allow it to start suddenly. The 5Nm torque output makes it very strong enough to take on stubborn timber. The product can handle a few basic drilling tasks also. This one is a more solid proposition and longer life span compared to other ones on our list. The product has only six months warranty.
Awesome Features: 
Package contents: The driver comes with two EBM315 batteries along with a UC3SFL Charger. Besides, it has a Driver Bit and a Carrying Case.
Battery protection circuit: This one contains a battery protection circuit. It has two batteries of 1.5Ah power. The charger UC3SFL takes thirty minutes to charge the tool.
LED light: The LED lights of the product are available on the body of the tool. These help to illuminate the dark places.
Lock torque: The tool comes with a maximum lock torque of 5 Nm. It helps to tighten and loosen screws. The driver has an adjustable clutch also with 21-stage torque.
Pros: 
Great performance
Fast charge
Long-lasting
Cons:
BOSCH PSR SELECT: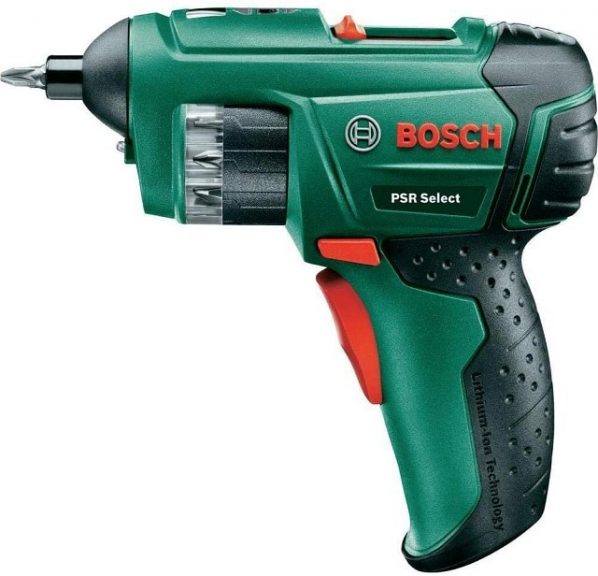 The driver contains about 12 different bits that are commonly used. It has a front-facing light that can help you to work in dark places. There is a battery status indicator and an automatic spindle lock also.
It comes with a screw bit that is used for every purpose. The Lithium-ion batteries of the tool can perform at least 90 standard screw jobs before it needs recharging.
Awesome Features: 
Versatile: The most common bits that the tool consists of are PH0, PH1, PH2, PZ1, PZ2, S4, S6, T10, T20, T25, H4, and H5. These are including the IKEA bit. You can use these for screws up to 5 mm in diameter. The charging time is only 4 hours.
Easy to use: There is a battery charge-control indicator LED on the top of this driver. The indicator lets you know about the charging condition of the battery. When the charge of the battery is about to die, the indicator turns red. It comes with a built-in LED.
This product is extremely light in weight. It is very easy to use that saves a lot of effort while you do DIY jobs. The size of the check is 1/4 in.
Durable: The driver is very durable. It has a 3.6 V (1.5 Ah) Lithium-Ion battery that allows you to tighten or loosen up to 90 screws. It has a 210 rpm speed that is enough for various applications around the house.
Forward or reverse indicator: You can screw in both directions with the help of the driver. The green direction LED is helpful in this case. It notifies you whether the screwdriver is in forward or reverse mode.
Soft grip: It has an elegant design that offers you a soft grip for a better and more comfortable hold.
Pros: 
Comes with various bits
Soft grip
Forward or reverse indicator
Cons:
WORX WX252 V XTD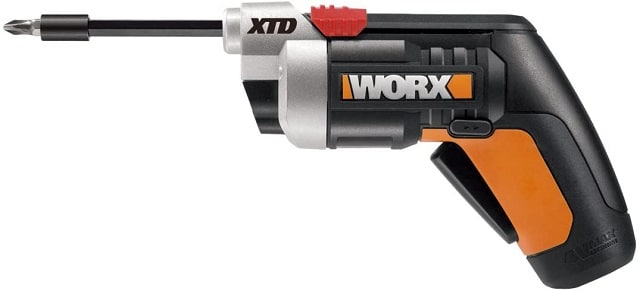 If you are looking for an electric driver at a reasonable price, it is the best option. This power screwdriver comes in 6 x 2 x 4.25 inches dimensions. It contains an offset chuck that gives you access to hard-to-reach areas.
It comes with an LED light that allows you to illuminate all your dark working areas. The driver has an auto spindle lock that is used for manually applying torque.
Awesome Features: 
Versatile uses: It features an offset design and a built-in driver extension. These make it an extremely versatile tool. The adjustable shaft can reach up to 2 inches having ten stopping points between 0 and 2 inches. The offset shaft helps to get access to hard-to-reach areas. It comes with a compact and lightweight design.The one of the  best & cheap electric screwdriver
Work Against a Wall: It comes with an offset driving shaft. With the help of this feature, you can work up against a wall or solid surface. And you don't need to drive at an angle also.
Light Weight: As it weighs light, you can use it repeatedly without fatigue.
Lithium Power: The product comes with a 4V Li-ion battery. The power provided by the battery is enough to get those around the house projects done.
Pros:
Reasonable price
Lightweight
Versatile use
Adjustable shaft
Cons:
RYOBI ERGO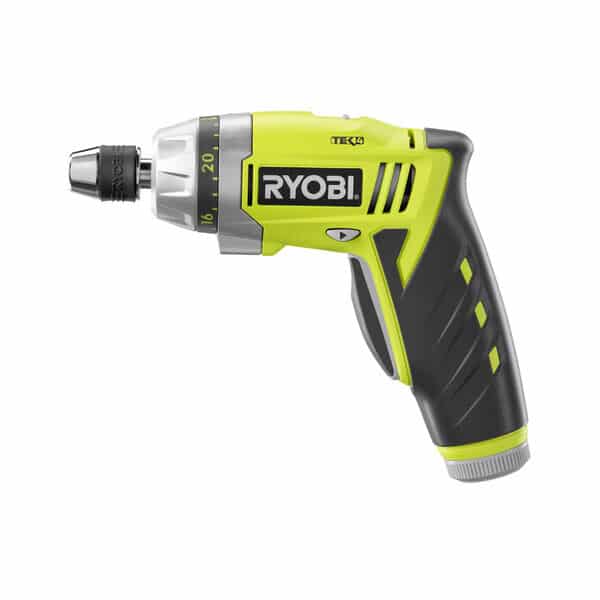 The weight of this product is 0.47kg, and the maximum torque is 5Nm. And the battery type of the product is Lithium-ion. It takes about 10 hours to get fully charged.
It contains ten different 25mm screwdriver bits. Besides, the product has a durable storage case. It comes with a grip that's specially molded for comfort. Moreover, it can offer a long-life Lithium-ion battery pack. The highly efficient batteries of the tool are excellent.
Awesome Features:
Right Angle Head Attachment:
The tool can able to reach screws in the dark as well as in tight spaces. In this case, you can use the right angle head. 
Offset Head Attachment: The offset head of this driver allows you to drive screws flush against surfaces.
Comfortable Grip:  The product comes in a compact, lightweight design, and soft-grip handle. As a result, these can offer you comfortable use over extended periods.
Included Accessories: The tool comes with the right angle and offsets head attachments. It contains ten screwdriver bits, a micro USB charging cable, and a durable zipper case. RYOBI ERGO has another great 'semi-pro' option.
Accessories: 
RAK10SD: It has 9x 25mm bits and a magnetic bit holder. These make the tool suitable for flat-pack furniture and domestic DIY jobs.
RAK17SD: It comes with 9x 25mm bits and a magnetic bit holder. You can use it for drills and small handheld slow voltage drivers.
RAK32MSD: This one comes with 30x color-coded 25mm bits. There is a magnetic bit holder in a plastic box along with a belt clip.
RAK46MIX: The 46 Piece Mixed Drilling and Driving Bit Set have all the drilling and driving bits. These help you in DIY tasks.
Pros:
Very strong
Value for money
Comfortable Grip
Cons:
BLACK & DECKER AS6NG

BLACK & DECKER AS6NG is a  Best ultra-cheap electric screwdriver. The dimensions of the tool is 2 x 3 x 9 inches. People who are searching for more traditional and affordable tools can choose them. The tool is similar to a standard manual screwdriver. It has a small motor and a rotating head unit.
The tool is not so robust as the other ones mentioned in this list. The weight of the tool is 0.29kg, and the maximum torque is 5Nm. The type of battery is AA.
Awesome Features:
Style: It can easily switch to manual screw driving for more control. The forward/reverse switch helps to change it from driving screws to removing screws. An integrated peg hole can help you here to store on a pegboard.
Great for use: It is perfect to use in applications like Assembly, Installing mini blinds, hanging curtain rods, hanging pictures, and Installing light switches.
Additional features: This one comes with a Double-ended screw driving bit and four AA Batteries. The chuck size is 1/4 in. The speed of the tool is 130 RPM.
Pros
Compact design
Reasonable price
Easy to use
Cons:
The Advantages of Owning a Cordless Screwdriver
It is an essential rook for do-it-yourself enthusiasts. This tool helps you to get things quickly on the home front. If you are using a normal one, then you can face difficulties. Electric screwdrivers is a good choice in this case compared to the normal ones. It doesn't matter for which purpose you are going to use it. The tool can enhance efficiency for both small tasks or large projects. These tools come at a reasonable price. Here, we have given five benefits to it.
Convenient
Due to its unprecedented grip, you can hold this tool easily. As it has a high-speed capability, you can find your tasks done much faster. A few screwdrivers offer a carry case and a range of screws. These will provide you much convenience while working.
Less Laborious
When you use an electric one, you don't need to put too much effort. Drilling in screws becomes really hard when a workpiece needs a large number of screws. This tool allows you to do more work with less effort.
Greater Efficiency
These tools enable you to insert screws quickly and accurately. It comes with a powerful drill capability. It makes you sure that the joint will last for a long time. You can complete your work faster by using these tools.
High Versatility
Variable speed and "reverse action" are the two most common features of these tools. The variable speed of this tool can offer you more efficiency when working. On the other hand, "reverse action" is a hallmark feature. It enables you to insert screws faster. Moreover, you can remove them easily whenever you want. The adjustable speed control helps to spend less time matching screws with the work you are doing. It comes with three basic shapes, straight, pistol and multi-positional.
Cost-Effective
You need different caters when you work with conventional screwdrivers. The tool comes with a set of different shapes. Each of these is perfect for a particular job. By using this tool, you can easily loosen parts from the set. If you want to get the benefits of three different capabilities in one device, then these are the best options. For this, what you need to do is to change the shape of the job being undertaken.
Buying Guide For The Best Cordless Screwdriver
Till, you have read about the top ten products and their pros, cons. And from here, you must have got some knowledge about the advantages and disadvantages of these products. But before going to buy these tools, you need to consider a few factors.
If you feel confused to choose the right one, then you can follow our buying guide. Here, you can get most of the details regarding all essential aspects. These are the properties that you must consider before getting a driver.
Battery Power
Usually, a driver gets power from a dedicated battery. The battery capacity varies from 3.6 volts up to 12 volts. The more the battery capacity will be, the more capabilities the drivers will have. A high-capacity battery can give power for a long time. If you want to use the driver at some distant place, do confirm that you are choosing a battery having sufficient capacity.
Torque
When you provide rotational energy on the screw, it will create a certain torque. The torque value is proportional directly to the penetration capacity of the tool. You can choose a high torque driver in the case of large screws or with a hard surface. You can use a driver for soft surfaces like wood also. In this case, you don't need to worry too much about the torque capacity.
Speed
Most of the drivers have a certain speed ratin g. And the speed is measured in RPM. It indicates the number of rotations that the tool makes per minute. If you have a high RPM driver, you can operate the tool with ease. But sometimes, high-speed rotation causes less torque. That's why it is vital for you to consider an adjustable speed variant of the tool.
Size
The tool's size is also an essential factor that you need to keep in mind before buying. Drivers having compact design are convenient for many tighter applications. But a larger one will offer you better control and more power for heavy-duty applications.
Conclusion
These drivers allow you to operate any type of screw without any manual input. What you need to do is pressing the trigger button first. You need to do it when you lock the screw head with this tool. Choosing a driver can be difficult for you. Our list of the top best cordless screwdrivers is beneficial in this case. Here, we have given all the essential details of each product. We hope that it will assist you in choosing the right product.
Frequently Asked Questions:
What is the best cordless screwdriver?
The name of the best cordless screwdrivers are as follows:
DEWALT 8V MAX— Best overall
Milwaukee 2401-22 M12 12-Volt— Runner up
BLACK+DECKER 4V MAX— Best ultra-cheap
WORX WX255L SD Semi-Automatic— Best Compact
Bosch PS21-2A 12V Max 2-Speed pocket driver— Best heavy duty
What is the best battery powered screwdriver?
The best battery powered screwdrivers are:-
Hikoki DB3DL2—Best electric
Bosch PSR Select—most convenient electric
Worx WX252 V XTD— best cheap electric
Ryobi Ergo 4V—Another great 'semi-pro' option. …
Black & Decker AS6NG—Best ultra-cheap electric
How do I choose a cordless screwdriver?
When you're going to choose the right one, you need to consider the speed factor. The speed of these can vary from 300 RPM to as high as 800 RPM. Faster RPM helps to drive holes. And the lower speed ones help to drive the screw into the boards and walls.
What does a cordless screwdriver do?
These are versatile electric hand tools. These power tools are designed specially to drive screws. It can help you by saving time and effort on tasks. This tool can be used while installing plenty of screws like constructing flat-pack furniture.