Path lights help prolong your daylight hours long after dusk and they wouldn't even contribute to your utility bill when solar-powered. These kinds of lights take solar energy from the sun and charge the batteries during the day so that these solar path lights can work at night.
When purchasing path lights there are many factors that you have to consider; such as there are a majority of options in the market which have LED lights, which carry a longer and brighter charge than extremely bright or fluorescent bulbs. You can easily find the fully-charged run time among the requirements given by the manufacturer.
The next thing you have to consider while purchasing the solar pathway lights is the color. Usually, solar-powered sets produce soft white or amber-colored lights, as well as colored lights in shades such as green, red, blue, which are other alternatives to consider. And amber lights are considered to consume less energy and last longer than all other white light equivalents, of all the color choices available.
The typical light in the solar path provides an effect close to a 40-watt light bulb, but there are also stronger alternatives. In led lights, light is measured. The lumen range of most solar panel lights is 1 to 30 the larger the figure, the stronger the lamp.
The last and main thing you will need to consider when purchasing the best solar path lights is the design as the pathway lights have many varieties and designs. There is always a light which will suit your choice. For high-tech, lightning options consider purchasing motion-activated lights.
The List of 9 Best Solar Path Lights of 2020:
In today's article, we will tell you everything you need to know about the best solar path lights. We have listed the best suited pathway lights. You can purchase  some  of them within your budget. For more information on the path lights keep reading. 
GELOO Solar Pathway Lights Garden Lights
Gama Sonic Baytown Gs-105FPW-BW
Otdair Solar Ground Lights
Gardenbliss lights
Voona Solar Outdoor LED Lights
Homeimpro Pathway light
GIGALUMI
Moonrays Solar Path Light
Maggift Lights
Best Solar Path Lights
GELOO Solar Pathway Lights Garden Lights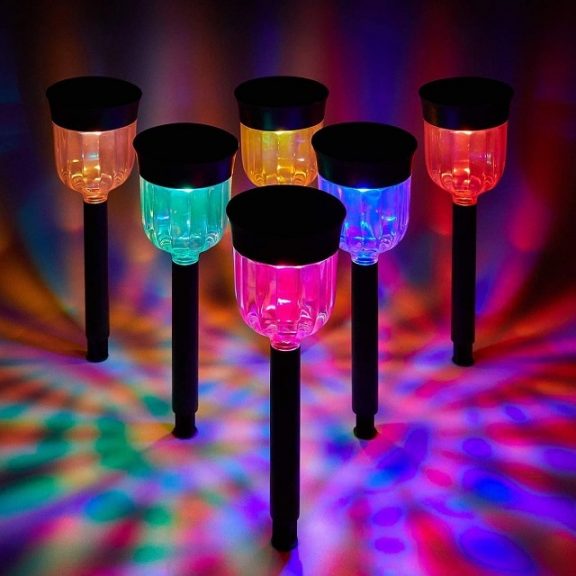 GELOO is one of the best manufacturers known for making lights that charge very easily and have a yellow glow that produces a look that is unique and warmer than a regular white light. And the awesome star concept that gives you a calm vibe and makes the ground look fascinating.
These GELOO lights are also available with color-changing features that include seven different color shades, including blue, pink, yellow, orange, red, green, dark blue, if you are someone who likes creative and adorable lights and needs something more festive. These decorations may also be used to celebrate holidays such as Christmas, Halloween, etc. This is the reason GELOO lights are considered as one of the best solar path lights.
Gama Sonic Baytown Gs-105FPW-BW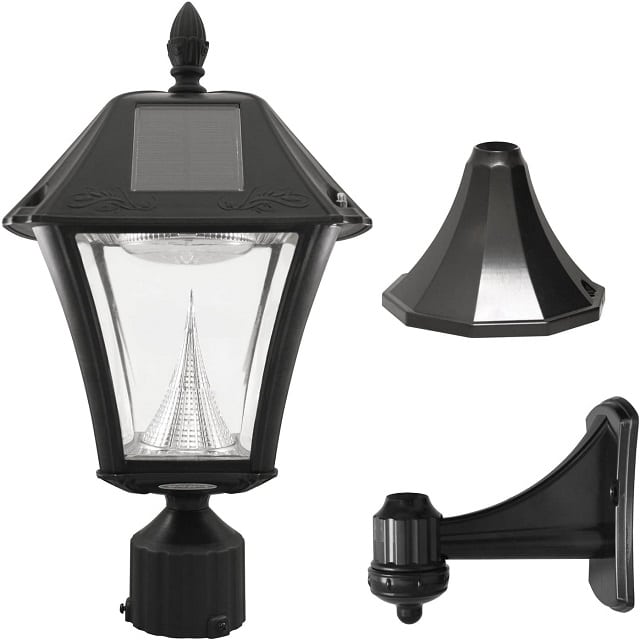 Gama Sonic Baytown Gs-105  is another best option for purchasing a solar path light as it is extremely flexible and also can be installed in few ways on your house or inside your backyards or maybe at the main gate lamp post. This Baytown solar path light has an extremely bright white color which can give excellent visibility and protection at night time.
This Baytown solar path light can from 9-10 hours with a full battery. This impressive solar path light has a sensor called photocell which can sense light and will automatically turn off when it senses dusk approaches. This is one of the most used solar pathway lights as it is economically a good alternative with an average budget.
This Baytown solar light has many pros including waterproof lights, withstand rain or snow, charges really quickly, and is inexpensive.
Otdair Solar Ground Lights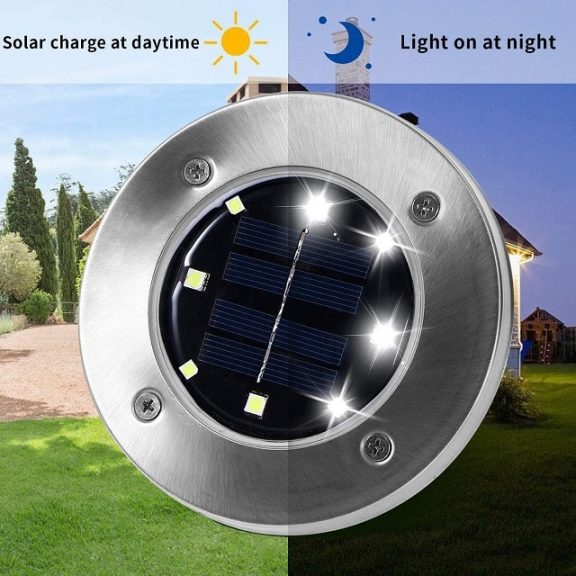 If you are in search of some different and unique solar pathway light, this Otdair light will be one of the greatest options for you as these lights last longer. The unique disc shape designs give a futuristic twist to your park or pathway.
This Otdair light is a pack of 12 lights. The high-quality IP65 aluminum alloy structure makes the lights waterproof and extremely long-lasting. When the batteries are fully charged the lights can withstand inclement conditions and remain on for almost up to 10 hours.
Each of the lights has eight LEDs which makes the lights extremely bright. This is also one affordable and best solar path lights, moreover, the batteries of these Otdair lights charge even on rainy and cloudy days because of it's 4.5 square inches solar panel.
Gardenbliss lights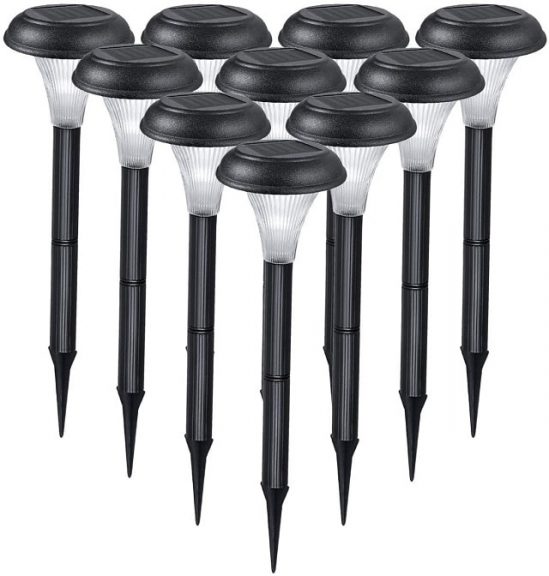 Gardenbliss lights are one of the amazing solar pathway lights. Since the lights are traditional, plain, elegant, and this pack contains 10 lamps that are of immense value. The lamps are textured and clear glass lamps in the gardens look fantastic and also can cover a wide area.
The lamps can even survive fog, snow, typhoons because they are 100% waterproof, which is a huge advantage if you buy these garden bliss lights, you would not be disappointed because they are built with long timing batteries that charge even on wet, gloomy days.
It is assumed that these bright LEDs will last up to 29,000 hours and these lights are so good that you will enjoy everything about these lights as they are provided by a 100 percent satisfaction guarantee.
Voona Solar Outdoor LED Lights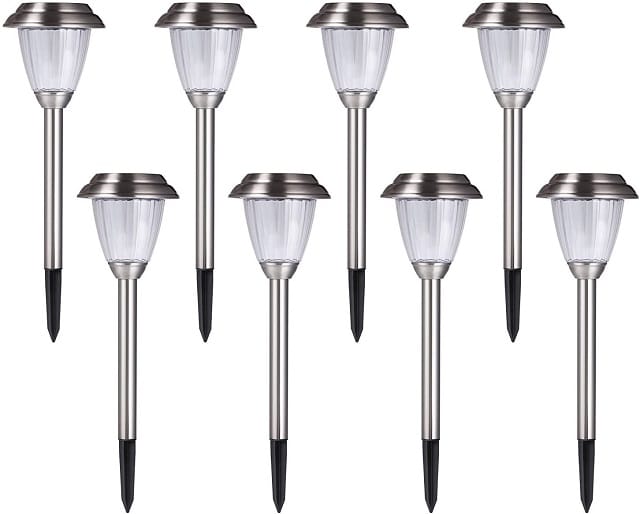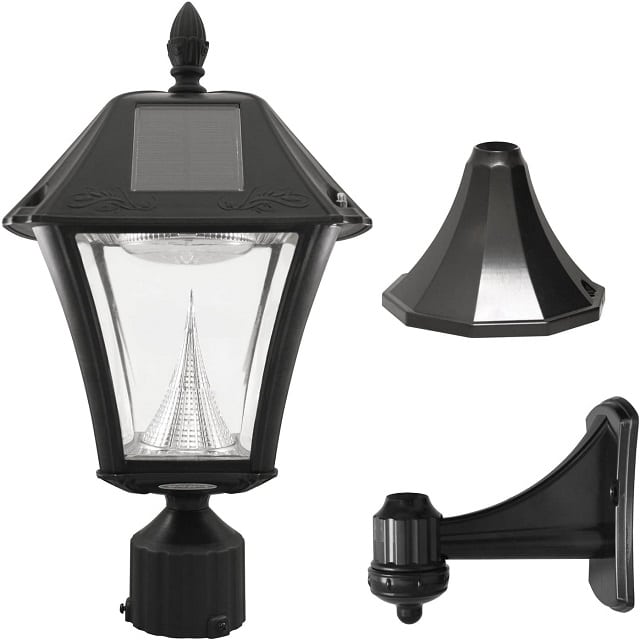 This package of eight Voona lights has a traditional, streamlined design with a transparent plastic lens that creates a beautiful star shape effect which makes it an attractive and unique design. For eight to nine hours with a full battery, they give off a soft, inviting white light.
The substance of stainless steel is waterproof to common rain and will not stain or discolor. Plus the high-density plastic point makes placing them in the ground very easy, but if the ground is frozen, you do not try to insert them.
Not just that these lights are also assisted by a 30-day moneyback guarantee and outstanding customer service is offered by the company. This Voona solar LED lights are on an average rate which is a little expensive but worth purchasing and moreover, there was a survey done by many people which agreed on saying that Voona solar outdoor LED lights are one of the long lasting solar pathway light.
Homeimpro Pathway light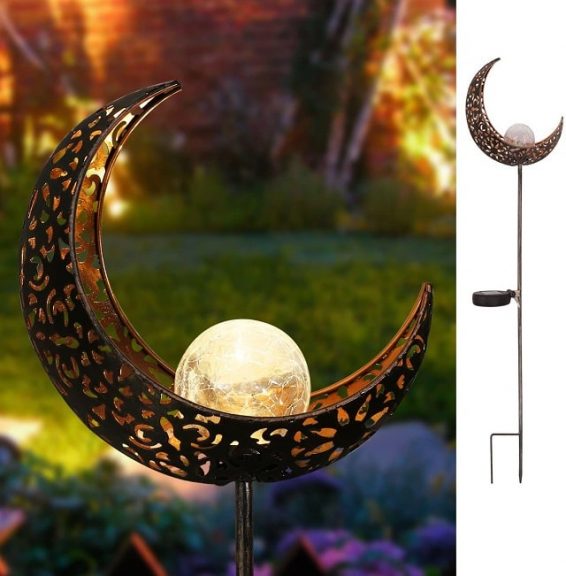 Homeimpro Light is one of the best solar path lights ever known because of its amazing stainless steel and measures 40 inches tall which makes it a great impact. The best thing said about these lights is that they are waterproof and can charge the batteries even in any rainy or snowy weather.
There is a very beautiful and amazing design at the top of the stake which is a crescent moon sculpture that gives a warm and relaxing effect. There are two different colors available for these lights including warm yellow and white glow. Both of these colors are highly rated.
Moreover, the stainless steel and amazing glass design are durable which will not stain or damage. And also the company offers a 100 percent money-back guarantee within the first 180 days
GIGALUMI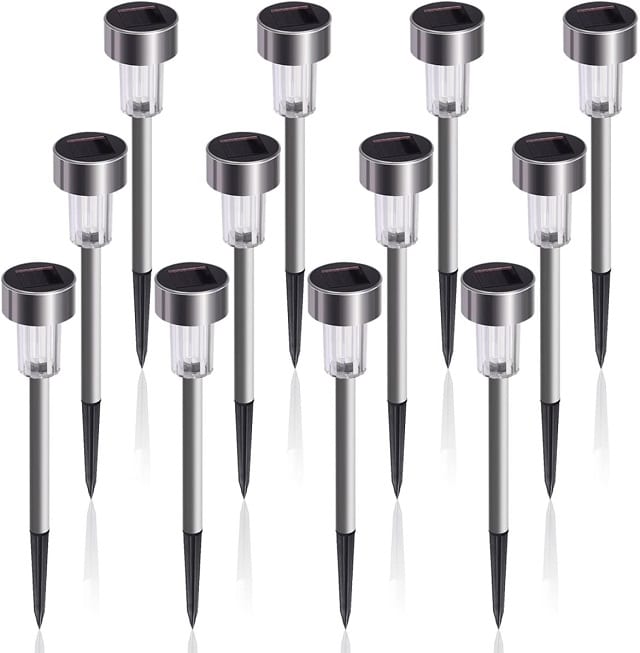 One of the best solar path lights is GIGALUMI because they give a package of three pathway lights with amazing features including a plain stainless steel pole to protect it from getting any rust or discoloration. And with a crisp glass ball design lamp on the top which makes the light look amazing.
The battery timing of these GIGALUMI   lights is amazing as they can stay up to 10 hours if they are charged fully. These lights are known for being the best pathway lights because one great thing about such lamps is that those warm white lights and shades have two options for you to choose from. For example, if you want a slow move between yellow, light, and red, simply turn right if you want a regular white light, or turn left.
These solar path lights are Weatherproof, these lights are often designed to survive fog, snow, and everything in between. That's why it's considered as the best lights for pathways.
Moonrays Solar Path Light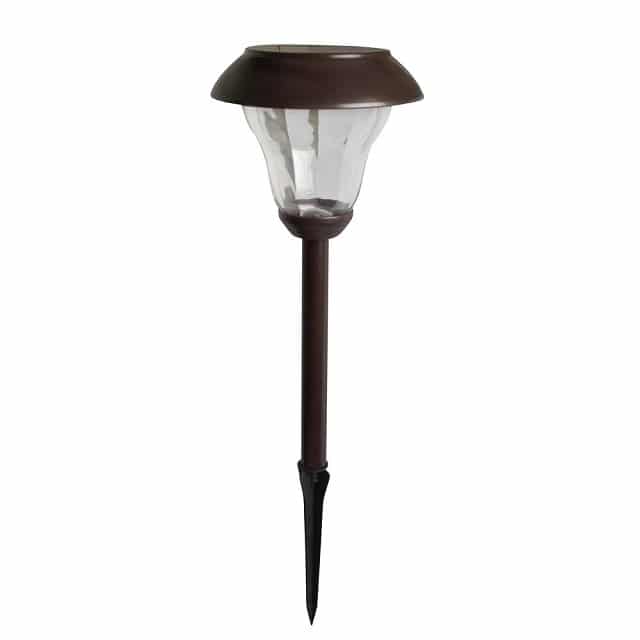 One of the incredible solar path lights on the market is provided by Moonrays. With an elegantly textured bronze finish and glass frame, these amazing lights are designed to maximize the design and architectural vision of your house.
This is a solar pathway light which is 20 times brighter than the other famous solar pathway lights. For advanced and high-quality landscape lighting, these devices often have a 360 ° monitor and a 120 ° beam angle
In addition, Moonrays light bulbs have a solar module that charges the batteries continuously with a cumulative power of 1,500 mAh and can last up to 8 hours at night.
The package contains a 2-pack lighting fixture that is simple to mount as all it takes is to drive the ground stakes into the soft earth and trigger the unit without the need for wiring. The bright light immediately switched on when it gets dim.
Maggift Lights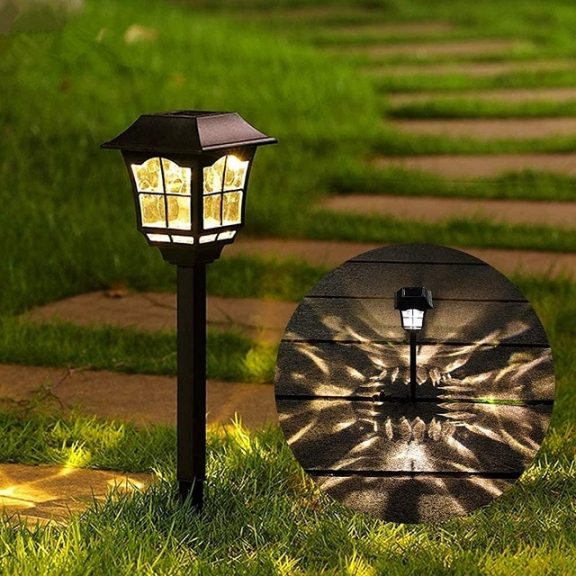 Maggift lights; one of the known and best solar path lights available in the market This Maggift light developed to provide your pathway or bridge with an appropriate lighting system.
The way of installing the lamp is quick. The first thing you need to do is remove the stake and cover of the glass. In order to trigger the light for the first application, you must also disable the tab under the light cap later. Simply reconstruct the pieces, then drive them into the dirt.
Maggift has given the lights a really cool white-colored shade with a transparent lens to make the field look light and warm-toned. After 7-8 hours of rays of sunshine, the solar pathway lights will get charged completely. So during the daytime, the batteries get charged so they have enough capacity to operate the lights during the night.
Conclusion
Nowadays, pathway lights are very important as there are many accidents occurring around, especially at night time, and that is the main reason why pathway lights are made. But several companies have created the solar path lights for the safety of all in order to conserve energy, and all of the above-mentioned lights are the best path lights that can be purchased affordably and conveniently to make your home, roads look more decorative and secure.
Frequently Asked Questions
Q: Are solar path lights any good?
A: Solar path lights are a perfect choice for homeowners and company owners alike. They're cost-effective, simple to install, and appealing. They are also surprisingly bright as compared to traditional wired choices.
Q: Do solar lights need sun or just light?
A: No, solar lights do not rely on direct sunlight for charging. However, they somehow need light to power them on. This can either be through indirect sunlight—think cloudy days—or artificial light sources such as incandescent bulbs or LED lamps.
Q: Is it OK to leave solar lights out in the winter?
A: If you have long winter or severe weather in your city, it's better to change the battery every year. Solar lights can be kept outside, even in cold weather. … Do not store solar lights in a box or dark space without a solar panel light source.
Q: Can you use regular batteries in solar lights?
A: Solar lights need to store energy from the sun somewhere, which is why they require rechargeable batteries. Standard batteries can't hold energy like NiMH and NiCd batteries, risking harm to your solar lights. … Also, alkaline batteries charge your solar lights for a limited period.
Q: How long does it take for solar lights to work?
A: Solar lights perform well when put in direct sunlight away from darkness to get a maximum charge that normally takes about 4-12 hours. The batteries of solar lights provide adequate energy for evening lighting.
Q: Do solar lights work in rain?
A: When the sky has light, the solar-powered lights can work. … Visible light will also traverse cloud cover and rain and enter the solar-powered lights. Clear skies are the most effective for your solar lights, but any visible light gives them enough light to function.