It can be challenging to manage cables and switch devices if you have a home theatre or entertainment system with various outlets and display equipment like game consoles, video boxes, and projectors. Fortunately, if you have too many things to handle, the best HDMI switch will help you connect more inputs to your TV or AV receiver.
Basically, an HDMI switch may take and deliver multiple source devices to one or more display devices by an HDMI switcher, cutting down on cables' congestion. Some are at 1080p, while others, along with features such as HDR, Dolby Vision, Atmos, DTS:X, and other video and audio formats, will accommodate 4K content. The1080p HDMI switches appear to be quite a bit cheaper than 4K switches, making them a good choice for setting up a dorm room where many people can share devices on an HDTV.
Without having the right cable, no HDMI setup is complete. To decide their prices and find the price and length that suits you, take a look at our list of the best HDMI switches. To find the best HDMI switch for any application, keep reading.
The Best HDMI Switch for 2020 at a Glance
J-Tech Digital JTD4KSP0301
Kinivo 550BN
IOGEAR 8-Port
Gana HDMI Switch 3×1
Zettaguard 4K
ROOFULL RFH2S51
Rocketfish RF-G1185
Newcare HDMI Switch 3-in-1
avedio links 4K Switch
Fosmon HD1831
Best HDMI Switch for All
J-Tech Digital JTD4KSP0301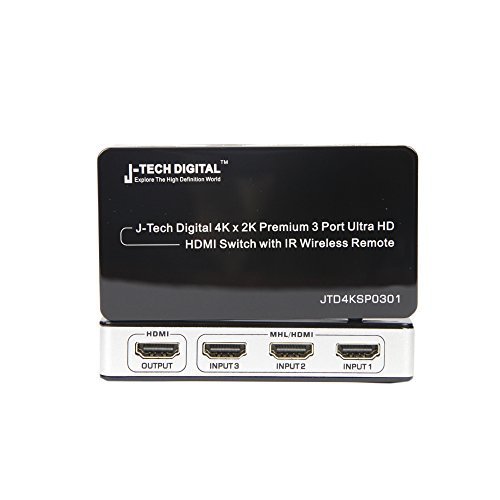 The overall best HDMI switch in our list is the J-Tech Digital JTD4KSP0301. The J-Tech Digital JTD4KSP0301 is cheap but provides a lot of features for a sub-$30 package than you would think. Not only does the system support 4K video, but it also comes with a remote which switches between inputs automatically when you turn them on. This also makes it the best 4K HDMI switch. You may need an external power source for the JTD4KSP0301, which is admittedly a little inconvenient for a three-port switcher, but it's a decent compromise considering the kind of fantastic output you get.
Kinivo 550BN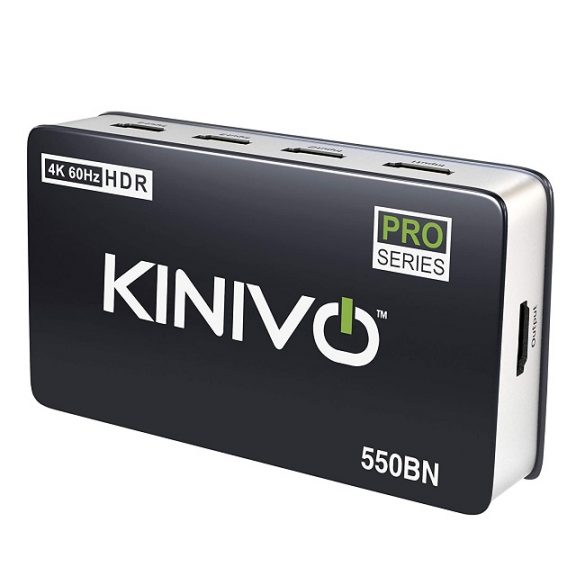 The Kinivo 550BN is the king of HDMI switches that are cheap and reliable. It is not only the best  switch but also the best 4K HDMI switch. It's easy to see why it is so appealing, with five high-speed HDMI ports, one output, and a lightweight, useful build. While there was no 4K support for earlier versions of this unobtrusive, competitively priced switcher, the new update is a major improvement, providing 4K content at a crisp 30 to 60 frames per second (FPS). This makes it perfect, particularly if you are looking for something to use for a Blu-ray player that supports 4K discs for both video game consoles and physical media players.
Although there is an included infrared (IR) remote to toggle between HDMI inputs, the 550BN can also turn to an active input automatically, eliminating from the equation one potentially confounding element: which input corresponds to what? We especially liked that the 550BN had no need to memorize arbitrary HDMI numbers. The 550BN is one of the best choices for power users and beginners alike due to its wide variety of features, superb visual fidelity, and auto-switching skills.
avedio links 4K Switch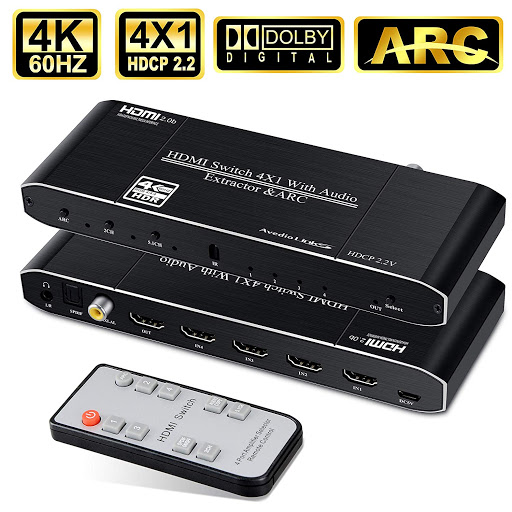 The avedio links 4K Switch is the best 4K HDMI switch at a budget. A 4K switch is one of the switches that supports 4K resolution, as the name suggests. That is to say that without any communication issue, you can pair it with any 4K monitor or TV with this unit. Although it comes with fewer connectors, the switch delivers an excellent 4K resolution at a refresh rate of 60Hz.
As we said earlier, like previous models, the avedio 4K link switch also comes with a remote control to control the system effectively. 4 HDMI input sources and 2 HDMI output displays come in the transition. That is to say, each of your screens will now view multiple pages at once. In addition, this is one of those devices with additional features, particularly one SPDIF port for speakers and headsets and a 3.5 mm port.
All HDMI products such as Nintendo Switch, PS3, PS4 Pro, Xbox One X, Xbox 360, Apple TV 4, Blu-ray Player, Beamer, DVB Receiver, Laptop, and HDTV/HD Display are compatible with this Switch. It also supports HDR, HDCP2.2, HDMI 1.4b, and supports up to 4K @30hz HDMI resolution.
Zettaguard 4K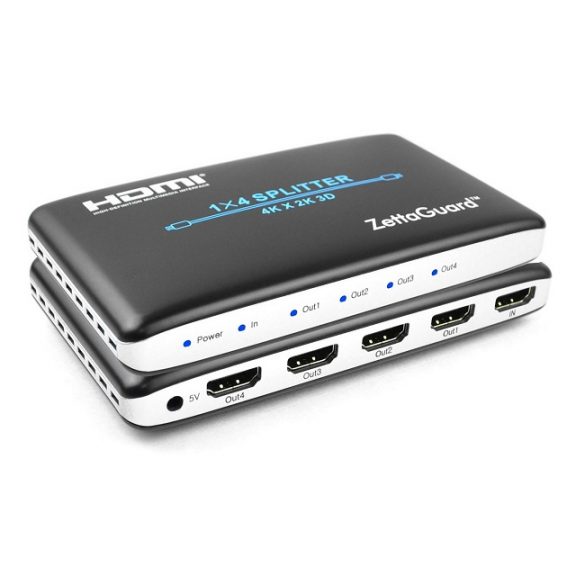 The next best HDMI switch in our list is the Zettaguard 4K. The Zettaguard True 4K 4×1 is another smartly-priced alternative, better for those who want a simple switch between devices. It is compact enough to tuck away out of sight at less than an inch thick and less than five inches tall, and its style is good-looking enough to fit into mostly dark entertainment hubs. You can see four different inputs on the left, as well as one output; illumination above each port on the front shows which one is actually in operation. You can use the wireless infrared remote to switch between inputs, which also allows you to change PIP choices on the fly, all from the comfort of your couch.
We think that its picture-in-picture (PIP) mode is an interesting facet of the Zettaguard, which helps you not only to see another HDMI source on a small window in the corner of your screen but also to switch between the two smoothly. This comes in handy for professional multitaskers. This particular hub is a cheap, practical HDMI switcher that can accommodate just about anything you throw at it with 4K, 2K, and 3D video output support. Therefore you can also consider it as the best 4K HDMI switch.
Best HDMI Switch for PS4
IOGEAR 8-Port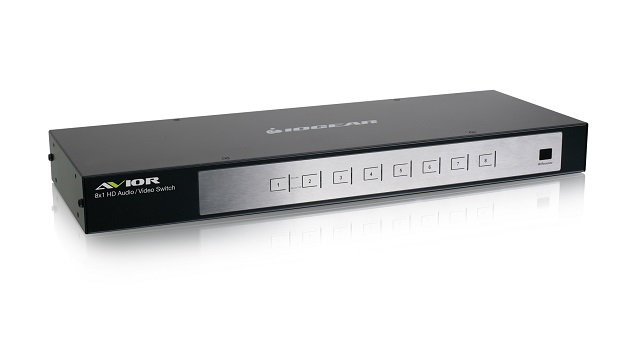 In our ranking, the top-notch HDMI switcher for PS4 is none other than the IOGEAR 8-Port HDMI Switch. On one HDTV, you can now switch between 8 HDMI units. The noteworthy aspect of this IOGEAR switch is that it comes with eight ports, which means that this system can easily manage three more devices than the Kinivo 501BN. The system is also lightweight in size and simple to handle. Media servers, DVD players, DVRs, and video game controllers can now link to this switcher.
The IOGEAR 8-Port Switch is no different in terms of outstanding viewing and fantastic performance. With a dynamic touchscreen, the system features 480p, 720p, 1080i, and 1080p resolution displays. Unfortunately, it does not allow 4K resolution, for which you need to consider 4K transfer video connections, which is our next option in the list of the best HDMI switchers. But still, it is the best HDMI Switch for PS4 and you can take your gaming to the next level with it.
In addition, one of those switches supporting DTS HD Master Audio and Dolby True HD is the IOGEAR 8-Port HDMI Switch. It also comes with an infrared remote control and supports 3D content, much like Kinivo 501BN.
Gana 3×1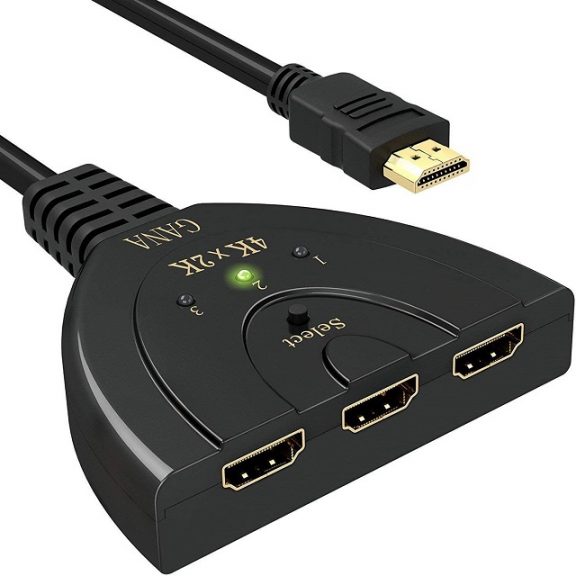 You simply can't go wrong with the Gana HDMI Transfer 3×1 if you are able to trade a little comfort for sheer simplicity (and a very, very low price). This HDMI switcher compliant with 4K is a cable with three HDMI ports on one end and an HDMI hookup on the other. It is also among the best HDMI switch for PS4 at a budget. By manually pressing the Pick button (there is no remote), you switch between cables, and there is no auto-switching. Then again, for less than $10, you can have the Gana, and it doesn't need an external power source. If you have to hook up three or fewer machines, it's not any better than this. All this makes it among the best HDMI switch in 2020.
ROOFULL RFH2S51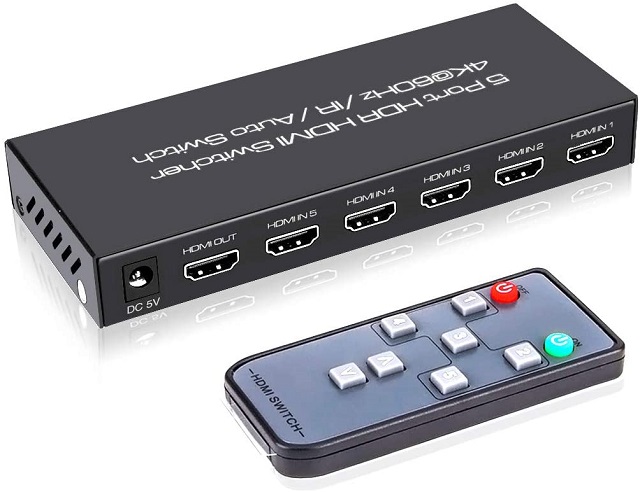 The ROOFULL RFH2S51 is another money-worthy switch that comes with five input ports and complete connectivity options. This is a versatile HDMI switcher that is compatible with PS4 and supports various resolutions, including 3D, 4@60Hz, HDR, and FHD 1080P resolution (up to 4096 x 2160). It also supports deep colors of 36bit, 30bit, and 24bit. This means that in terms of the show over other such HDMI switchers, you can get full gain.
Similarly, HDCP2.2 and previous releases are compatible with the unit. The interface can also connect to Apple TV, 4K TV, PCs, game consoles, Chromecast, and other computers. Moreover, the system provides various audio formats, such as Dolby Digital, Dolby Atmos, DTS-HD, etc.
A significant aspect of RFH2S51 is that rather than relying on a cheap screen, the organization has developed its own dedicated IR remote control. The downside is that it is important to upgrade the remote because it gets boggy occasionally and doesn't work properly. Other than that, the ROOFULL RFH2S51 is surely the best HDMI switch for PS4.
Best HDMI Switch for Gaming
Rocketfish RF-G1185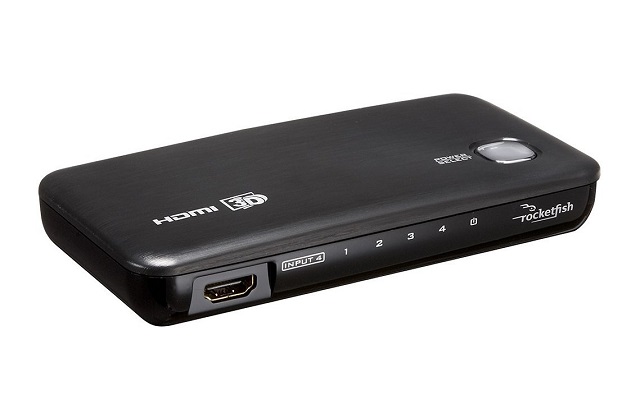 Things are just fine with the Rocketfish RF-61185, but it costs a decent amount of money. It has four HDMI ports and needs external control (although one of them is on the front, which often makes things a little challenging). While it is not the speediest accessory, the RF-61185 comes with remote control. You can toggle the system on and off, which is a novelty for HDMI switchers, so the RF-61185 could be worth a look if power consumption is a problem. A real instruction manual comes with it, which is more than we can claim with a lot of other gadgets. Its features make it the best HDMI switch for gaming.
Newcare HDMI Switch 3-in-1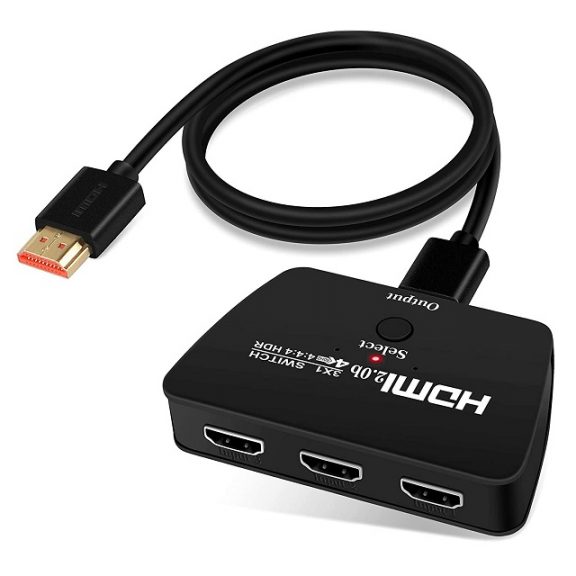 There's no need to smash the bank with an HDMI turn. With a price that usually ranges from $15-20, the Newcare HDMI Transfer 3-in-1 is the best HDMI switch for gaming that is extremely affordable. It supports three input sources, all at 4K/60Hz, unlike similarly-priced alternatives such as the Techole 4K Splitter. For 1080p and lower resolutions, it may even downscale.
It is easy to use it with a button at the top of the HDMI box to allow you to switch sources of input. An LED symbol distinguishes them, so you know which one is in operation. If you know that this switch does not support features like HDR, Dolby Vision, and Atmos, it will surprise you to find a comparable set of features for the price.
Fosmon HD1831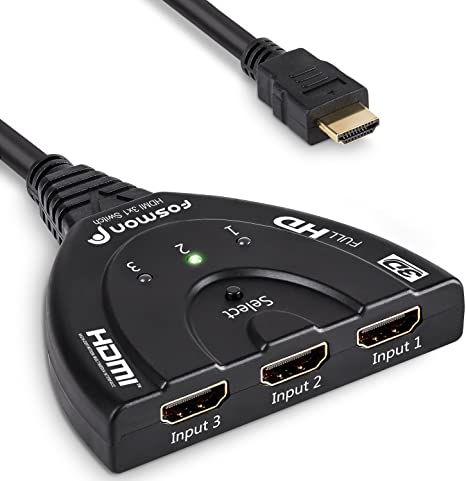 Our last pick for the best HDMI switch is the Fosmon HD1831. Fosmon HD1831 is an HDMI switcher that is extremely inexpensive and extremely simple. On one end, it has an HDMI link for your TV and three HDMI ports on the other end, known as a "pigtail cable." By pressing a button on top of the HD1831, you manually pick your input. It's pretty much that. With the HD1831, there's nothing really wrong, but you can get similar devices that also provide 4K support for the same price.
Buying Guide for HDMI Switches
You need to remember the following tips and stuff before you purchase the best HDMI switcher for yourself. To bear in mind, these things are important as you will be able to better grasp the words and functions that are fitted with these HDMI switchers.
Port Availability:
The number of ports in the appropriate switch is the main focus when looking for the best HDMI switcher. In reality, port availability is a big problem for those who are tech geeks who have more than one system that needs a switch. Despite the absence of proper requirements as to how many ports you may need for high-end gaming for the switch. Switches with 4-5 ports are adequate for power users. However, the IOGEAR 8-Port HDMI Switch is an excellent alternative for you if you just need more ports.
Automatic vs. Manual Switching:
HDMI systems usually have two distinct forms of switching: automatic and manual switching. The HDMI switch automatically switches to the active port during the automatic switching process. You will not have to adjust the port manually. The switch also connects to the activated unit.
In manual switching, however, you could adjust the feedback either by pressing the push button or by using the remote IR joystick. For greater convenience and ease of use, some models, such as the Kinivo 501BN and Univivi 4K HDMI Switch, provide both automatic and manual switching functions.
HDCP Conformity:
High-bandwidth Digital Information Encryption, aka HDCP, is a data protection and data breach avoidance security measure. This prevents people from copying film, videos, and music when listening to other computers.
Due to high copyright laws and protection controls, all media devices are typically compatible with HDCP. (The reason is that the media can not be played on HDCP non-compliant devices.) The HDCP compliant HDMI switches are the most suitable option for gamers who want to stream videos.
Bonus Features:
In addition to features such as the number of ports, switching options and HDCP enforcement, IR remote controls, picture-in-picture feature, 4K monitor, and dynamic connectivity are several additional features that HDMI switchers come with. Therefore, you may also want to look for these when buying the best HDMI switch for yourself.
Price Breakdown:
The HDMI switches rated in the $15-$25 range are the better budget HDMI switches. For regular or beginner gamers, such switches are most suitable. However, if you are looking for more functionality and full performance, such as 3D, 4K media, and more ports, you will have to buy the HDMI switches in the $30-$50 price range. They might cost you more, but you're surely going to get what you're looking for. Few switches over the price tag of $50 are still eligible for even more features, higher ports. But we think opting for higher-priced switches will be unwise, as medium-priced switches really work well and offer the same functionality as premium HDMI switches.