Google is continuing to work with its search engine as a helper in all life situations. A new function is now to facilitate the search for a job by displaying offers from job exchanges bundled in the search results.
If you are looking for a job online, you will often find it hard to find the job offers from countless job exchanges, and you will find the websites of potential employers. In doing so, the queries of the individual services provide similar results and quickly creates an unmanageable clutter of advertisements and links. A problem that it would now like to resolve through its in-house search engine.
In the US version of the service, the new Google for Jobs option is now available for targeted search for job offers. A feature the company announced in mid-May at the Google I / O developer conference. No separate search mask is required to use the service. The mere search for a job like "Jobs near me" or "Employment as" as well as those according to concrete job descriptions automatically result in a list of current vacancies.
Google takes on nearly all relevant job exchanges and networks, including LinkedIn, Monster, WayUp, DirectEmployers, CareerBuilder and Facebook. In addition, the search engine also lists vacancies which are published directly on the websites of the contracting authorities. Thus the search for a new place is to be more compact and clear. All results and the most important information about the respective offer are presented in a uniform format.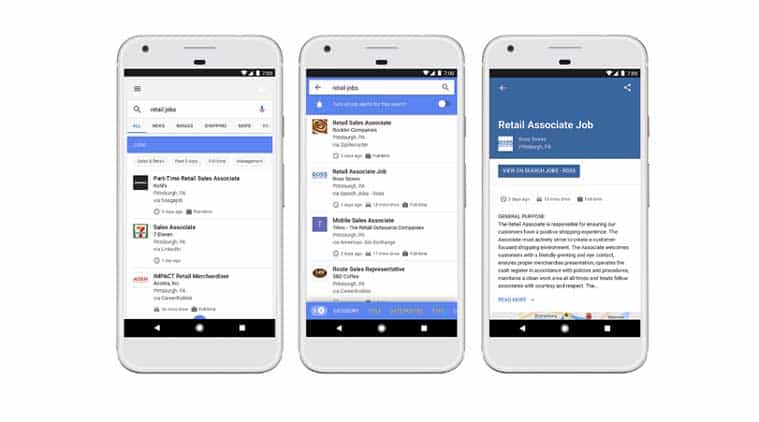 By entering further criteria and basic data, the results can be refined. A large number of filters allow the further restriction of the results to certain places or branches of industry. Afterward, users can inform themselves about new job postings via e-mail. A click on a job offer not only provides details on the job advertisement but also reviews the company through services like Glassdoor and Indeed. The Google service does not currently provide this information.
To ensure that job listing published on multiple portals do not show up in the search results, it matches them as early as the query and filters out redundant results. By using artificial intelligence and complex algorithms, Google categorizes the search results. If the user chooses for a job offer published on several job portals, it automatically redirects to the service that provides the most comprehensive information.
The application process then runs completely over the respective service, here does not offer Google's own solution. Also, the company emphasizes that it does not want to compete with operators of job exchanges. There are currently no plans to publish jobs directly via Google. Rather, the success of existing services should be promoted. "We want to do what we can best: looking for," said Google's product manager Nick Zakrasek against TechCrunch.
Currently, Google's job search function is limited to the US, and further markets are expected to follow. Whether and when an introduction to Germany is due should also depend on the success of the new service.