An HDMI audio extractor is a hardware that splits the High-Definition Multimedia Interface signal into both a separate auto output signal and a standard HDMI output signal. The previous versions of old models do the output analog stereo signals with RCA or 3.5 mm connections. Still, now most of the latest models have the capacity of output analog 7.1 or more. In other words, the audio extractor simply extracts the audio signals. It sends them to a separate audio device such as a speaker or any other audio device without compromising the HDMI video quality.
It is beneficial when you need to play audio through a different playback device. This feature is handy when your video playback device could not play the audio.
It separates the audio signals from the HDMI signals. Then it decrypts and encodes it again into any specific type of audio signal, which is usually analog. Therefore an audio extractor is needed if you wish to convert HDMI signal to analog audio formats. Since HDMI transmits and digital signal, you cannot output the HDMI signals to analog audio systems.
It would help if you had cables that are designed to decrypt the HDMI signals to audio signals before delivering. The 19 pin HDMI cable not only transfer digital signals, but it also helps to communicate both the output and input devices. The signals sent throw them are only HDMI signals; therefore, they require extractor for conversion to any other formats.
Purpose of HDMI Audio Extractor: 
If you have an High-Definition Multimedia Interface source and you have only an audio-only output gadget, then you need an audio extractor to connect your output device to work. In simple terms, the Extractor helps you to route audio signals from any High-Definition Multimedia Interface-only source to an audio-only receiver.
If you listen to music in your living room using an online media streamer and wish to connect it to your stereo system in the next room, you need an audio extractor.
Since you listen to high-quality audio from a streaming service with HDMI only source and now you wish to connect it to an audio-only gadget, the Extractor plays a vital role in playing your music.
Sometimes you may use the HDMI wireless transmitter, but it will not work if your output devices are audio-only gadgets.
Even you can connect your High-Definition Multimedia Interface only gadgets to a system of old analog receivers, too, with the help of an HDMI splitter. With the use of an HDMI splitter, you can send the High-Definition Multimedia Interface signals to your display devices and the other one to the audio extractor connected to your old analog receiver.
HDMI Audio Extractor and Sound Quality:
Since HDMI sends signals digitally, it will not degrade the audio quality, but the HDMI couplers and lengthy cables may degrade the audio quality.
Besides, if your HDMI audio extractor is not matching with your HDMI device you are using, then the sample rate may vary, which may degrade your output's sound quality.
HDMI allows up to 8 channels of uncompressed audio at sample sizes of 16-bit, 20-bit, and 24-bit, with possible sample rates of 32 kHz, 44.1 kHz, 48 kHz, 88.2 kHz, 96 kHz, 176.4 kHz, and 192 kHz. HDMI has three physically separate communication channels: the DDC, TMDS, and the optional CEC. It helps in bi-directional communication between the devices for effective transmission.
If the sample rate is higher, the digital signal can emulate the best possible analog audio signal.
HDMI devices manufactured to adhere to various versions of the specification, with each version is given a number or letter, such as 1.0, 1.2, or 1.4b.
A subsequent version of the specification uses the same kind of cable but increases the bandwidth or other capabilities of what can be transmitted over the cable.
A product with a particular HDMI version does not necessarily mean that it has all features in that version, and some HDMI features are optional. Since the connected HDMI devices establish two communications among themselves, the sound quality is decided on the least capable device connected. Though 192 kHz is the maximum possible sample rate, the least capable device only judges the possible sample rate of the transmission.
Cable Length:
Once the connection is established, the connected devices engage in a digital handshake; during that process, they communicated information and the best possible parameters of the connection like sample rate and time taken for two-way communications between the connected devices. If the cable length is more, the time taken will be more; therefore, the devices will send the digital signals at a lower sample rate for the best possible flawless digital transmission.
More about the Audio Extractor: 
The objective of the extractor is straightforward. The extractors connected to HDMI audio source separate and extract the audio signal alone, and send it to the audio output device like your old traditional speaker system. The extractor can extract and deliver the audio in different formats based on their capabilities that are primarily dependent on its price.
It allows the audio signals to send to a 2-channel stereo analog source or a digital audio source using an optical S/PDIF that supports Dolby Digital 7.1 or surround sound.
There are two types of extractors. The first one is those with audio output only with optical, coaxial, AUX, or RCA, and the other with audio and HDMI video outputs.
The first type extract and converts the audio signals into analog stereo outputs only as AUX and RCA outputs. Some extractors support 4K/60Hz, (HDCP 2.2) and HDR, and the second type extractors support 4K/60Hz pass-thru, HDCP 2.2, and HDR, while others support 4K/30Hz, 1080p resolution (or even lower4K/30Hz, 1080p resolution, or even lower resolution.
Sony Philips Digital Interface is a standard for broadcasting high-quality digital audio without using an analog conversion process. You can implement the SPDIF interfaces using either Coaxial with RCA connectors or with optical connectors.
How to choose your Best HDMI audio Extractor: 
Finding the correct type of audio extractor is a cumbersome task; anyway, we wish to make your job easy; we have given the guide for you.
Right Type of Extractor: 
Based on your requirement, first, you need to pick the correct type of extractor.
Special Features and Specifications:
The main functions of extractors are the same. You look for some additional unique features like ARC (Audio Return Channel) support and CEC. Do not forget to check the features like audio format supported, video format supported, audio output, video output, surround sound feature, EDID switch feature, etc. The extended display identification Data gives you details about the source device and the maximum capabilities of the source device like display, frame size, HDR feasibility, and more.
OutPut: 
Based on your setup needs, you may choose an extractor with either analog, optical, or both types of outputs. If you are uncertain, it is better to buy an extractor that supports both types of output.
Compatibility:
Compatibility may be an issue if you have not selected the right product for your need. Your chosen audio extractor must be compatible with both your source device and the output device.
Ports Count: 
The total numbers of ports play an essential role in buying an extractor. The more the numbers you can connect more the devices and make use of it. The more ports, the more the price may be; therefore, you have to balance your requirement and budget.
Easy to Use: 
Select the Extractors that are come as a plug and play models. Plug and play models are easy to set up, install easily, convenient, highly portable, and compact in size and design.
Opt for the latest version of the HDMI audio extractor, like 2.0 or 2.1. There are so many good quality extractors which sport extractions of 5.1 or 7.1 within your reach. Most of the basic models output only stereo sound but go for a decent 5.1 or 7.1 surround sound. Even some models support RCA, 3.5 mm, digital optical, and HDMI.
Finally, when selecting your HDMI audio extraction solution for your needs, make sure you have an output format compatible with it. Most digital signals like HDMI are not convertible without any hardware for decryption. We are very confident this post helps you to select your audio extractor that best suits your need.
Best HDMI Audio Extractors of 2021
JTD18G- Best HDMI Audio Extractor 4K 60Hz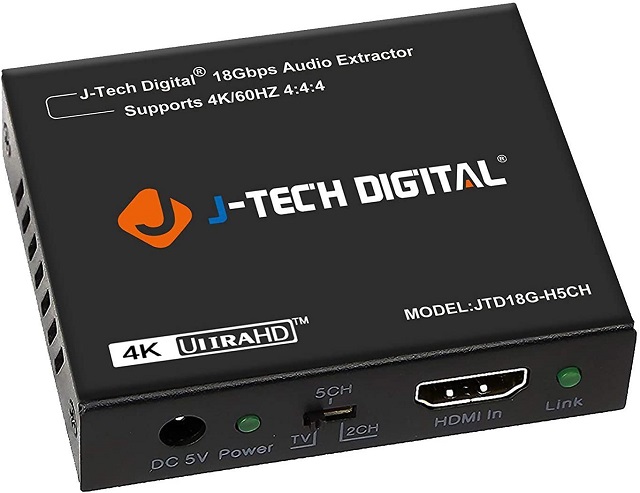 J-Tech Digital provides high-quality products that integrate and distribute audio-video content for both residential and commercial purposes. It makes affordable and high-caliber audio-video devices available to consumers across multiple industries, including the medical, commercial, and residential fields.
JTD18G-H5CH allows users to extract digital High-Definition Multimedia Interface audio signals for HDMI compliant source to L/R analog out 2CH or digital audio 2CH / 5CH output. It also supports 4k video resolution at 60Hz, HDR10, and is HDCP 2.2 compliant. Further, both input and output HDMI support video resolution up to 4K2K@50/60Hz. It also supports 10bits HDR (High Dynamic Range), Dolby Vision pass-through, HDMI high resolution digital audio formats bypass, LPCM 2CH, Dolby TrueHD, and Dolby Atmos, and DTS-HD Master Audio, audio sampling rate up to 192 kHz. HDCP 2.2 and CEC bypass are supported.
After the launch of new generation consoles, Xbox Series X/S, and the PlayStation5, some users cannot utilize their legacy audio equipment due to the lack of an optical port on the new console systems. The JTD18G-H5CH (JTD-322) provides a solution to this issue.
It can extract digital HDMI audio signals from an HDMI compliant source, such as the new console systems, and provide audio output via the 3.5mm port for a 2Ch format or the Optical out port for a 2CH / 5Ch format. It also supports resolution up to 4K at 60Hz, with HDR-10 pass-through and HDCP 2.2 compliance.
Features:
HDMI 2.0b (18Gbps), HDCP 2.2, and DVI compliant
Video resolutions up to 4K2K@50/60Hz (YUV444)
Extracts HDMI audio to multi-channel optical (SPDIF) or L/R analog audio
Optical audio supports LPCM 2CH, Dobly Digital 2/5.1CH, DTS 2/5.1CH Supports HDMI High Bit Rate(HBR) audio pass-through.
Audio sample rates up to 192kHz
10bits HDR (High Dynamic Range) pass-through
Supports CEC bypass
 Setup:
Connect the source device with the input terminal of JTD18G-H5CH (JTD-322). Check for the link LED for illuminate, indicating that the extractor detects the input signal.
Connect the display to the output terminal of the extractor
Connect the 5V power adapter to the extractor.
Check the Power LED to illuminate, indicating that the extractor is connected with the power source.
Now connect the audio device to the " L/R" output or "Optical" output port of the audio extractor.
If you are using "L/R" output, then check EDID Switch on the unit is set to " 2CH" and check for the audio format from the source is PCM/ Stereo.
If you are using the "Optical Output" port, then the EDID switch should be set to either "2CH" or "5CH," depending on the output device's supporting format.
Tendak 4K x 2K- Best Audio Extractor for PS5/PS4/PS4 Pro/PS3
: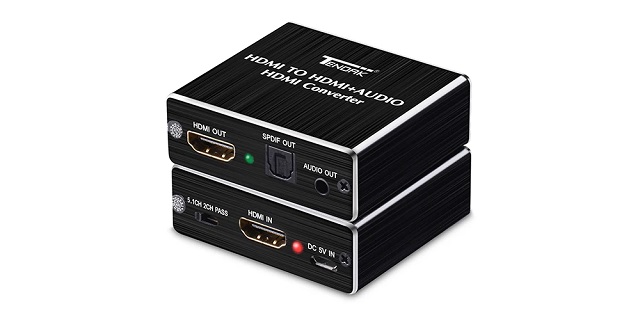 Tendak 4K x 2K HDMI audio extractor meets the ideal image of the HDTV and meets the need for an extract audio from any HDMI input source. It extracts the digital audio signal embedded in the HDMI input signal and simultaneously converts the signal through its 3.5mm analog audio output and SPDIF output. The Tendak SPDIF output can support 2CH audio or 5.1CH audio, including Dolby Digital 5.1CH and DTS 5.1CH.
SPDIF and L/R audio support the output separately to the amplifier without connecting to the TV or Monitor; Input resolution can be up to 4K x 2K, 1080P/60Hz, 3D/24Hz. Some devices like PS4, PS4 Slim, and other Sony Devices use any phone adopter to charge it with a USB Cable.
Audio EDID Settings: Pass, 2CH, and 5.1CH.
3.5mm audio output of Tendak supports 2CH PCM stereo audio-only. The SPDIF Output supports the 2CH PCM, 5.1CH Dolby Digital, DTS. It will output the Dolby True-HD, DTS-HD, AC3, DTS, DSD audio format, But can't decode these audio formats. Suppose your Amplifier or soundbar can't support these audio formats. In that case, there will no audio on your soundbar or Amplifier, so You need to set the audio format on HDMI Source to PCM/ LPCM without fail.

It is suitable for various HDMI devices like Roku or Chromecast those who come without any dedicated audio output as well as Blu-ray player, DVD player or HD player, and cable or satellite box, Amazon Fire TV, Apple TV, PS3or PS4, Xbox, PC and laptop, HD camera, HD DVR, and more.
Specification:
Input-Port Count: OneHDMI IN, one Micro USB Power Port, and three EDID Audio(Pass/2CH/5.1CH)
 Output Port: one HDMI OUT, one SPDIF (Optical), and one 3.5mm Jack
Resolution : The possible resolutions are the following 4K x 2K, and 24/50/60fs/1080P/1080i/720p/576p/576i/480p/480i
Video color format support: 24bit/deep color 30bit,36bit
Maximum bandwidth: 225MHz
Max baud rate: 6.75Gbps
Maximum working current: 190mA
Mode Settings:
Pass Mode: HDMI pass mode. with pass mode, the audio and video can convert from the HDMI output, and the SPDIF and L/R will not output any sound.
 2CH Mode: In this mode, extract the digital 2CH PCM stereo audio signal from the HDMI input and deliver the HDMI/ SPDIF and L/R output stereo audio.
 5.1CH Mode: In this mode extract 5.1 Dolby Digital / DTS and output via HDMI/ SPDIF.
Note: 
4K x 2K does not support Dolby Digital Plus audio; it only supports DTS Audio and Dolby digital audio output.
It comes with low power HDMI ports(Such as PS4, PS4 Slim, and other Sony Device); please use a phone adapter to charge it (Just come with a USB Cable).
It does not support any copyright-protected content.
Amazon Basics 4K HDMI to HDMI- for Apple TV and Amazon Fire Stick: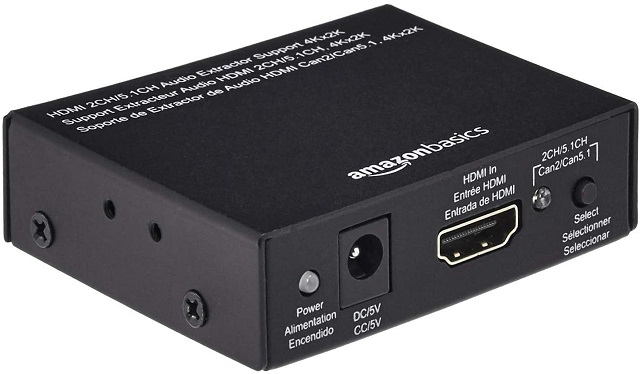 It comes in a metal housing for long-lasting. It supports High-Definition Multimedia Interface source devices without dedicated audio output. Besides, it supports two-channel L/R audio or SPDIF stereo output and with both compressed and uncompressed audio output. Amazon Basics 4K HDMI to HDMI supports up to 4k video resolution; eight-bit 4K/30 Hz, twelve bit 1080p/60 Hz, or twelve bit 720p/1080i/60 Hz, and also supports 3D formats. It is compatible with Blue-Ray, DVD, HD, and DVR players, and also supports Amazon Fire TV, Apple TV, PS3, PS4, Xbox, Personal computer, laptop, HD cameras besides cable and satellite TV.
Note:
Amazon Basics 4K HDMI to HDMI's default channel setting is 2.0CH, and that the 5.1CH audio output and it is only supporting Toslink and coaxial sockets. If the audio source could not support 5.1 CH, then the output will be the default 2.0CH. It is a made-in-China product.
Setup:
Connect the DC plug to the DC/5V Socket.
Next, Connect the source to the HDMI in-socket.
Then, Connect the HDMI out socket to the High-Definition Multimedia Interface Monitor.
If needed, connect SPDIF TosLink/ Coaxial sockets to the input socket of the amplifier or stereo system.
If required, connect the stereo out socket to the input socket of the amplifier or stereo system.
Check the power LED is red for power is ON.
Power indicator turned Purple if it is sending and receiving signals.
All the three ports can work simultaneously.
LVY HDMI Audio Extractor for Fire Stick Roku and Google Chrome Stick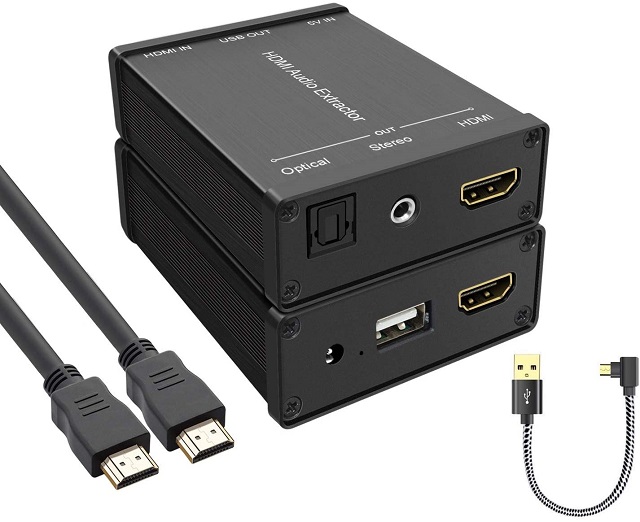 It extracts the digital audio signals from HDMI input to HDMI output, SPDIF Audio Output, and 3.5MM Output.
 Optical SPDIF Output supports incoming 2CH PCM, 5.1CH Dolby Digital, and DTS Audio.
LVY HDMI Audio Converter support 4K*2k of resolutions 3840×2160, HDCP 1.4 Version, 3D
It is suitable for all source devices that do not have dedicated audio output, like Roku, Chromecast, Blu-ray, DVD player, cable box, Amazon Fire TV, Apple TV, PS3, PS4, Xbox, HD camera, and also DVR, etc.
 Note:
It does not support HDMI ARC.
Do not plug TV into HDMI IN port because it does not send out the signal.
It uses HD display devices with an HDMI interface.
It does not use it with HDMI to DVI converters or any other display devices with a DVI interface.
LVY supports HDCP 1.4 Version. Confirm that your AV receiver can support the specified audio formats.
It does not support Dolby Digital Plus, Dolby TrueHD.
To get 3D, all units connected to the splitter outputs must support 3D.
ViewHD HDMI Audio Extractor that Supports Ultra HD and ARC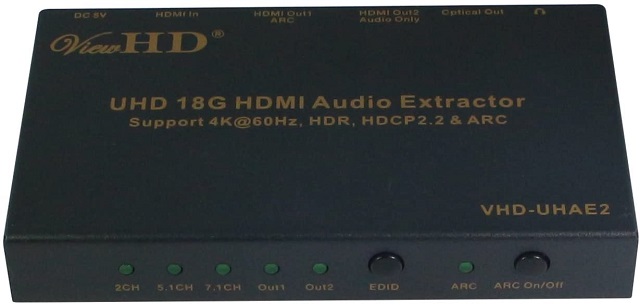 It is the latest model from ViewHD with HDMI 2.0b 18Gpbs, HDCP 2.
Also, it comes with the latest firmware update.
It has a dedicated HDMI output port to support all HDMI receivers.
ViewHD support all universal video resolutions up to 4kx2k with 60Hz -NTSC) or 50Hz –PAL.
It supports color depth 10bit and 12 bit, HDR, and Dolby vision.
ViewHD extracts audio signal 2CH PCM, Bitstream DTS & Dolby Digital 5.1Ch, and Dolby Digital Plus to Toslink optical output.
It also extracts 2CH PCM/LPCM to the 3.5mm headphone jack analog output, and all HDMI audio signals available only from the HDMI output port and pass-through.
Compatible with Roku Ultra, Chromecast Ultra, Blu-ray Players, Nvidia Shield, PRO and Plex, KODI, FireTV 4K, Cable, and all types of Satellite Boxes available in the market.
Use only the "Out2" EDID setting for dedicated HDMI out2 audio to the HDMI receiver.
And, Use the "5.1CH" setting for Dolby Digital and DTS 5.1CH audio signals from the Optical Audio Output port.
Use only the "7.1CH / DD+" setting for Dolby Digital Plus audio extraction.
ARC audio can be obtained from the Toslink and HDMI out2 ports at the same time.
Toslink and High-Definition Multimedia Interface out2 port supports ARC audio; usually, ARC audio format is Dolby Digital 5.1
They offer Free lifetime technical support and a one-year replacement warranty.
Note:
It does not support VRR.
Not compatible with Sonos HDMI ARC input port.
ARC audio does not support DD+.
You may encounter so many times a need for an HDMI audio extractor. Whatever may be your need, here we detail all about the best extractors available in the market. Select the best suits your need and budget.