Buy an HDTV and then a set-top box and watch your favorite programs. No problem. Today, you want to watch TV in your room upstairs with your friends, but there's no set-up box! Should you spend more money on extra set-up boxes for every TV you own? That's unnecessary.  Here a wireless HDMI come  in handy.
All you have to do to watch HDTV in your room is to use the concept of Wireless Video HDMI.! This is s technology of convenience that has been around for a long while. It is just that many did not know about it
It's not only set-top boxes but also Gaming Consoles and other such gadgets like Blue Ray players with an HDMI port.
In this article, many questions are answered on this technology that is yet to be exploited and prove its usefulness by the end of it.
Wireless HDMI- Explained
Wireless HDMI, in simple terms, means the transmission of video and audio signals to your Television from another gadget or equipment wirelesly. It requires only a transmitter and rules long cables across the house, and establishes a connection.
The transmitter must be attached to the TV in the other room and an HDMI cable attached to the source.  Thus, you establish wireless communication between the two devices. It is also true that specific wireless kits have power adapters included in them, and power is also transmitted to the other recipients.
So the question is, ' Up to what distance can this wireless transmission take place effectively?
The answer may vary—some work up to 30 meters and a few only at ten. In a few rare cases, the connection to your system may require a line- of – site one.
Ports built-in infrared can help control it through gaming controllers, which are also wireless.
How does Wireless HDMI Work – Explained
The first significant point one has to understand about it is that it rules out a Wi-Fi connection.
Plug the transmitter into the video source
Microwave frequencies are emitted now as soon as it is plugged.
These signals are received by the receiver, which is plugged into the other device
The receiver now decodes such frequencies received into HD video.
Apart from this, a few use IR transmitters that are built-in. Therefore, Devices at quite a distance can be controlled now as these Infrared transmitters are resident in the TV remote itself. The role that IR transmitters play in setting up it cannot be emphasized enough. Without it, you would only be running between two rooms to keep changing channels which is impractical.
Limitations of Wireless HDMI
The simple fact is that any wireless signal would face obstructions. The Wi-Fi and mobile phone signals interfere with the microwave frequency, which is only at 5GHz. It is for this reason that dynamic frequency came as an alternative for it. The congestion caused by mobiles etc, is managed well by these dynamic frequency connections.
Interferences that can be managed are good news, but all is not well when it comes to latency. It is considered unavoidable. The lag will persist as a video signal needs to follow encoding, transmitting, receiving, and then decoding for us to watch it.
The latency differs from product to product. J-tech Digital HDbiT can work efficiently up to 660 feet but still experience delay, although in Milliseconds. Lesser powerful products like Nyrius Aries NPCS549, whose range is limited to 30 feet, only lose microseconds, undetectable.
As far as Gamers are concerned, they cannot live with lags, and the wireless HDMI is not the solution for them inside the house which may have walls as obstruction. If their choice then shifts to the entertainment center, they can deploy it there.
Why Go Wireless At All?
Wireless technology developed since the need and desire to speak on phones or watch TV should not be confined to where the gadgets are placed. It also allows us to communicate through travel and stay connected with the rest of the world while in movement. This is the reason why Wi-Fi communication has occupied our lives, and rightly so.
So are there advantages and disadvantages to this? This is answered in the passage below.
Advantages:
Wi-Fi does away with cables and chords, which might distort the transmission if not connected properly. Moreover, you are rooted to the spot where the device is, and your other work gets delayed.
The dial-up internet is at least ten to twenty times slower than the wireless, which connects seconds.
If you do not want your conversation over the phone overheard, mobile phones which operate on Wi-Fi are the perfect solution.
Costs are lower and Easy to use.
Disadvantages:
Wi-Fi has a limited range
Wireless internet access providers do not include roaming agreements
Security is compromised as your messages or calls can be easily tapped into.
Functions and Features Extenders and Transmitters:
It is imperative to ascertain what features are available in  HDMI-Wireless Video Transmitters. Still, the following features listed below need to be present before you choose to buy them.
Frequency:
Generally, such devices at home do not operate in a frequency above 2.4 GHz. The problem is that other waves would jam the transmission frequency. Therefore, It's best to go for transmitters that are 5GHz and is best suited for Wireless Home Digital Interface (WHDI)
The Range:
Transmitter's range capabilities have to be understood in the proper perspective. There could be a claim that it would connect up to 200 meters or so, but that could be the ' line of sight'(where there exists no obstruction like walls between them. It's best to have transmitters that can penetrate walls and ceilings effortlessly.
Latency:
Latency is an issue you would not want to live with. In case you are watching ' live sports, 'you could be even a minute behind. The same would be more troublesome when you are playing live gaming.
Compatibility:
Check whether the transmitter can transmit HD images without compression—the same check will be carried out on 3 D. If you get a perfect picture, that's the HDMI transmitter you need to buy.
Audio:
Audio, too, is essential. Nowadays, DTS, etc., are available even at home. Therefore,  the HDMI transmitter should be capable of transmitting such audio without any loss.
Wireless HDMI Global Standard:
There is so much talk about Wireless HDMI, but yet it has not risen in popularity as it should have. So what is the reason for its lack of popularity? There is a one-word answer to this: ' Compatibility' or rather the lack of it. The Receivers and the HDMI transmitters with software introduced in-between suffer from 100% comparability. Added to this issue is the latency factor.
But the good news is that technology has improved in leaps and bounds, and 5 GHz wireless transmission is possible now, which supports 1080p along with 3 Dimensional videos. Moreover, The latest 4 K video can be backed by WiGig and perfect streaming is possible. 
5 Best Wireless HDMI  Extenders and Transmitters
Nyrius HD 1080p HDMI Video Transmitter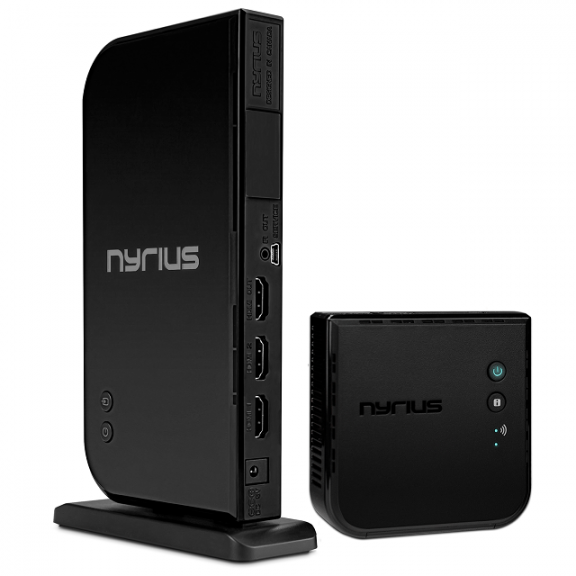 Nyrius keeps the prices as low as possible, and it has many products to offer. In addition,  the Wireless transmitter from Nyrius can transmit uncompressed signals and upgrade quickly to the latest technology to provide High-definition video. They also simplify installation, and it is just plug_and_play. The salient features are:
Latency is at zero
Obstruction caused by walls to the signals quickly taken care of
The Wireless technology it uses is Giga Xtreme
High performance made possible by internal antennas
It is compatible with 3D
The device is light at 907 grams and can be transported easily
It supports all devices from Laptop to gaming consoles
The range it can remit frequency falls between 5.1 to 5.9 GHz.
It is capable of supporting video resolutions from 480p to 1080p.
Pros:
Flawless performance and gaming can be enjoyed
Installation is a simple process
Lagging never happens
Wall- mountable Portable receiver and need not be visible at all
Cons:
Tobo Mini Transmitter/Receiver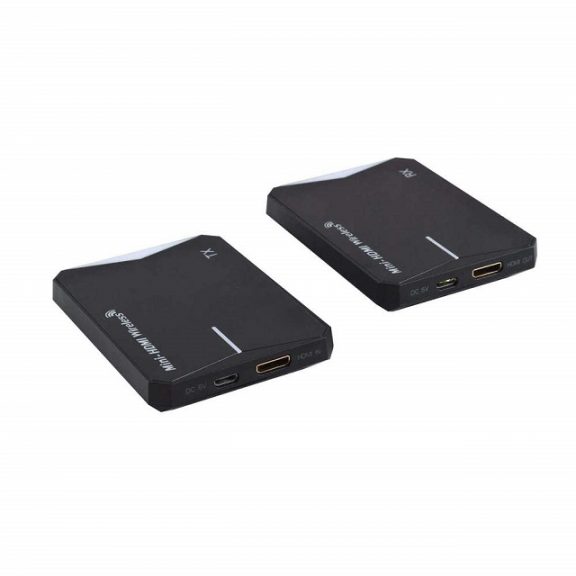 Videos and images can be transferred up to a range of 60 meters perfectly.
Its other features are:
Enables wireless connection
Resolution starting from 480i to 1080P supported with speed @ 50/ 60 HZ.
The audio and video transmitted wirelessly in 5 GH frequency although the product is 2.4 G
Pros:
Transfer of videos at the highest resolution is made possible by internal antennas, and there is no loss in quality or data up to 60 meters.
The infrared remote can control the display at the source.
A light goes on indicating that the HDMI status.
Cons:
3. Accession CineEye Video Transmitter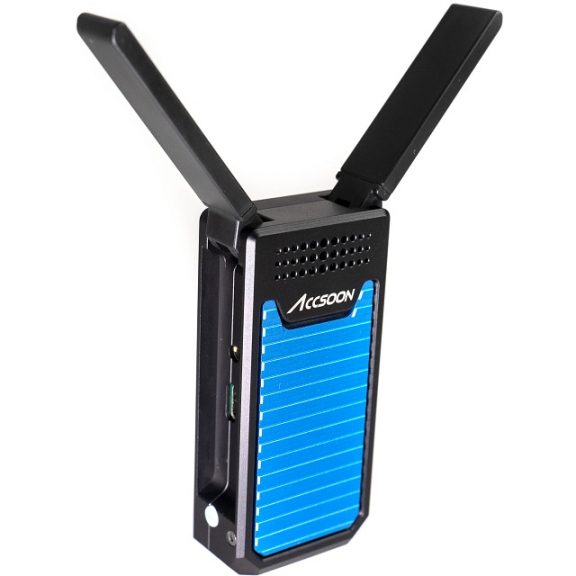 This top product from Accession can effortlessly enable 5G transmission up to 100 meters, and four devices can be connected to it. Its main features are:
Low latency
iOS and Android devices provide a great viewing experience
Enables real-time video by utilizing HDMI signals and viewing on the monitor
A HDMI port of full size enables signal acceptance of 1080p60.
Wireless transmission signals can be received up to three mobile devices ( Android/ iOS) simultaneously.
5 G Wi-Fi enables fast transmission of HDMI signals up to 360 lines.
Standard monitoring possible.
Pros:
Low latency
The apps provide a good experience like false color, histogram, etc
Tablets and phones receive the signals
Cons:
4. Hollyland Mars 300 Dual HDMI Video Transmitter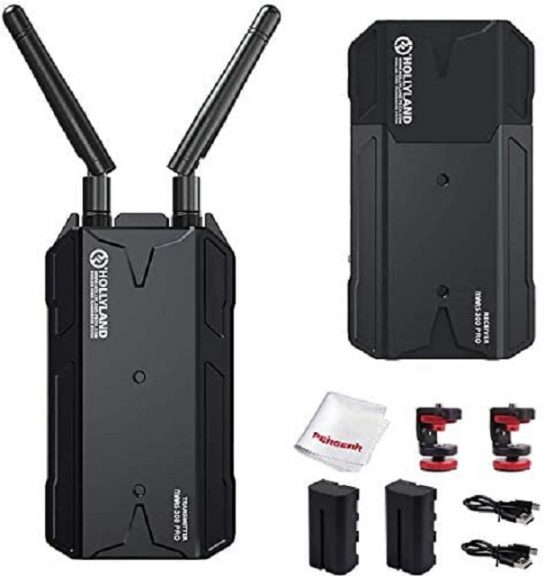 Main features:
Video transmission uninterrupted
Battery has long l
Sight video transmitting at 300 – degree line of sight
Crisp transmission and does not permit microwaves or other WI-Fi transmissions
HDMI loops out available in the transmitter, allowing viewing on the different monitor and the onboard one.
Pros:
Powering the device possible with a 6- 16vdc L-series battery
Crisp transmission enabled with an NP-550
Dual HDMI outputs in the receiver are seen as a significant advantage.
Cons:
Gofanco HDMI Transmitter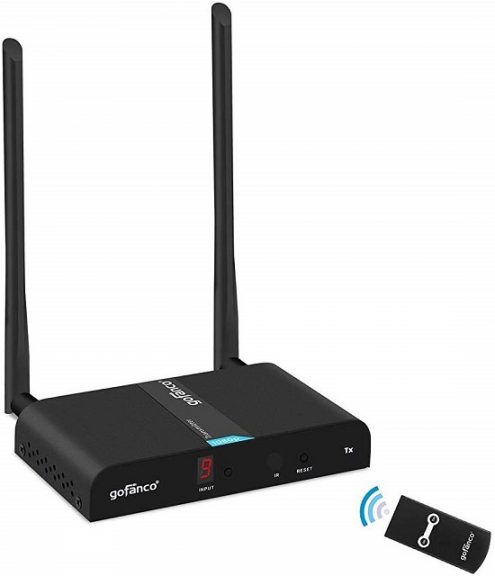 Main Features:
Top class performance due to cutting edge technology
Batteries not required
60HZ @1080 Video resolution supported
It operates at a frequency of 5GHz
A/V signals transmission up to 165 Feet
You can choose ten wireless channels
Compatible with all devices
Pros:
Installation is easy
It takes only seconds for the transmitter to connect with the receiver
Splendid picture quality
Availability of remote control for ease in management.
Noise interference minimized.
Cons:
 Frequently Asked Questions:

Is HDMI better than wireless?
Both exist for a common purpose: to transmit audio and video from the primary device to the other devices using the Television.
Even though both do not differ functionally, there are differences in the way the delivery is made.
Home Aesthetics:
One may not like the clutter of wires flowing from room to room cause a bit of shoddy look and interfering when you walk around the house and sometimes trip you. Therefore it's best to use wireless HDMI if you want multi connections in the house.
HDMI cables confine you to a room, and all the devices have to be arranged next to one another as the wire cables can reach only a few meters in length. Therefore it spoils when you wish to physically displace yourself inside the house and watch or play from where you would like to. It creates this opportunity as you need not place all devices on top of each other in the same room, and you can space them apart. You can put them in separate rooms also. The room would also look attractive with a wall-mounted TV with no wires running on the walls or the need to drill holes.
It can:
deliver 4 K video
deliver minimum up to 1080P HD
Have a range of up to 100 to 150 ft.
Connection may be perfect but thick walls may spoil its transmission.
Does 4K wireless support HDMI?
It should! Even though manufacturers are developing 4 K exclusive cables, the standard cable would serve the very purpose.
Cables that are HDMI only labeled as ' High Speed' should be compatible for 4 K
too. These may run up to 5 meters in length.
Accession CineEye Video Transmitter
Nyrius HD 1080p HDMI Video Transmitter
Hollyland Mars 300 Dual HDMI Video Transmitter
Nyrius HD 1080p HDMI Video Transmitter
Tobo Mini Transmitter/Receiver
Conclusion:
A wireless HDMI Transmitter has to be an advantage only as it simplifies our lives to a large extent.Therefore, Poor quality transmissions are of the past and dragging cables across the room. Moreover, screen sharing is enabled and movie-watching at top-notch resolution. It is easiest to install and maintain.