Nowadays, the High-Definition Multimedia Interface video cable has become a very common standard for both homes and businesses. People use these in HD televisions, audio systems, or media players. As the usages of these cables become higher, other variations allow more devices to get compatible with the interface. Most of these gadgets use mini HDMI ports and cables. Let us know more about them.
HDMI connector types:
The different types of connectors are- Type A, Type B, Type C, Type D, and Type E.
Type A connector:
Most people prefer to use the Type-A connector. You can find these in televisions, DVD players, satellite boxes, recorders, games consoles, etc. The outside dimension of the plug is 13.9 mm × 4.45 mm whereas the inside dimension of the female connector is 14 mm × 4.55 mm. Besides, the bandwidth can carry all the modes— SDTV, EDTV, HDTV, UHD, and 4K modes. It supports single-link DVI-D. This connector comes with nineteen pins.
Type B connector:
It was launched in 2002 with the original standard. The connector can carry dual-link DVD-I video. This connector comes in 21.2 mm × 4.45 mm measurement. Besides, it contains 29 pins which contain 6 differential pairs.
Type C connector:
It is known as a mini-HDMI connector. Compared to the Type A connector, it is smaller. The dimension of this type is 10.42 mm × 2.42 mm. It has near about all the features of Type A. But the only disadvantage is that it is smaller than that. It was introduced in HDMI Version 1.3 as the demand for these small connectors is increasing day by day. You can connect this connector to the type A connector. But it needs a type A-to-type C cable or an adapter in this case. These small connectors are usually very common on some portable equipment. A few examples are as follows:- DSLR cameras, camcorders, larger tablets, satellite  navigation systems, and so on.
Type D connector:
It is known as a micro-HDMI connector. Its size is similar to the micro-USB connector. The connector comes in 6.4 mm × 2.8 mm measurement. It was introduced with HDMI Version 1.4. The main purpose for developing this connector is to set up audio-video connectivity in small and portable devices (example: mobile phones)
Type E connector:
This connector is designed mainly for automotive applications. It was introduced with HDMI Version 1.4.
Female and male HDMI connectors:
As per the convention, the female connectors are the source of power, data, audio, and so on. Whereas, male connectors take the power, audio, etc. Due to the pins of female connectors, these connectors remain protected. As a result, when an external metallic object causes any accidental shorting, these connectors don't suffer short circuit issues. However, nowadays a few advanced models come with protected male areas. As a result, there remains less chance of short circuits.
The female connectors are mainly comes inbuilt with the signal source and receiving device. And, the male connectors get connected to each end of the connecting cables. In most cases, a cable that has two male ends remains plugged into the two female sockets. Thus, it provides a direct connection between the source and display devices.
The entire communications between the gadgets are bi- directional. However, the receiving device still continues the process of sending the signal. Therefore, it is better to accept the strategy which indicates female connectors should be connected with devices and the male connectors will be equipped with cables.
In most cases, the female connectors are recessed into multiple devices' bodies. Devices mean TVs, monitors, computers, projectors, gaming consoles, and so on. But they can easily get damaged. It may happen if you pull the cables in the wrong direction. Therefore, these female connectors are sold as replacement connectors.
Flip Side of Female and male HDMI connectors:
On the flip side, male connectors are usually fixed ones that remain at the end of such HDMI cables that are engineered for commercial usages. If the male connectors get damaged, rather than repairing it, it's better to replace the damaged one with a new cable. Although a few high-end HDMI cables come at very high prices. In that case, to save money, you can wire on a new male connector rather than replacing the entire cable.
Moreover, a few users route the cables behind walls. Whereas some users route the cars between the building's floors. But in this case, users may face difficulties while removing and re-laying these. Even if someone steps on that connector, it will get damaged.
Straight & right-angled HDMI connectors: 
When you buy a connector, it is important to check whether it is straight or right-angled. A few examples are there where you need a sharp bend. In this case, the bend needs to be sharp enough so that it can be accommodated by the HDMI cable. It can put too much strain on the cable.
The right-angle connectors are very handy when the equipment is placed close to a panel or wall. In this case, the cable that comes out of the connector doesn't need a sharp bend. However, if you don't have an HDMI cable that comes with a right-angled connector, then use the right-angled adapters. You can use the adapters only when it is too necessary. Because these can add an extra connection to the cabling. Not only this but also these are not as firm as a single HDMI connector. But you can use them for a short while.
What is a mini HDMI?
It is a new type of connector. This latest HDMI Type-C standard is similar to the standard of HDMI Type-A.  The size of the tip is the only factor that makes the difference between these two types. Type-A usually comes with a larger tip. But the tip of this connector has a 10.42mm width and 2.42mm thickness. Due to this kind of design, compared to the standard HDMI connector, it looks 60 percent smaller.
Now, you may think what the benefit of such a small design is. As you may see no struggle for size in most of the monitors, game consoles, or TVs. That is not the case in previous days.  But nowadays things have changed a lot. For instance, Dragon Touch S1 Portable Monitor uses a mini port. Moreover, you can find these ports available in DSLR cams and other medium-sized devices. In addition, a few tablets come with mini ports.
What is micro HDMI?
The HDMI Type-D is known as the micro HDMI. It comes with the HDMI 1.4 standard. This model is equipped with 19 pins. These pins make the cable compatible with the ordinary HDMI. However, you still need to take the help of an adapter. The connector comes with a 6.4mm wide and 2.8mm thick plug. Such dimension makes this 72% smaller compared to the real HDMI connector.
A few smartphones began to use these connections in the early stage of the last decade. Nowadays USB Type-C provides a better standard for smartphone video. However, those who don't have USB Type-C can use all the streaming applications. These connections are not required for most smartphones. Compared to the USB TYPE-C connection, these can offer better 4K playback.
HDMI (Type A) Cable:
It is a standard cable connector. People use this one mainly for uncompressed TV or PC video format. For example, you can use it for standard, enhanced, high-definition, and 3-D video signals. The dimension of the cable is 13.9 mm x 4.45 mm. The female models have 14 mm x 4.55 mm dimensions. It is equipped with a total of 19 pins. These are compatible with SDTV, EDTV, and HDTV modes. Besides, these also support single-link DVI-D and HDMI 1.4 specifications.
Mini-HDMI C Cable:
Based on its usages, this cable is available in a few variations. We know it as a Type C connector. These support HDMI 1.4 specifications. Compared to a standard Type-A plug, this is smaller. It comes in 10.42 mm x 2.42 mm dimensions. This one comes with a 19-pin configuration.
Micro-HDMI Cable:
It is a Type D connector. Using this, you can get HD viewing. This model allows the user to connect small portable equipment and devices. Besides, it supports GoPro action cameras, SmartPhones, small video recording devices, portable media players, and so on. Moreover, you can get the newest HDMI Ethernet Channel technology using this model. This technology helps to consolidate data streams, audio, video into a single HDMI cable. Thus, it provides the user a superior signal quality. This connector comes in 6.4 mm x 2.8 mm measurement. It comes with only 1 pin row and 5 pins.
Micro HDMI  and Mini HDMI – Differences:
The only difference between these two types is – size. The micro model comes with almost the same size as the mini USB connector.  As a result, it gets fitted in any device. Whereas the mini HDMI can be used in multiple devices. But when it comes to performance, both of these offer the same performance.
Nowadays, all the modern cables support 4K video. It can transmit 8K video easily when it is upgraded to HDMI 2.1. The 19-pin design enables it to connect with any device.
Best 5 Mini HDMI Cables and Adapters
 C2G 40308 9.8′ HDMI to Mini HDMI Cable with Ethernet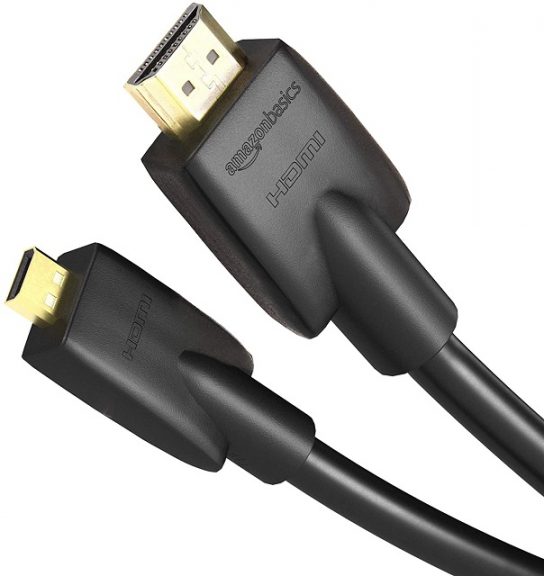 Description: The cable enables you to connect the HDMI-enabled multimedia storage devices to the HDTV or HDMI-equipped monitor with ease. Thus, it offers you a smooth viewing experience. It has two male connectors at both ends. These connectors allow you to transfer a clean signal from any video source.
The gold-plated connectors of this cable are corrosion-resistant. It comes with a PVC jacket that mainly performs as a shield to the signals against outside noise. Thus, it makes the cable more durable. This model comes in 9.8 feet in length.
Features:
Signal Transfer: This product helps to transfer signals smoothly.
Gold-Plated Connector: It comes with such connectors which are gold-plated. These are rust proof too. Whereas the PVC jacket is used to maintain the signal's integrity. Moreover, you can install this product easily.
Warranty: This product offers the user a lifetime warranty.
Pros:
Transfer signal smoothly
One-year limited warranty
Cons:
Staples 6″ Mini + Micro HDMI Adapter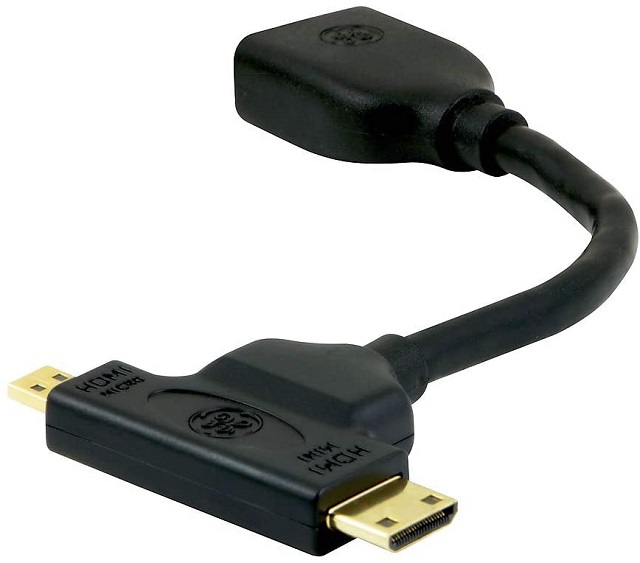 Description: If you are looking for such an adapter that can be used for connecting laptop and desktop, then it is an ideal one. It supports plenty of HDMI devices such as Micro HDMI. This device is the perfect option to mirror the source screen onto a larger display. Thus, it enables you to view contents from your device. This device can be used for work, home, or entertainment.
Features:
 Connection: You need to connect one source with a Mini or Micro HDMI connection with an HDTV, or HD projector.
Resolution: Using this Staples Mini to regular HDMI Adapter, you can get a 1080p/4K resolution. Its cable length is 6 inches.
Pros:
Supports 1080p/4K resolution
6″ Long.
Cons:
Insten 10′ HDMI to Mini HDMI Cable (Type A to Type C) M/M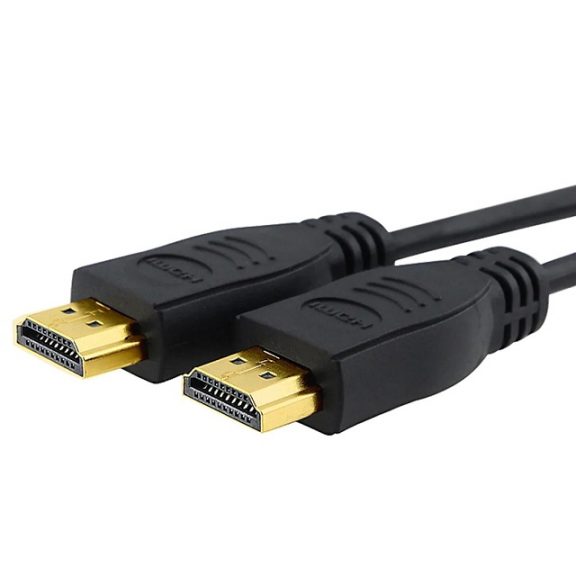 Description:  It is a Type C Mini Cable. This device doesn't support Type D Micro HDMI connector devices. The cable comes with a hot Plug Detecting function. However, you should be careful while using the model. Otherwise, improper usages can lead you to reset or restart both devices. If you use it improperly, it may even damage the device. Ensure that you have connected the portable DVs, Cameras, Game Consoles to the HDTV using a proper HD connection.
Features:
 High Transfer Rate: The connectors are helpful for the highest signal transfer rate.
HDMI Standards: The cable is designed in such a way so that it can support most of the HDMI standards. It is compatible with 480i, 480p, 720p, 1080i, 1080p, 1440p resolution.
PVC Jacket: It comes with a big gauge PVC jacket. This jacket offers adequate shielding against high temperature, and wear.
Additional Features: This cable comes with a molded strain-relief design. The color of the model is black and the length of the cable is 10 ft / 3 m. Using this cable, you can get outstanding signal quality.
Pros:
Compatible with 480i, 480p, 720p, 1080i, 1080p, 1440p resolution.
PVC jacket shielding
Plug Detecting function.
Cons:
A few users reported that it doesn't get fitted with their devices
 AmazonBasics High-Speed Mini-HDMI to HDMI TV Adapter Cable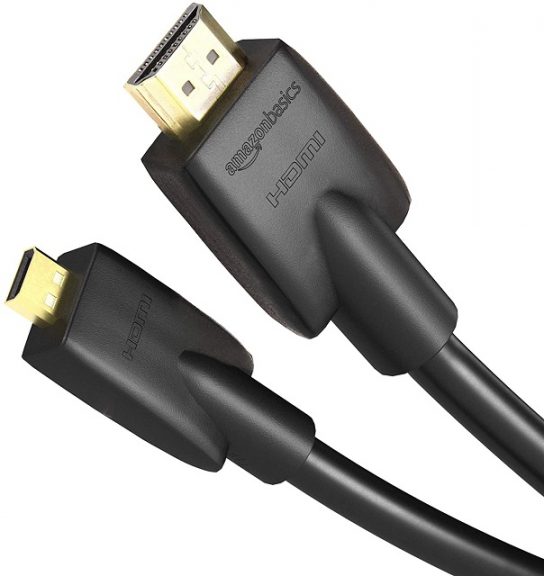 Description: The model comes in 120 x 0.79 x 0.39 inches dimensions. It weighs only 5.5 ounces. You can't use the cable with those devices which have only Micro-HDMI ports. It is a high-speed Mini to regular HDMI cable which is A to C type. The device is compatible with HDTVs, digital cameras/camcorders, MP3 players, and other devices of HDMI.
Features:
Meets Standards: The device supports all the recent standards of HDMI.
Bandwidth: This model is compatible with up to 18Gbps bandwidth and previous versions.
Compatibility: It is compatible with Ethernet, 3D, and Audio Return. However, it is not a bi-directional cable. In this case, a monitor logo is used to mark the display connector.
Pros:
Supports Ethernet
Compatible with all the modern standards of HDMI
Cons:
iVANKY High Speed 4K 60Hz Male to Male HDR HDMI 2.0 Adapter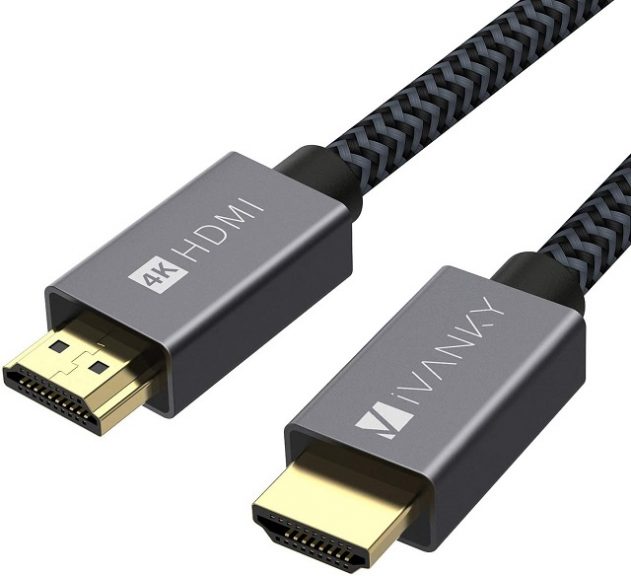 Description: This cable helps to deliver both video and audio. Using this cable, you can transfer these from the digital devices to the home theater. This adapter is ideal to connect camcorders and cameras to the UHDTV, monitor, or projector.
This model is compatible with 4K@60Hz video signal transmission. It helps to deliver top-quality ultra-HD video to the big screen. Thus, you can enjoy an excellent viewing experience.
Features:
 Advanced Features: The cable comes with advanced HDMI functions like 3D video, UHD, HDR, HDCP, Audio Return Channel, HDMI Ethernet Channel, 48-bit deep color, 32 audio channels, Dolby TrueHD, and DTS-HD Master Audio.
Configuration: This product comes with a premium nylon-braided exterior, an aluminum shell, and powerful gold-plated connector housings. This tool is engineered in such a way so that it can be used for a prolonged period. You can use this heavy-duty, durable cable for regular usages also.
Mini-HDMI Connectivity: It supports Nikon Z6 / DX D500 / D3200 / D810, Canon EOS 90D / EOS RP / EOS R / EOS 7D Mark II / XA40 / VIXIA HF G60 / XA55 / XA50, Raspberry Pi Zero, Raspberry Pi Zero W, Lenovo Thinkpad Yoga (12-inch), Geforce GT 430 graphics card, NVIDIA SHIELD tablet K1, camcorder, DSLR, and other devices that come with relavent port.
Pros:
Long-lasting
Premium nylon-braided exterior
Supports 4K@60Hz video signal transmission
Cons:
A few users reported that the length of the cable is not so long (as advertised).
Mini HDMI Buying Guide 
Requirement
First, you need to determine what you need – whether a mini HDMI cable or a converter. Many times, a Mini to Full-size HDMI connector makes your job done. You can carry the connector wherever you want. And it supports the regular-sized HDMI cables also. The basic example is when someone wants to connect an external device to a display ( camera, portable PCs, tablets, and so on). But if you want to use the cable daily, then you should go for this type of cable.
Supported Resolutions
Speed or bandwidth is a vital factor that you have to consider while buying this cable. Before buying, always check the maximum speed and supported resolution of the adapter. Try to purchase such a product that can support your device quickly. In addition, it should support the signal of source devices. These cables are the best ones for those who want to upgrade the resolutions. For instance, if the TV or portable computer supports 4k resolutions, then you need to purchase such a cable that has the capacity of handling 4k resolutions.
Moreover, you need to check which devices can be supported by the Mini HDMI cable. In case, you have bought such a model that doesn't support your device, then it's gonna be a waste of money.
Configuration
Before buying, make sure that you have checked the build quality of the product. A cable coming with efficient shields offers superb durability. Whereas, a thick cable always comes with many layers of protection. These cables are less capable of bending. That's why it is always better to choose such a cable that is equipped with ample layers of protection. These models are usually durable and flexible too. A solid PVC jacket helps the cable to withstand regular wear and tear. However, a few cables come with gold-plated connectors. It helps to prevent corrosion.
Length
Before buying, make sure that you have checked the length of the cable. If you place the devices close to each other, then you can purchase the ordinary HDMI cables. Because, if the distance is shorter, there remains no chance of signal degradation. But over a long distance, there remains the risk of frame drops screen blackouts that results in signal degradation.
But if you place the devices far from each other, then you need to buy a Mini HDMI cable. Otherwise, you can go for a regular-sized active HDMI cable that has a converter at one end. Besides, it should be long enough and able to connect the devices efficiently. To determine which cable length is needed, you need to take the measurements of the distance between the two devices. But make sure that the length is not too short. Otherwise, you will not be able to move the devices.
Connector Ends
Moreover, you need to check the cable's connector ends. The mini HDMI cables come with an ordinary HDMI connector at one end. This connector goes to the TV or other displays. Whereas the TYPE-C connector can be plugged in with Tablet, DSLR camera. Although a few cables are available in the market that is labeled as Mini but comes with Type-D connectors. So, don't buy a cable just checking its name. Rather you need to check the connector ends.
Frequently Asked Questions: 
What is a mini HDMI port used for? 
People use the small connector for smaller-sized ports. It is used mainly for DSLR cameras, high-definition camcorders, and standard-sized tablets.
Can mini HDMI connect to TV?
These are not the full-size ports that you may get on TVs. However, if the Android device has a Micro HDMI port, a Micro-HDMI-to-HDMI cable can be used to connect it to the TV.
Is Mini HDMI the same as micro USB?
You will find similarities between the micro HDMI jack and a micro-USB connector. Although each of these has different functions. You can't connect the micro HDMI cable to the charging port.