Usually, people use USB-C connectors in many laptops and other electronic items. But it creates problems when you will connect it with TVs, computer monitors, projectors, etc. You will face the same issue while using HDMI. That's why you need to use something that belongs to the between of these two standards. USB C to HDMI Cables and Adaptors are very useful in this case.
What is USB-C to HDMI Cables & Adapters? 
These allow you to use the USB-C ports. The ports help you to communicate with HDMI-supported items such as laptops, computers, etc.
USB C to HDMI not Working
Sometimes, you can find your USB-C to HDMI cable and adapters not working. To overcome the problem, you need first to hit windows. Then, change the project mode by tapping on the P button.
After that, you have to go through display settings. Then, your job is to detect the display button.
At last, you need to check if there are any updates of graphics drivers, USB drivers.
USB-C to HDMI Background
You must need a USB-C to HDMI cable to make the connection between these two ports. In this case, the cable will work as an adapter. You can get the adapter cables available in the market easily. It can give you the best method to connect laptops and HDMI based products.
The HDMI Forum gives license to the HDMI technology to make an interface between USB-C and HDMI. Nowadays, the need for a USB-C interface is increasing daily. Besides, these adapters & cables come with a few unique features. These are compatible with resolutions up to 4K, Audio Return Channel, 3D, HDMI Ethernet Channel, Consumer Electronic Control, etc.
How Do USB-C to HDMI Adapters & Cables Work?

Both USB-C and HDMI contains completely different number of lines and signal formats. That's why adapting its operation is essential for the HDMI port. Usually, the ports come with some capabilities such as HDMI Alternate Mode and HDMI AM. The alternate mode allows you to interface from USB-C to HDMI.
We saw this feature first in September 2016 when it was launched. The cable supports features up to HDMI 1.4b, video resolutions up to Ultra HD, etc. Moreover, it includes Consumer Electronics Control (CEC). The difference between the USB-C connector and HDMI connector is in alternate mode. HDMI ports have reconfigured the USB-C interface's four SuperSpeed differential pairs. The objective of this reconfiguration is to carry the clock signal and three HDMI TMDS channels.
There are two Sideband Use pins known as SBU1 and SBU2, respectively. Both these two pins help to carry HDMI Ethernet, Audio Return Channel, and the Hot Plug Detect functionality.
A few insufficient pins are available in the USB-C port for SCL, DDC data, SDA, DDC clock, and CEC. If you want to accommodate these, you need to bridge three signals. Bridge them between HDMI source and sink. In this case, you have to use USB Power Delivery 2.0 and USB-PD protocol. You can pass the cable over the CC line, known as USB-C Configuration Channel.
HDMI Alternate Mode decreases the number of lines by squeezing HDMI capabilities. The alternate mode is applicable only around the older HDMI 1.4b standard, doesn't support HDMI 2.0b and its updates. As a result, this mode can give you outputs up to 4K resolution, 3D video, etc. It can support the HDMI-CEC. But is not compatible with HDR video, and so on. Even, it doesn't support updated features of HDMI 2.0b.
USB Hubs
Electronic devices that use USB-C can provide you extra connectivity. In this case, it takes help from a USB hub. Usually, most laptops contain two or three USB-C connectors. These help you to offer all external connectivity. However, sometimes you may need USB hubs to get the expansion.
The USB hubs help to expand the USB connectivity. Besides, many USB hubs are there that offer additional connectivity. For example, it provides interfaces to USB 3, VGA, Ethernet, etc. HDMI is one of the most famous extra interfaces available in large USB hubs. It is because most of the laptops that use USB hubs will require a larger display or screen. Very often, these models come with an HDMI interface.
These hubs place the USB-C interface in Alternate Mode. It indicates that the interface comes with limited capabilities. However, the computer display doesn't need to require all the features of the latest HDMI standards. However, if you use a USB hub, then you still need an HDMI to HDMI cable.
What is USB-C?
We know USB Type-C cable as USB-C. This connector helps to provide both power and data to computing devices. The shape of the USB-C plug is symmetrical. This suitable size allows you to insert it anywhere. Therefore, you don't need to use any USB ports.
It is linked to plenty of powerful modern technologies such as Thunderbolt and USB Power Delivery. This type of cable is beneficial in the office, at home as well as on the road.
Usually, the ports are manufactured depending upon the second-generation USB 3.1 data-transfer standard. These can provide data at 10Gbps speed. The speed is twice of the first-gen USB 3.1 and USB 3.0. Both USB 3.0 and 3.1 version la transfer data at 5Gbps speed. In terms of getting support to the faster spec, the manufacturers are producing such devices that can say "USB 3.1 Rev 2," "USB 3.1 Gen 2," "SuperSpeed USB 10Gbps," or "SuperSpeed+."
The recent version of the USB 3.2 standard has most of the specifications of USB 3.1. For example, you will find both Gen 1 and 2 of USB 3.2 similar to the USB 3.1 Gen 1 and 2. The current spec, which is remarkable, is USB 3.2 Gen 2X2. It comes with two 10Gbps lanes of data traffic.
You should always use high-quality cables. It helps to pass through the data at higher speeds. These wires contain a SuperSpeed logo. Besides, there is a "10" sign on them. It signifies that these can share data at a speed of 10 Gbps.
Speed, Power, and Video Delivery
Multiple laptops are there on which you can use Intel's Thunderbolt 3 data-transfer technology. A USB-C port that supports Thunderbolt 3 helps to push data speed to 40 Gbps. The speed is four times faster compared to USB 3.1. On the other hand, it is around 3,000 times faster than the real USB 1 spec. The speed of the original version is 12 Mbps.
This high data-transfer speed allows you to send video over the same connection. The Alt Mode allows the adapters to transfer videos from the same USB-C port. With the help of this mode, you can share videos to HDMI, DisplayPort, VGA, etc. Besides, you can also share these on displays, TVs, and projectors. Nowadays, a lot of phones and tablets are there that enable you to plug the cable directly into a monitor. Samsung Galaxy Tab S7+ and Note and Tab 6 are examples of it. These latest phones allow you to plug the cable into a projector while sitting in your office.
What's more, USB-C is compatible with the specifications of USB PD. It is known as USB Power Delivery. The 2.0 port provides only 2.5 watts of power. However, it is sufficient for your phone to get charged. For the case of USB 3.1, the power is about 15 watts. It is when the USB PD comes to its use. It can offer up to 100 watts of power. Compared to the USB 3.1, the power is more than six times. This high power is enough for the laptop-powered projectors. However, people nowadays use the USB-C for external battery packs and high-power chargers.
How to Fix USB-C Issues: 
Slow USB Charger Connected: Sometimes, you can find the charger not compatible with your phone or PC. In that case, you can use those chargers that are included with phones or PC. Sometimes, the charger you are using is not so powerful to charge a pc or phone. Therefore, you have to ensure that you have connected the charger with the USB-C charging port. Sometimes, the dust gets accumulated inside the USB port. Consequently, you can't insert the charger correctly. In that case, you can use compressed air to clean the dust.
USB-C Device is Not Working: Sometimes, the device's driver is not supporting Windows 10 phones. To overcome the issue, you need to ensure that your phone has all the latest updates. Here, we have given a process that you can follow to check whether the updates are available or not.
First, tap on the start option.
Then, you need to swipe the list of the apps.
After that, go to the Settings option. Then, tap on the option. Next, go to "Update & security" option. After that, you need to click on " Phone update." Then you need to " Check for updates." This option will let you know the details about the updates.
In case you see that your phone is running the latest version of Windows 10, you can connect the device to a Windows 10 PC.
Top 6 USB-C to HDMI Adapters, and Cables:
Belkin USB-C to HDMI Adapter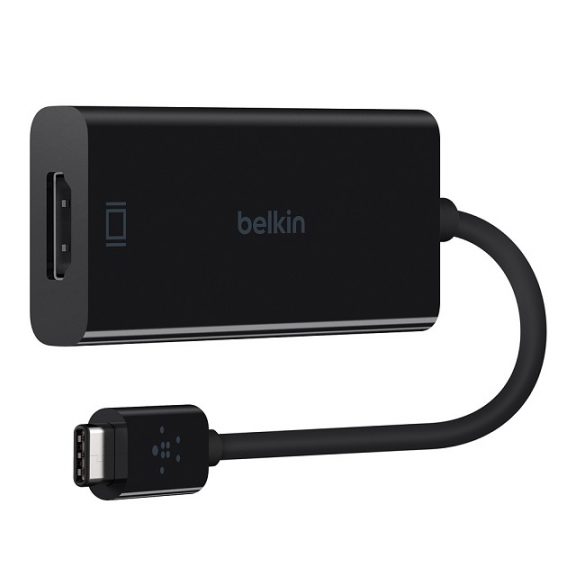 Description: Do you want to get a smooth experience by connecting the USB-C-enabled MacBook to an HDMI-enabled display? Then, this adapter is an excellent option. You can use it even for Macbook Pro.
This USB-c to HDMI Apple adapter can support up to 4K resolution @ 60hz. It can offer excellent sound and clarity. These can help you to enjoy the ultimate 4K viewing experience.
Awesome Features:
Support USB-C Enabled Device: The cable permits you to connect MacBook, iMac, MacBook Pro, iMac Pro with an HDMI display.
UltraHD Resolution: It supports 4096 × 2160 resolution for feature-rich 4K contents. Besides, the adapter offers high frame rates. It helps you to run the content smoothly, even without skipping a beat.
High Dynamic Range: The cable allows you to enjoy High Dynamic Range (HDR) video. Moreover, it is compatible with HDCP 2.2. With the help of it, you can stream different secured content from Netflix and iTunes. In this case, you require a video-enabled USB-C port.
Pros:
Supports Ultra HD resolution
Ultimate 4K viewing experience
Cons:
A few users reported that it stopped working only after a few weeks of use.
Cable for MHL Android Phone Tablet LOT BT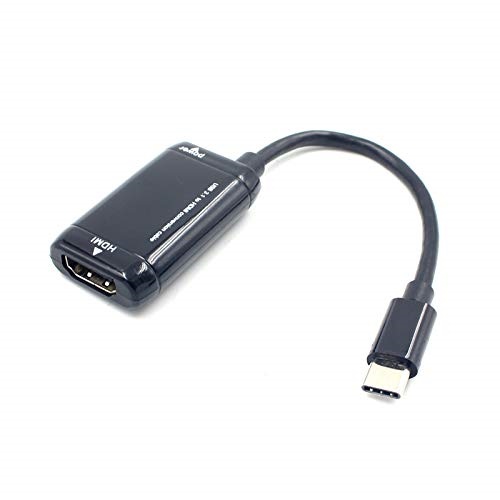 Description: This USB-c to HDMI android is a portable transformation line. This adapter helps to convert the recent interface of a digital signal input to HDMI HD digital signal output. Most of the people of this generation want to use this model.
Most of the people of the modern generation prefer to use this model. This portable transformation line is massively used with the USB 3.1 Type C (MHL) phone's new interface. You need to use it to make connections between a TV or display device with an HDMI port.
Awesome Features:
Lightweight: The product weighs very light. It comes in small sizes. Besides, it is very easy to use and plug.
Compatible with the latest interface: You can use both positive and negative plug using the Type C latest interfaces. The cable can support a 10Gbps USB 3.1 ultra-speed standard. Besides, it allows you to see high definition videos. Now, you only need to connect your phone with any of these— HDTV, projector, or monitor.
Additional Features: It features high-performance digital chip processing and the perfect realization of audio and video output.
Pros:
Offers high definition video
It comes in small size.
Lightweight
High-performance digital chip processing
Cons:
Samsung USB-C to HDMI Adapter, Black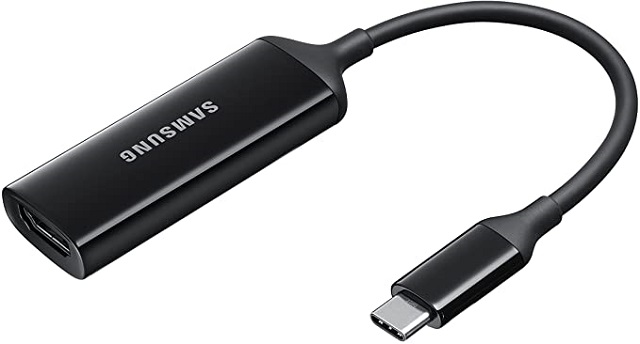 This USB-C to HDMI Samsung Adapter is available in black color. It supports Samsung Galaxy S8 and S8+ models. Besides, the product comes with an HDMI 2.0 port.
The display port of this model is 1.2 standards. Now, you can easily see movies on the TV through your phone.
Features:
Refresh Rate: The refresh rate of this model is 60Hz. It indicates that the cable has unrecognizable latency.
Supports 4K devices: This type of cable is compatible with up to UHD and 4K televisions.
Pros:
Supports UHD and 4K TVs
1.2 standard display port
Supports Samsung Galaxy S8 and S8+
Cons:
Mokin USB C HDMI HUB Adapter for MacBook Pro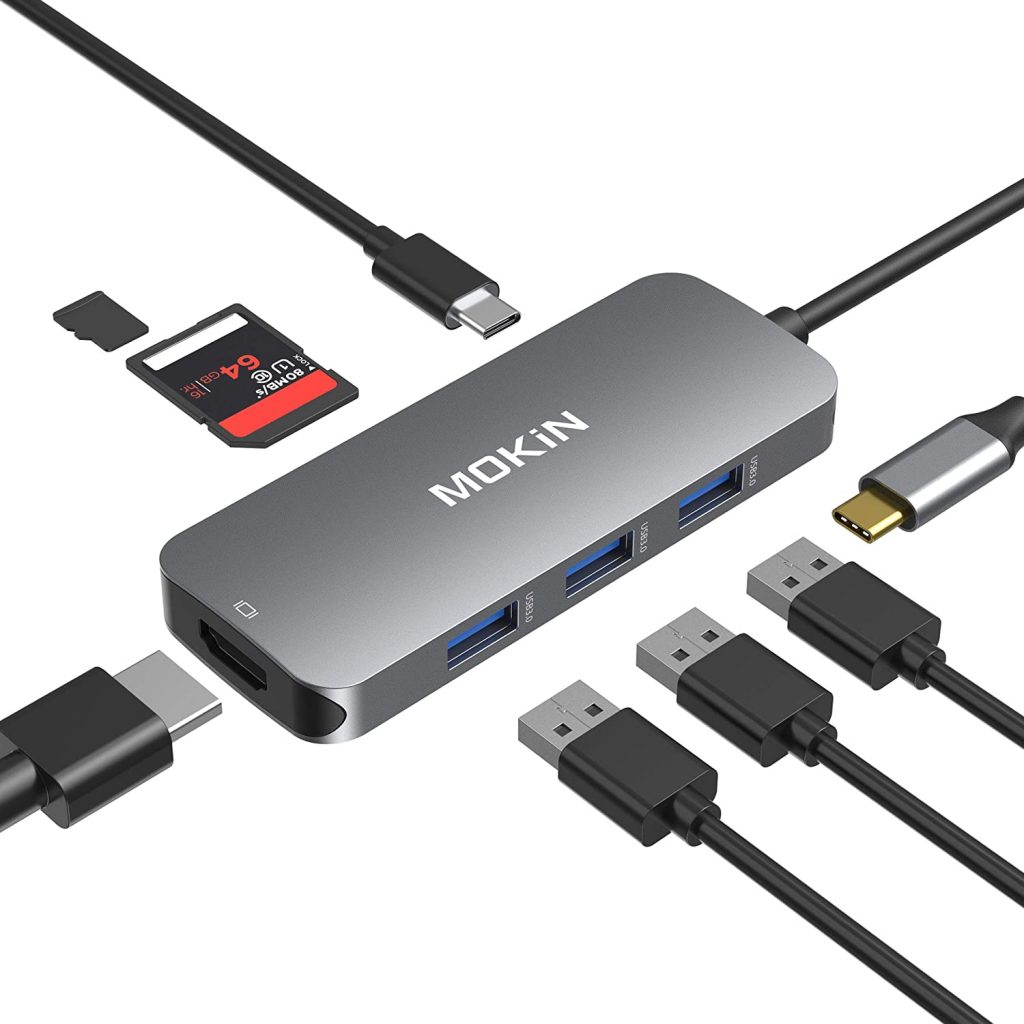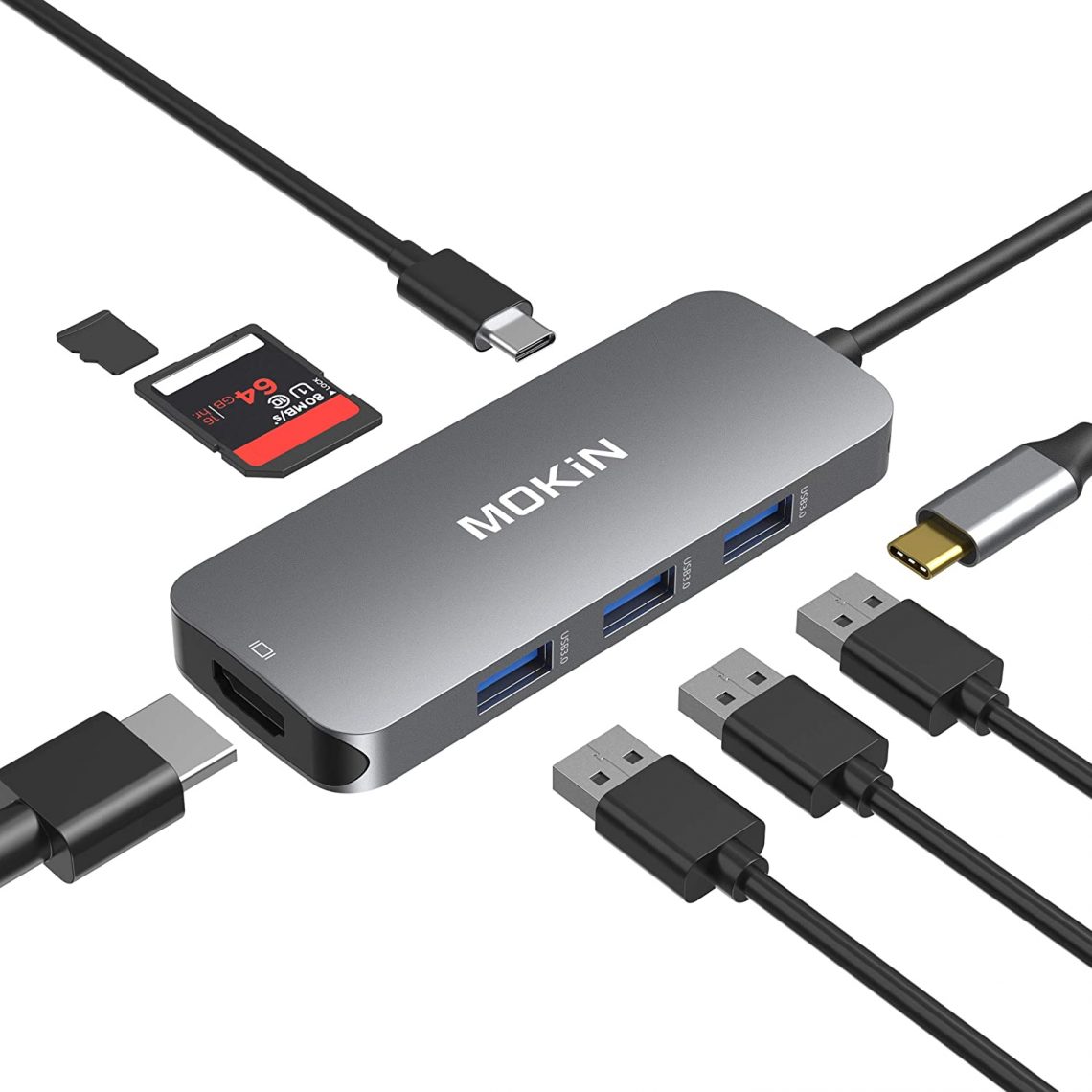 It is a USB-C HDMI MacBook adapter. The model comes with five in one feature. Moreover, it is equipped with SD+MicroSD Card Reader as well as the 2-Ports USB 3.0.
The product comes in 9.68 x 2.97 x 1.09 cm dimensions. It weighs only 68 Grams. However, it doesn't come with any batteries. The number of ports it can support is five. Besides, it doesn't come with the autofocus ability.
Features & Details
Hardware Interface: The model is compatible with USB and USB 3.0 hardware interface.
5 in 1: It is known as five in one that means you can connect it to five different HDMI outputs.
Pros:
Supports USB 3.0 hardware interface
Five in one model
Cons:
Not compatible with Samsung Galaxy S10
UGREEN USB C to HDMI Cable 4K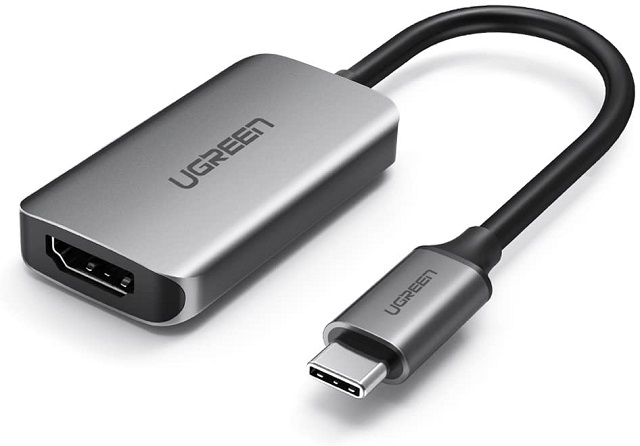 Description: The USB-C to HDMI 4K cable is very robust and durable enough. It consists of Nylon that makes it very flexible. Besides, the cable becomes a wear-resistant feature due to the Nylon Braided. The nylon cabling keeps the cable protected from clutter and tearing.
It also features high-quality gold plated contacts as well as a metal case. Both of the features play a vital role in terms of preventing loose connections. You can plug and unplug the cable multiple times.
Awesome Features: 
Big Screen View: With the help of this cable, you can connect your phone or laptop to your TV directly. Using it, you can connect these two with a monitor or projector also. Besides, it enables you to picture it from your phone to TV.
Excellent Picture Quality: The model can support 4K resolution @ 60Hz. It allows you to enjoy outstanding picture quality. You can use this cable for a prolonged period.
Easy to Use: You merely need to plug the wire. Then play directly. It works like a breeze between the phone and monitor. Moreover, it doesn't need any external power, drivers, or dongles. This connector offers rigidity as it is gold-plated. Also, the wire supports HDMI 2.0 and the former versions.
Pros:
Offer great picture quality
Durable enough
Compatible with HDMI 2.0 bland previous
version
Easy to use
Cons:
Gets easily overheated
Not long-term usable
AmazonBasics HDMI Adapter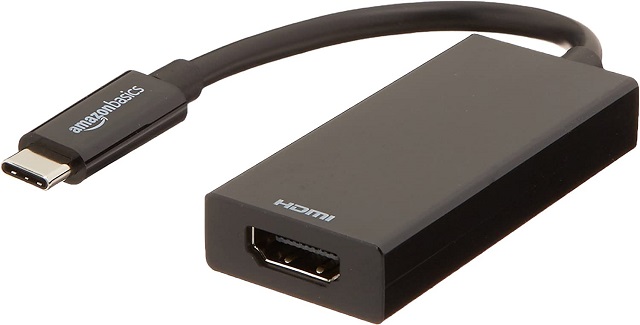 Description: This USB-C to HDMI Amazon adapter allows you to connect your PC to any HDMI-equipped monitor. Besides, you can connect your tablet or notebook with the HDMI supported display also. To do so, first, you need to insert the adapter's connector. Insert it directly to the Type-C port of your computer. Then, you need to attach the other end with an HDMI cable.
The cable is compatible with a 4K resolution, i.e., 3840 x 2160 at 30 Hz. Besides, it also supports 1080P and 720P resolutions. Even, it supports Windows 10/8.1/8, Mac OS, and Chrome.
Awesome Features:
Support USB 3.1: It is compatible with USB 3.1 on full-featured devices. The cable also supports USB 2.0.
Incredible HD Performance: This adapter can support both high-definition video and audio. This model offers a clear display when you play games, watch movies, or browse something.
Specifications: The product comes in a compact size. It's dimension is 2.46 × 1.12 × 0.45 inches. You can get this model available in black and white color.
Reversible Design: You can insert this connector to any Type-C enabled device.
Easy to Install: It doesn't require any drivers or power adapters. You can install the product with ease. The model has a one-year limited warranty.
Pros:
Easy to install
Supports macOS and chrome
Available in black and white color
Compatible with USB 3.1
Cons:
Doesn't support One Plus 5
Doesn't last long
Things to Consider Before Buying USB-C to HDMI Adapter
Nowadays, many brands are manufacturing USB type C to HDMI adapters as these are very useful and convenient too. That means there are a lot of options. Due to this, you can face difficulties while choosing the best one. Here, we have given a few aspects that you need to consider before buying.
Cable vs. Adapter:
It is an essential factor that you need to determine if you need to buy the best adapter. In most of the cables, the USB-C remains on one side, and the HDMI remains plugged on the other side. This system enables you to make a direct connection with the HDMI based devices. On the other hand, the adaptor comes with a USB-C plug and a floating HDMI socket. After that, it allows you to connect to an HDMI cable. These become more convenient when there exists any HDMI to HDMI cable. USB C to HDMI adapters are very small in size. Besides, these come with a female floating socket. The comfortable size and weight make it easy to carry.
USB-C to HDMI cables contains plugs at both ends. Besides, these don't require any extra wires. However, compared to the adaptors, these models are a little bit heavier. In this case, you need to connect USB-C to the PC and attach the plug to the monitor. Before buying, you need to check the price also.
Reliability:
You can't judge the reliability of any product with ease. Most of the time, the cables and adaptors offer good service. But if you use these products a lot, then these will fail for sure.
Connector insertions, cable flexing can decrease the life of the cable.
Durability:
A durable model can last for a long-time. If you want a long-term usable model, you can use the famous Nylon sheathed cabling. The nylon one is very inexpensive. Besides, Nylon can protect the wires from getting damaged. Therefore, these Nylon made models will be an excellent choice for those who want to use USB-C to HDMI cables for a long time.
Build Quality:
The construction of the connectors is also a factor you need to consider. Always try to use the aluminum connectors. These are more robust than the plastic models. Cables made of plastic can fracture quickly.
Cable Length:
When you use a cable, you need to connect HDMI to the monitor. In this case, the length of the line is a dependable factor. You can get cables in different sizes from one meter, 2 meters, to feet, and so on. That's why you need to check the cable length first. The best way you can follow to measure the length of the cable is to run some string between those items you will connect. After that, you need to measure the length. Sometimes, the distance you think is not appropriate. So, try to select a cable that is slightly longer.
HDMI Connector Style:
Most of the adapters use standard-sized type A HDMI connector. However, a few models are available in the market that comes with many connector sizes. The sizes are usually available in standard, mini, and microform. It is the perfect way to choose the best one for your needs.
HDMI Version:
When the HDMI Alternate Mode was launched, features up to Version 1.4b were available. That's why when you use such cable; you need to check this aspect.
Frequently Asked Questions:
Can you use USB-C to HDMI?
Yes, you can use it with an HDMI adapter. If your mobile comes with a USB-C port, then plug the adapter into your cell phone. After that, you need to plug the HDMI cable on the other end to the adapter. Thus how you can connect it with TV. Your phone should be compatible with HDMI Alt Mode.
How does USB-C to HDMI adapter work?
First, you need to attach one end of the universal HDMI cable with the adapter.
Then, you have to connect the other end with the HDMI port of your TV. You can use any port if there are multiple ports in your TV. You need to make sure that the TV input settings contain the right HDMI ports.
At last, you need to use the Type-C USB port. By using it, you have to attach your device with the HDTV Adapter.
What does a USB C to HDMI adapter do?
These are designed primarily in such a way so that you can connect the latest computers and phones easily with USB-C. Using the adapter, you can connect Thunderbolt 3 to a UHD tv or a projector with HDMI. Besides, it allows you to stream audio and video from PC to 4K 60Hz Ultra-High Definition TV.