If you play games like Call of Duty with friends on different TVs, an HDMI splitter is useful. It takes a signal from one source and sends it to another destination. For example, an HDMI splitter can take a signal from a gaming console, computer, AppleTV, etc., and then send it to TVs or monitors. These come with the labeling of two numbers. The first one reflects the input number, whereas the second is the output number. In this case, the output number varies from two to eight. Therefore, you need to decide only the number of outputs you need. Ensure that you are not buying an HDMI switcher, as its function is the opposite. However, you need to remember the HDMI cables as you don't get them with splitters.
These come with the capability to simultaneously send video output to two HDMI monitors. Try to choose a model that can offer performance at the least cost. Look at the products given below to help you to select the right one for your need.
What is an HDMI Splitter?
An HDMI splitter is a device working opposite to an HDMI switch. It lets you run one HDMI device over many TVs and takes an HDMI video output from devices like Roku and then splits it into two audio and video streams. After that, it allows users to send every video feed to a separate monitor.
It is suitable for those who are not willing to have over one HDMI device or subscription. These enable you to run a cable signal to two rooms. Besides, you can use them to connect ten or more TV screens. However, it has a few limitations also. But mostly, these meet the needs of users. You can find many models not working for an anti-piracy measure, called HDCP or High-Bandwidth Digital Content Protection.
Types of HDMI Splitters:
Two types of HDMI splitters are there that follows:-
HDMI Cable Splitter:
It is the most basic form suitable for most applications. These models take a signal from a source and then use an HDMI cable, which helps split the signal. After that, it will send the signal on two HDMI cables.
Network Cable HDMI Splitter:
This form is suitable for the applications and installations where you should route HDMI signals over longer distances. You can use them over too much longer distances with the help of Cat 5E or Cat 6 Cables.
How HDMI Splitter Works:
These are such tools that help to save a lot of money. However, sometimes, you may want displays showing the same contents in any commercial place like offices, restaurants, etc. So it is when HDMI splitters come to its use. For example, suppose a home theater room and a bedroom TV or a rec room, a den, or a living area where you want the same content screening on all displays. These are handy in such cases.
People who have DISH Television or Cable TV can use them as these are helpful for them. These services can charge you for a second cable box. If you split the signal into two places, it helps you to save huge money in hardware and subscription costs. These are required to perform a few heavy lifting. The signals can carry excellent audio and video and two-way communication between the content source and display.
Pros:
Cost Savings: You can take a signal from your paid content provider with the help of these tools. Then, it helps to distribute that to more screens. Finally, it indicates that only one subscription and a cable box are required. For instance, you may want a big football game in your main room and bedroom.
These can play out too fast for devices costing less than a hundred dollars if these enable you to avoid another contract or subscription cost over time.
More Simplicity and Control: These are tough for the primary screen needing a surround sound system, a receiver, and other hardware, useful to save some exciting things. Try to pair the devices with a few wireless HDMI units. Using the tools, you can run the entire content in one location. You need to use a closet with all hardware as these help you to broadcast the HDMI signals out wirelessly.
Cons:
Resolution Limits: It is one of the disadvantages of HDMI splitters. These come in a limit to the HDMI's EDID info usage. Whether you are sending a signal using the tools to two displays, these might not be the similar resolution. Powered devices can stumble at the step also. These need to manage the resolution to fulfill the lowest one via its two different EDID resolutions. It indicates that although you have a tool hooked to a 4k and a 1080p TV, you can send 1080 to both of them.
Cable Interference: The tool lets you run video at a limited distance from the source. In this case, you have to use extra-long HDMI cables. The maximum length of HDMI wires is around fifty feet. After that, the cable length can begin allowing interference into the signal.
Whether you are willing to split a signal across your house, use the fifty feet cable quickly.
Does HDMI Splitter Reduce Quality or Add Lag?
The tools do not decrease quality automatically as these copy a digital signal. Try not to use lower-quality hardware or a non-powered HDMI Splitter.
Tools that you use with HDMI wires can experience signal quality problems for the length of the wire.
However, these can add some lag. But the lag is on the order of milliseconds. A delay of 2 ms can happen, but it is too short to notice. Ensure that you use a powered HDMI Splitter to ensure that splitting occurs quickly.
How Do HDMI Splitters Deal with Quality and Lag?
If you want to use the tools, you should think a lot about your home video/audio setup. You will not get surprised to hear that the quality of each component is vital in the chain.
Quality:
Whether you are willing to stream a 4k video source to the television, ensure that the TV has a 4k panel. Besides, the HDMI wire should carry 4k video. While splitting a signal, it means that another hardware piece is introduced, and you make an extra link in that chain of the video. You can use the 1080p splitters to downgrade the 4k video stream down to 1080.
However, it is not so hard to avoid. First, you should find a tool that comes with an output rating suitable for you. For example, if you are willing to stream 4k to two 4k monitors, the device must come with a rating of 4k for it.
But, if you are using a powered splitter, nothing is there to worry about the quality. Of course, some lag or latency can exist, which you might not notice or experience. But no other disadvantages exist for splitting a signal from a video quality standpoint.
Lag and Latency:
HDMI splitters can add significant lag. However, if you are using a powered model, you are not required to face such issues. In this case, you should try to use any splitter connecting to a power source. Thus, you can be confident that the model has the correct internal equipment for duplicating the HDMI signal. Furthermore, it doesn't cause any processing or funny business additionally, which can slow down.
HDMI splitter is a new type in the chain of the video signal. Therefore, it has a chance of causing some extra delay. Go with a powered unit if you don't want to experience a delay for more than a couple of milliseconds. If you notice a delay of 2ms, you do not need to worry about it. It is only the two frames of a 60hz signal.
Are you a gamer who prefers playing intense games? If yes, you should use a model that can specifically advertise the refresh rate, which you are willing to match whether you are willing to split to 120hz screens. In addition, it indicates that you will require all essential tools. Hence, the splitter should have the capability of other components in the chain.
HDCP— The Issue With HDMI Splitters:
It is an anti-piracy measure seen on TVs, streaming devices, and cables. In addition, the model can protect content through a verification process between the display and the video-playing device.
As soon as it sets up a verified connection, HDCP will start encrypting the signal to stop unauthorized content recording, and it doesn't allow content owners to view their content.
If HDCP secures a video, but a part of the setup isn't HDCP-compliant, the video will not run. Even you can experience an error message. As a result, multiple people cannot view legally purchased content on their old equipment.
Do You Need A Powered HDMI Splitter?
It is advised to use a powered HDMI splitter. Using a powered model helps you ensure top-quality copying of the digital signals. Besides, it also helps to increase the signal by decreasing the likelihood of interference for increased cable lengths.
Difference Between Splitters and HDMI Switches:
We have given here some differences between splitters and HDMI switches.
Functionality: A splitter takes a signal from a source and sends or casts it on more than one television display. But an HDMI switch works the opposite. Instead, it takes a signal from multiple sources and sends the signal to one device or television.m through the cable output.
Labeling: The labeling on an HDMI switch is as 3:1, which indicates that it has three source inputs and one output. But the splitter comes with the labeling of 1:3, meaning that the model has one source input and three outputs.
While buying any of these two, you need to ensure that the model you select should support your device resolution.
Which One Suits You Best?
Whether you are willing to broadcast one device over many displays at a time, then you should not use an HDMI splitter. For instance, a corporate employee can represent his presentation more easily when he casts content on the big screen while using his monitor for reference use.
On the other hand, you can use switches to combine inputs from two devices on a TV display. Therefore, if you are not willing to shell out cash to buy another display, go with an HDMI switch.
Finally, you should know that both of these are budget-friendly.
Best Five HDMI Splitters:
Zettaguard 1 x 4 HDMI Splitter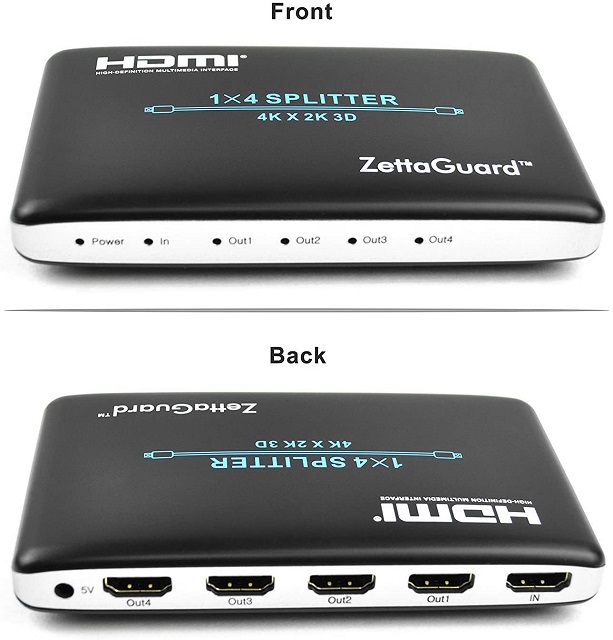 Description: The model offers one HDMI input and four HDMI outputs. It is compatible with resolutions up to 4K x 2K and 3D. Here, you can experience 3Gbps bandwidth and extra features of the current HDMI standard, making the model the best among all in the market.
DC 5V 1A is the power supply of the model whereas its weight is 120g. The model comes in dimensions of 77.6W x 135D x 23.5H. 0C – 40C / 32F – 104F is the operating temperature whereas the storage temperature is -20C – 60C / -4F – 140F.
Features:
Split: The model can split one HDMI input signal into four HDMI output signals similar to the input signal.
Resolution: It is compatible with HD resolution up to 4K x 2K at 30Hz, 1080P at 120Hz, and 1080P 3D at 60Hz. The model is compatible with lower 1080i, 720P, 480i/p resolutions. Besides, it supports a 3D deep color of 36bit & 48bit.
Supported audio: The audios supported are DTS-HD / Dolby TrueHD / LPCM 7.1 / DTS / Dolby-AC3 / DSD. All the important audio options are compatible with the State-of-the-art design. Besides, it has ports available on its back and side vents useful for overheating prevention and maximum cooling.
Plug and Play: The model is simple to set up. It can work with HDMI devices adequately, such as a 4K TV, projector, HDMI LCD, Cable box, Blu-ray player, DVD player, PC, STB, PS3, etc.
Pros:
Compatible with plug & play
Supports projector and different audio
State-of-the-art design
Cons:
KELIIYO Hdmi Splitter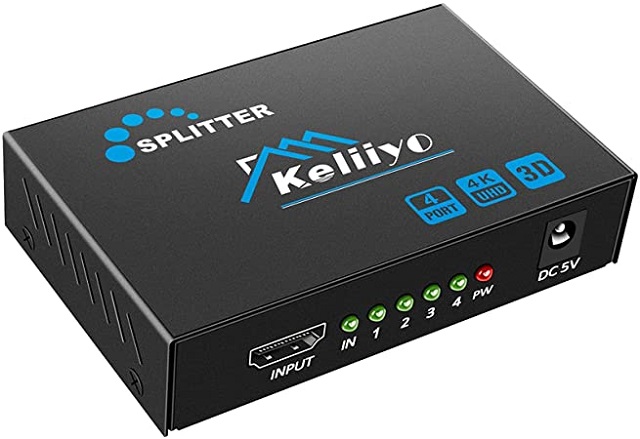 Description: It comes with a single input port that you can use to connect with your PC, Xbox 360, Xbox One, PS3, PS4 Pro, Fire Stick, Blu-Ray DVD player, Satellite Receiver, Route Roku, Chromecast, Projectors, etc. The model comes in a Heat dissipation hole design useful to leak out heat quicker. Besides, it also helps to extend the product.
The product has Anti-oxidation & anti-corrosion input & output ports that offer you stable signal transmissions. It is compatible with PAL,NTSC3.58, NTSC4.43,SECAM,PAL/M,PAL/N standard TV formats input. Four output ports are available, compatible with HD-Ready, Full HD TVs, Apple TV, Samsung TV, monitors, projector, etc. This model doesn't allow you to use HDMI audio device.
Features:
1×4 Splitter: It can split an HDMI input signal into four identical HDMI output signals. Besides, the model can transmit audio and video without losing any quality.
High Compatibility: This product is compatible with full HD 1080P and 3D resolutions. It can work at up to 4K@30Hz, in deep color 408i/576i/576p/720p/1080i/1080P. The model is suitable for computers, laptops, PS3 games, Blu-ray DVDs, tablet pc, projectors, full HD TVs, etc. You need to ensure that the resolution of both output devices is similar to make sure that it is a normal operation.
Design: It consists of hard metal material. The input & output ports feature anti-oxidation & anti-corrosion. As a result, these can offer stable signal transmissions. If you are willing to connect the HDMI devices, you should use AWG26 HDMI standard cable and AC adapter. Its transmission distance may be up to 100ft. You won't get the cable available in the package.
Huge Application: You can use the model for shopping mall supermarket, data control center, information distribution, HDTV, STB, DVD, projector factory, corporation showroom; home theater, education, training; conference room presentation, etc. It will not extend monitors.
Easy to Use: You can set up and operate the model efficiently. In this case, you need to connect the HDMI devices and the AC adaptor. After that, the product lets you share your favorite video and audio with your dear or close ones.
Pros:
Simple to operate
Wide application
Dissipation hole design
Anti-corruption
Cons:
Kinivo HDMI Switch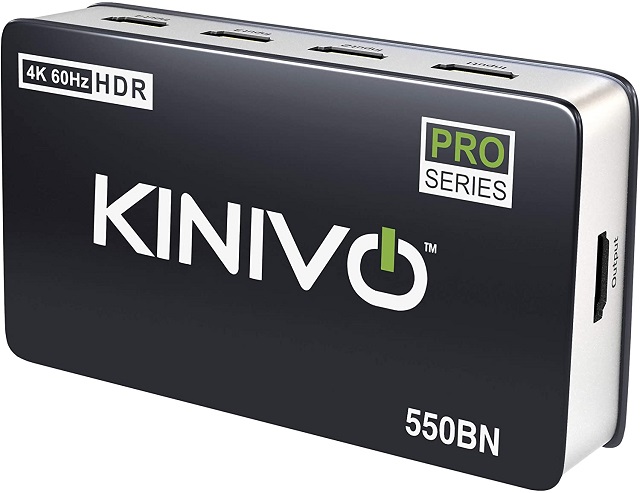 Description: It can offer 4K 60Hz Ultra HD resolution. The model features a real-time content display letting you no lag or stuttering. In addition, the model can provide sharper image quality with a crystal-clear Resolution of 3840 x 2160 pixels (4K) than 1920 x 1080 pixels (1080p).
HDR or High dynamic range helps to boost brightness and showcase vibrant colors that are true-to-life and natural. There are a lot of colors displayed on display closer to the vast range, and thus, it can make a noticeable improvement.
Features:
Five devices: The model enables you to connect five devices like gaming consoles, DVD Player, streaming devices, etc., to HDTV or other single output displays. These help to decrease clutter from cables being fed into your HDTV.
Display: With the help of crystal-clear advanced technology, you can enjoy the image of 4K 60Hz resolution, HDR, Dolby Vision, and immersive 3D content. It is compatible with 1080p also.
Switch automatically: The model can switch automatically depending on the active input. It enables you to experience your media immediately without the fuss of setting up. You can use the IR remote to switch it manually. Unfortunately, all devices like Apple TV, Xbox One, PS4, Roku, etc., are incompatible.
Heat dissipation technology: It comes in an easy-to-use design and hybrid aluminum body with heat dissipation technology. In addition, the product can offer a warranty for two years and provide lifetime US-based customer support.
Pros:
Lifetime US-based customer support
Two-year warranty
IR remote control
Advanced crystal-clear technology
Cons:
OREI HDMI Splitter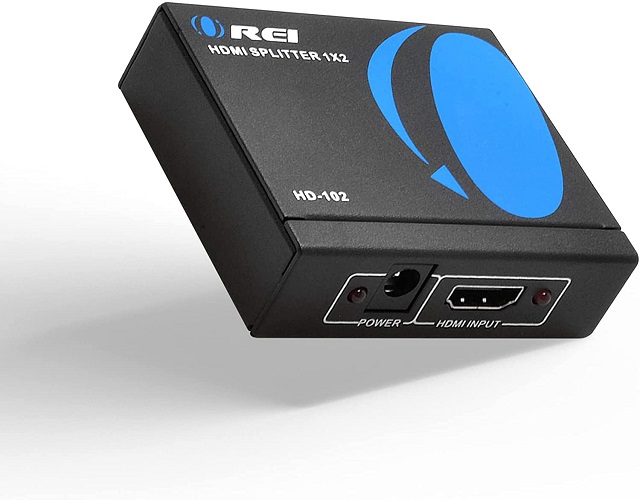 Description: Without the power adaptor, the dimension of the model is 10 X 6.1 X 2.6 cm. Besides, 0.09 KG is the weight of the product. The package includes HDMI 1×2 Splitter x 1 DC power supply to USB cable, 1 User Manual, 1 HDCP complaint. It says that the model is unable to bypass the HDCP signal.
Features:
1 in 2 Out: The model is unable to o extend the monitors. It can split one HDMI input signal to output signals of HDMI, similar to the input signal.
Support: It can support the HDMI 1.4/ 1.3/ 1.2 version and HDCP 1.4. The product can help you efficiently distribute signals for devices with a standard HDMI interface.
Input & output: You can use Computer, Xbox 360, Xbox One, PS3, PS4 Pro, Fire Stick, Blu-Ray DVD player, Satellite Receiver, Route Roku, Chromecast, PC, Projectors, etc. as inputs. You should use the Apple TV, HD-Ready, Full HD TVs, HD Monitors, Samsung TV as outputs.
Cable usage: Maximum length that you can use is 30 feet. If you want to get the best image quality, you should not use cables over 30 Feet. It contains a heavy-duty excellent metal enclosure that aids in quick heat absorption to keep the unit cool. 0°C ~ 40°C / 32°F ~ 104°F is the operating temperature of the model. Its power consumption is 5W max.
Video formats supported: It is compatible with Video formats 3D, 4K x 2K@30hz, 1080P @30hz, 1080P @60hz. Deep Color 4K @ 30Hz / 480i/ 576i/ 480p/ 576p/ 720p/ 1080i/ 1080p/ 1440i/ 1440p eidi duration 6 seconds. The product is not compatible with HDCP 2.0 & 2.2.
Accessories: The package contains one 4K 1×2 Splitter, a USB Power Cable, and a User Manual. You do not need to use a power adapter.
Pros:
Fully compatible with 3D video formats
Supports Apple TV, HD-Ready, Full HD TVs, HD Monitors, etc
Cons:
Can not bypass HDCP signal.
Avedio links HDMI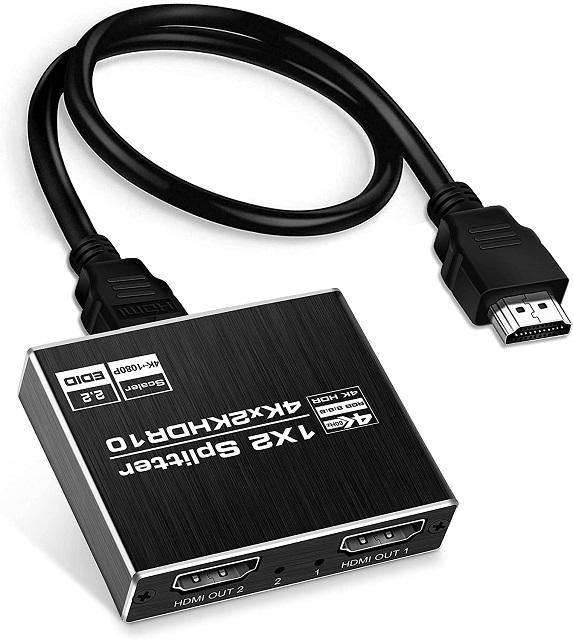 Description: The model is simple to operate and install. You only need to connect the HDMI devices and the USB charger cable. However, the package is not equipped with an adapter.
It can support a maximum of 4k@30hz. Besides, the model enables you to use it for HDTV deep color and 3D video. This product allows you to experience a top-quality movie at home or make your home theater. You can use the model for different occasions, and it is perfect to use at a trade show, conference room, bedding room, living room, kitchen room, and backyard.
Features:
Duplicate content only: A powered model can split an input signal into two HDMI displays. The model helps to share audio and video simultaneously without loss and lag. It can mirror the display, not extend. However, the package contains a USB-micro USB cable, but not a 110v power source.
Portable: The size of the model is 2.5 x 2.1 x 0.5 inches / 6.3 X 5.3 X 1.2 cm ( L X W X H ). It is simple to carry, eco-friendly, and useful while traveling. The package comes with a USB cable that you need to power via USB. You are not required to use any external driver. It is recommended to use a maximum of 25ft long HDMI cable.
HD resolution: This product is ideal for dual monitor support 4K, 3840x2160p, 3D, and 480i@60Hz, 480p@60Hz, 576i@50Hz, 576p@50Hz, 720p@50/ 60Hz, 1080i@50/60Hz, 1080p@50/60Hz, 1080P 24Hz 3D/720 60Hz, 4K@30HZ. If you want to have the 4K resolution, the maximum frequency that you can use is 30Hz. HDCP2.2 is not supported here.
Support: It is compatible with HDMI v1.3/1.4 and HDCP compliant with the 1.2 version. The model is compatible with deep color 30 bit/36 bit. Besides, it is compatible with audio format like DTS-HD / Dobly-true HD / LPCM7.1 / DTS / Dobly-AC3 / DSD / HD (HBR).
Accessories: The package includes one HDMI splitter, a USB cable, and a high-speed HDMI cable. It doesn't come with any USB power adapter, and you need to connect the USB with a wall outlet. Make sure that you are not plugging into a cable box.
Pros:
USB-micro USB cable is available
Support audio formats and different HD resolution
Dual monitor support 4K
Deep color 30 bit/ 36 bit
Cons:
Unable to extend the display
Best HDMI splitter Buying Guide:
Best HDMI Splitter Buying Guide:
Factors to Consider:
You need to consider multiple factors before purchasing a suitable HDMI splitter. We have given here a few key points that you should consider before purchasing.
Inputs and Outputs:
While buying the best splitter for your need, you should know the number of inputs and outputs required. Each splitter is equipped with numerous configurations, and therefore, you can find the correct one easily for yourself.
Resolution:
When you purchase the best model, you should ensure that you get the best picture quality. Ensure that your device is compatible with the highest resolution necessary for the devices. A few devices come with specific requirements that you should know. For instance, you should go with a splitter compatible with 4K at 60Hz to use a Playstation 4 Pro model.
Power source:
A few devices are unnecessary for an external power source, whereas a few are essential. So, it is better to have an outlet if it is the case.
Conclusion:
This article has enough information to help you choose the correct HDMI splitter. But it is always better to use a powered model every time. Besides, you should also check if the model is verified for the resolution. Check the entire article and choose the model as per your needs.
Frequently Asked Questions:
Is Splitting an HDMI Signal Illegal?
If you plan to copy and distribute the content illegally, then it is illegal. However, you can record yourself while playing video games, make legal backups of your property, and other works. In these cases, it is not illegal.
How do you hook up an HDMI cable to a splitter box?
First, you should use the HDMI input port to connect the splitter box to the primary device. After that, you are required to connect your devices that you are willing to split the HDMI signal taking the help of the extra HDMI cables via the HDMI out ports.
How do you use an HDMI splitter cable to extend my desktop?
Instead of extending the desktop, an HDMI splitter helps to mirror the primary display only. Whether your device is compatible with some external displays, connect many monitors to the PC via attaching the displays separately. You can use the outputs and inputs in this case. It is possible to daisy-chain the monitors also at a time if the number of ports is limited.