Knives are the tools of the chefs. It does not matter if it's a professional or an amateur. With this gadget, the simplicity of food preparation stands and falls. They have to be sharp and do their job well. Often they are in front of it and then but loveless and unsorted in the kitchen drawer, really bad. With the Magnetic knife block from Coninx, the kitchen appliances are now in the limelight and beautify the work surface at the same time.
Who does not know how to dig for the right kitchen knife in the drawer? Or pulling out various knives from the Magnetic knife block to find the right one? With the new design of the Magnetic knife block, you have sorted all his tools in the kitchen at a glance stylish and above all safe. Thanks to the principle of magnetic mounting, the knives are safe and secure on the wooden surface while still looking stylish – a clear designer gadget.
Robust bamboo wood for high quality standards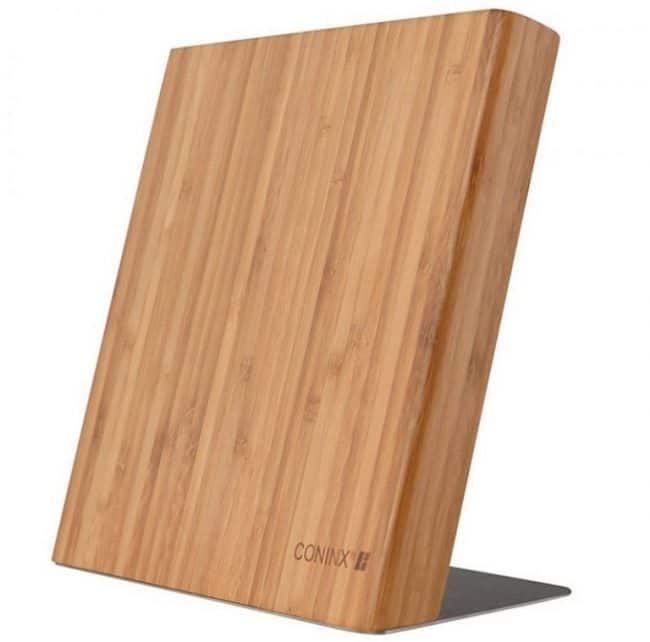 Magnetic knife block is suspected anyway, the knives in the long term by the many contacts dull, so ideal to switch to a new variant. With this gadget, the blades are sure to stay sharp for a long time because they do not rub unnecessarily on the block and thus keep their proper finish. The stand has a metal base plate with rubberized feet for a secure stand on the worktop. From this, the 23 centimeters long wooden part is not quite vertical, but obliquely upwards.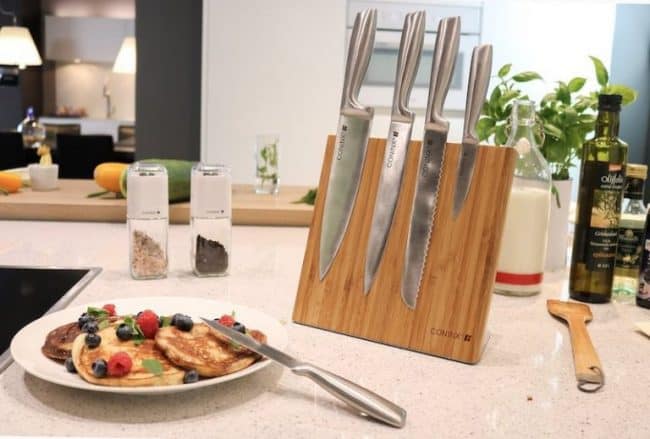 The bamboo wood hides a strong magnet that is supposed to attract the knives and hold them in place. The Dutch company for stylish kitchen accessories deliberately chose Asian wood because, thanks to its structure, it is one of the most resilient woods in the world, making it ideal for use as a Magnetic knife block. Thanks to the design, you now have a tidy overview of all the available knives.
Knife holder as a design element in the kitchen
With a price of just under 30 euros, you can do absolutely nothing wrong with this useful Magnetic knife block. It helps to keep the overview in the kitchen and is a grateful helper for professionals, as well as for amateur cooks and, of course, design lovers. The manufacturer Coninx even grants a five-year warranty on the Quin knife holder and, of course, is convinced of the quality of the product itself.