NINETEC Impulse – Portable Bluetooth speakers are hard to imagine in this world. Ideal for outdoors, the living room, the bathroom or the kitchen, they always accompany us with their ever higher quality sound. The alpha and omega, of course, is that they are portable, yet they do not bring much loss in sound. With the current abundance of products, it is no longer easy to keep track. We keep you up to date.
Again and again, new ideas prevail and are realized thanks to the advancing technology. Likewise with the NINETEC Impulse loudspeaker, which has 3D sound. The NINETEC Impulse loudspeaker is a particularly beautiful representative of the Bluetooth speakers. The chic speaker in real leather design can also be pleasantly surprised by its inner life.
High-quality battery and revolutionary 3D sound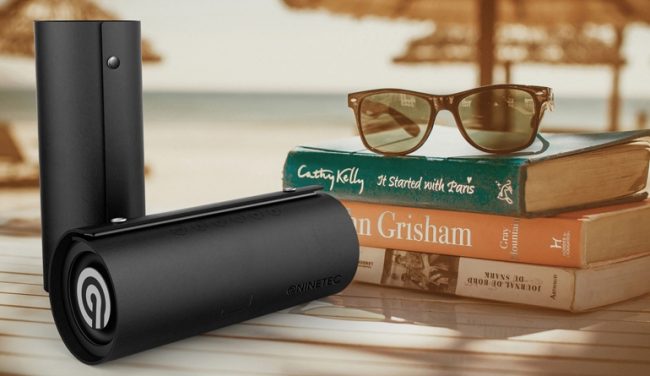 This Bluetooth speaker knows how to score when it comes to the technology. It has 2 x 10 watt drivers, two subwoofers and 20 watt combined power! A rechargeable 2200mAh lithium-ion battery is integrated, which guarantees sufficient power for 10 hours of operation. Thanks to Bluetooth 4.0 is a very fast data transmission, which is associated with a long range, guaranteed.
Especially the NINETEC gives impulses especially its modern 3D sound! The sound, regardless of the exact position of the speaker, evenly distributed throughout the room. Thanks to the integrated hands-free function, the NINETEC Impulse is also ideal for telephoning. The high-quality integrated microphone results in a pure speakerphone with the pure boxes.
Beautiful real leather design in three colors
The speaker is covered by protective leather. The cover made of genuine leather can be closed for transport and opened for the enjoyment of music. This ensures the increased stability of the NINETEC Impulse. In addition, it gives the design that certain something and visually distinguishes the product from the competition.
The device can be ordered in black, silver or white. In all three cases, the cover is made of genuine leather. The company logo on the side, which also acts as a power button, underlines the noble design of this speaker. The speaker is delivered in a high quality and stylish cardboard roll, which can be used after shipment even as additional protection for transport. If you are interested in the noble speaker with the advanced 3D technology, you can strike Amazon. There is the box for 99.99 euros for sale.