Shure's MV88 Stereo Condenser Microphone
Smartphones are good when it comes to recording quality video but they tend to lack when it comes to sound.  A microphone company, Shure, has some solutions in making the audio recording much better on the iPhone and the MV88 stereo condenser microphone has been tested to see just how much better it could be. The MV88 which is priced at $150 can be plugged into the iPhone through the phone's Lightning jack, providing accurate stereo recording.
One can angle the head of the microphone to target the subject and record with or without the foam windscreen which is included.  It is controlled through the Shure's app that can export recordings to email or Dropbox as well as change the polar patterns and stereo width of the recording. The MV88 is said to be tested in various scenarios comprising of live video recording, in studio as well as outdoors.
It surely records accurate stereo parting with both the left and right channels distinctly.  However, it does not seem to be adequate for live video since the phone had to be put in airplane mode to avoid cellular interference with the microphone.  Based on experience, it is worth investing in it if one is a musician and desires to record better scratch tracks while on the go.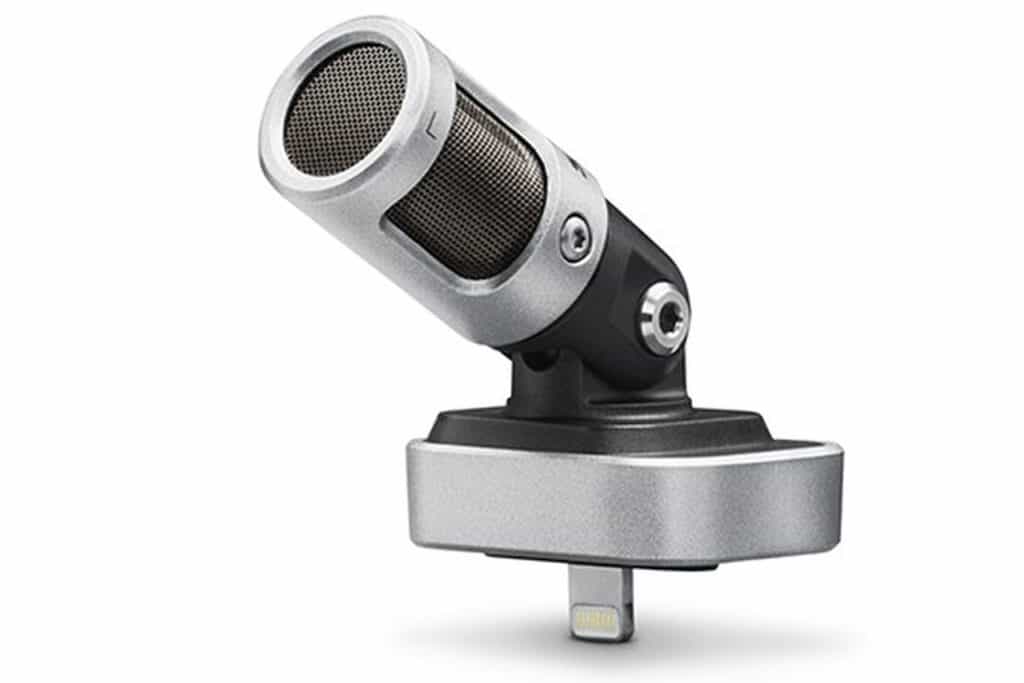 MV88 Delivers Clear, High Quality Sound
The MV88 tends to deliver clear, high quality sound and rotates for flexible position which is appropriate for video applications and is suitable for –
Live performance, interviews, audio for video and vocal as well as instrument recording
Compatible with iOS devices featuring Lightning connectors
Works with the ShurePlus MOTIV app that enables control of gain, EQ, stereo width and 5 DSP pre-set modes
Includes MV88, windscreen, headphone adapter cable and zippered carrying case
MV88 Compatible with Free ShurePlus MOTIV Mobile Recording App
The MV88 is said to be compatible with the free ShurePlus MOTIV Mobile Recording App that is available in the Apple App Store. It features matched cardioid as well as bidirectional cartridges for best-in-class audio, mid-side architecture for phase-perfect, clear stereo image, 5 DSP pre-set modes which tend to automatically enhance EQ, compression and restriction for sound source as well as the environment – Speech, Singing, Flat,  Acoustic Instrument and Loud.
The construction which is all metal is engineered to withstand the most demanding recording conditions.Shure will not be showing off any new headphones at CES though it has a new plug and play microphone line which will be suitable for individuals desiring to capture high-quality audio for vocal or acoustic recording, podcast, YouTube videos, field recording and much more.
The microphone that tends to fall under the new Motiv brand comprise of four new Apple MFi, certified devices, including three condenser microphones together with a sleek digital audio interface that can connect directly to any iOS device without additional adapters or connection kits. The Motiv MV88 can connect directly to any Apple iPhone, iPod or iPad equipped with a Lightning connector to capture high-quality field recording on the go.