In this fast-growing modern world, phones play a crucial role in our daily life. We generally don't set out from our homes without our phones. And in that case what will happen if you forget to charge your phone and get switched off in the middle of your work? This is where Power Bank comes to your rescue. You can even say that a best power bank is a portable charger. All you need is a USB cable to put your phone on charge in the power bank.All the power banks available in the market are rechargeable and are made up of Lithium-Ion and Lithium-Polymer batteries. There are different types of power banks. And these include
Standard Power Banks
Solar Power Banks
Wireless Power Bank
Choosing the Best Power Bank:
Since there are lots of power banks in the market with a variety of sizes and shapes. This makes it difficult to choose the best one to buy. There are some points you need to consider while purchasing a power bank that suits your requirement:
Power Bank Capacity: The most important factor to consider while buying a power bank is the capacity. Capacity is nothing but the amount of charge that your power bank can hold and the power your device requires. Therefore, first, you need to estimate the amount of energy your device will require. The power bank comes with capacities ranging from 1,000 mAh to 20,000 mAh.
Type of Battery: As already mentioned, power banks are generally made of two types of batteries- Lithium-Ion batteries and Lithium-Polymer batteries. Li-ion battery is the old technology, and these days, the use of Li-Po batteries has increased. Compared to Li-ion power banks, the Li-Po power banks are generally slim and lightweight of the same capacity.
Design: Power banks come in different sizes and colors. They are also available in vibrant colors. Each power bank has a unique design. You can pick out the best design you like. In addition to design, size and weight are equally important. The device will be larger and heavier if the capacity is greater. And this is best if you are traveling.
Additional Features: Some power banks also provide some extra other features. And some of them are the LED lights, Built-in cables, Type C input charging, multiple charging ports, etc. You need to be clear on what extra features your power bank must carry.
Best Power Bank from MI:
Mi 20000mah Li-Po power bank: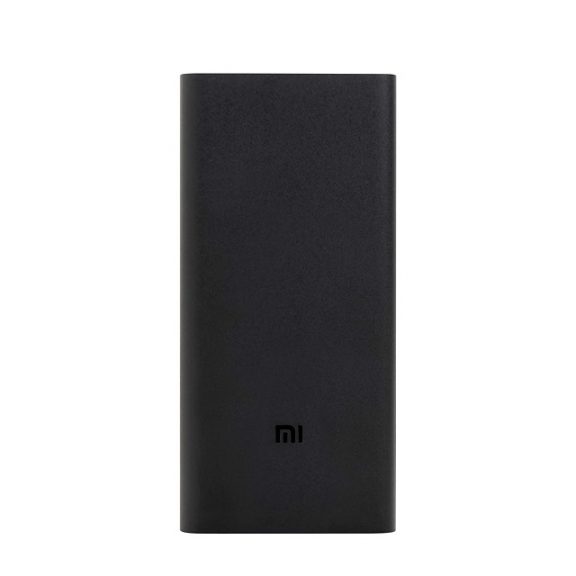 The Mi provides a 20000mah power bank with innovative design, high output capacity, and best quality. The power bank can adjust itself to match the devices' requirements and is compatible with a wide range of devices. The design of the power bank is so elegant.
18 w is the maximum power given by the power bank.
Low power devices like Bluetooth headsets and fitness bands can also be charged. For this, you simply have to double press the power button, and the device will enter into 2hrs low power charging mode.
Some other features of this best power bank from Mi are:
Protection from incorrect insertion: The power bank will automatically stop charging if the charger is incorrectly inserted.
Temperature Resistance: Some of the power banks will get heated up if they are charged for a longer time. The Mi has developed the heat-sensitive and temperature control mechanism to ensure that the Li-Po batteries work in a safe range.
Protection from Short Circuit: In the case, there is a short circuit, automatic protection will be given to the motherboard and the batteries.
Note: For sustained optimum utilization, you need to charge the power bank fully at least once every 60 days when not in use.
Redmi 10000mAh Power Bank: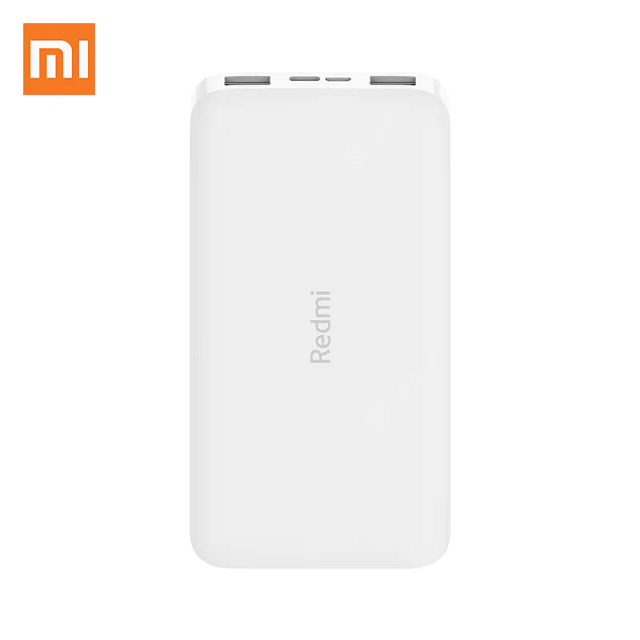 The Redmi power bank comes with a 10w fast charge that will charge your devices quickly. Also, it is equipped with high-quality Li-Po batteries that are safe and more efficient. The dual-port support allows us to charge two devices simultaneously. The Type C and Micro USB ports are also present. The power bank also has a low power charging mode to charge the low power devices. This is one of the Best Power Bank that you can get in the market for a low price.
The minimalist design of the Redmi power bank is so appealing. Redmi has put a matte finish on its power bank plastic shell. The power bank is lightweight and has a textured grip. The gadget is crafted with high- quality material that makes the power bank last longer. And it is available in two colors- Black and White.
Some other features of this best power bank from Mi are:
Reset Mechanism
Protection from incorrect insertion
Temperature Resistance
Protection from Short Circuit
Electrostatic Protection
Redmi has always made sure that they produce the Best Power Bank. They have also made other competitive companies concentrate on gadget accessories also.
Best Power Bank from Ambrane:
Ambrane PP-20 20000mAh: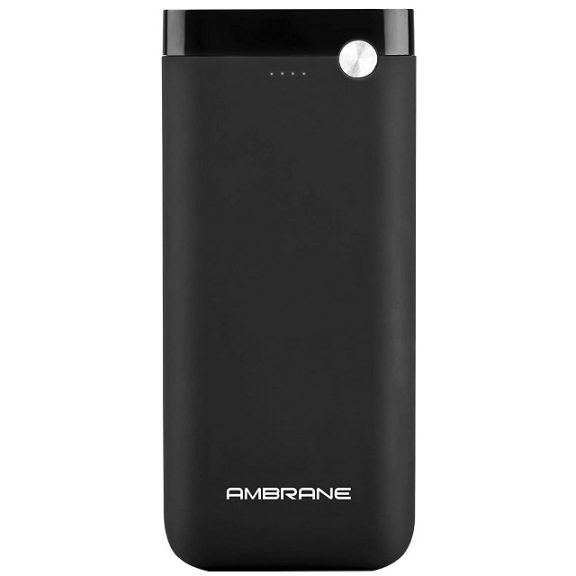 Ambrane power banks come with a 20000 mAh capacity and features dual input port for effortless, easy charging. The compact and rubber finish design attract people who are looking for the Best Power Bank. The Ambrane power banks have high efficiency and charging conversion rate so that your device will never run out of charge.
The maximum charge output is 5V/2.1A. The Ambrane power banks' wide compatibility with devices allows you to charge different types of devices. The power banks contain Li-Polymer batteries. These batteries are durable and more efficient than the Li-ion batteries.
The body of the Ambrane power banks is made up of ABS plastics and rubber material on the top layer. This makes the power bank resistant to scratches with a strong grip and durable. The company also provides 180 days warranty. In case you have any problem with the device, you can contact the customer support.
 Some other features of this best power bank from Ambrane are:
Temperature Resistant
Overvoltage Protection
Compatibility
Micro USB & C-type Connector, Charging indicator.
Charging Time-12-15 hours
Ambrane 10000mAh Li-Polymer :
Ambrane is always trusted with its products, especially its power banks. The premium rubber finish design makes the power bank look more attractive. In addition to that, the specialized rubber material also makes the power bank scratches and mark resistant. The Ambrane PP-11 is ultra-slim and lightweight. Moreover, it is compact that makes it more portable.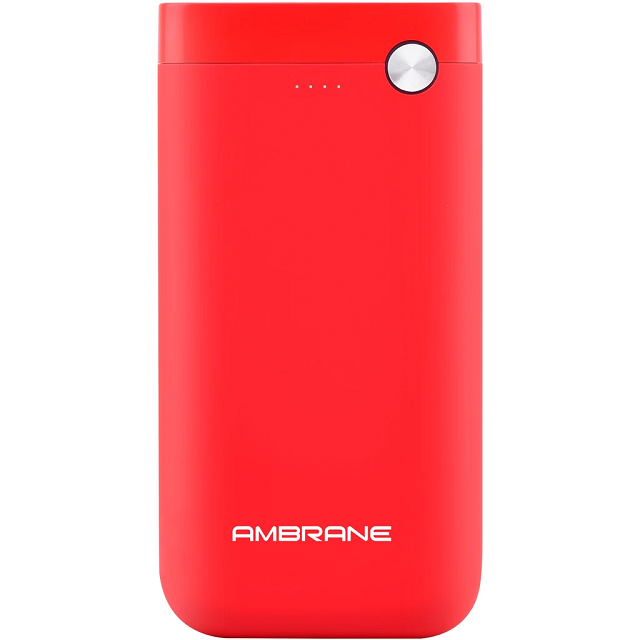 The Ambrane power bank comes with LED charging indicator. And this indicator indicates the amount of power left in the power bank. It also shows if your device is charging at Quick charge or normal. The charging time of the PP-11 power bank is 6-8 hrs.
The power bank is made up of Li-Polymer durable batteries. These batteries have a high charging rate and safer than Li-ion batteries. Through the dual USB Ports, you can charge two devices at the same time. The maximum current output is 2.1A.
The PP-11 power bank comes with the Integrated Circuit, which has nine layers of protection. And they are as follows:
Protection from Temperature Resistance
Short Circuit, Reset Mechanism
Input Over-voltage Protection
Incorrect Insertion
Output Over-current
Output Overvoltage Protection
Overcharge and Over-discharge
PTC Protective Circuits for the Cell
Best Power Bank from Anker
Anker PowerCore 20100:
Price: $45.99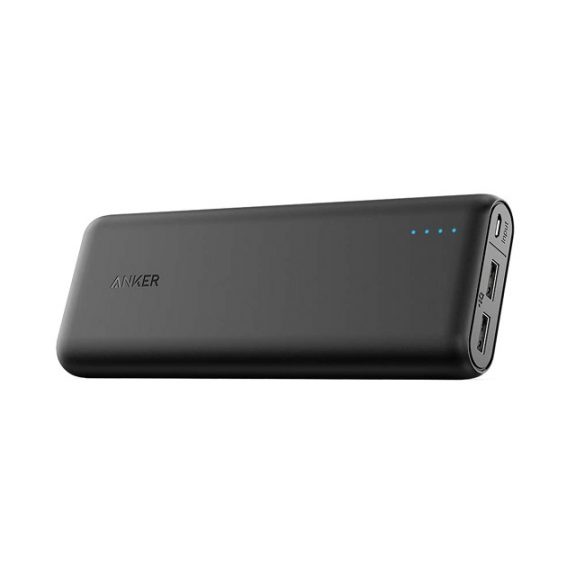 The Anker PowerCore 20100 is one of the six models in the Anker PowerCore Series. It is the most affordable and portable power bank. The power bank is designed with a matte finish, which enhances grip and does not leave any fingerprints. The Anker power bank holds enough power to charge an iPhone 8 almost seven times, a Galaxy S8 five times, or an iPad mini twice. The dual-port allows you to charge two devices at the same time. There is a Micro USB port to charge the power bank itself.
The Anker uses a technology called "MultiProtect Safety System" to avoid over-heating and other related issues. This technology uses 11 techniques to ensure complete safety for all your devices.
There is four LED light that indicates the amount of charge left in the power bank. Other than these, the power bank does not have any other exciting features.
Anker PowerCore 20100 is one of the Best Power Bank. And it is worth buying.
Best Power Bank from RAVPower:
RAVPower 22000mAh Portable Charger:
Price: 49.99$
Colors available: Black, Blue, White, and Red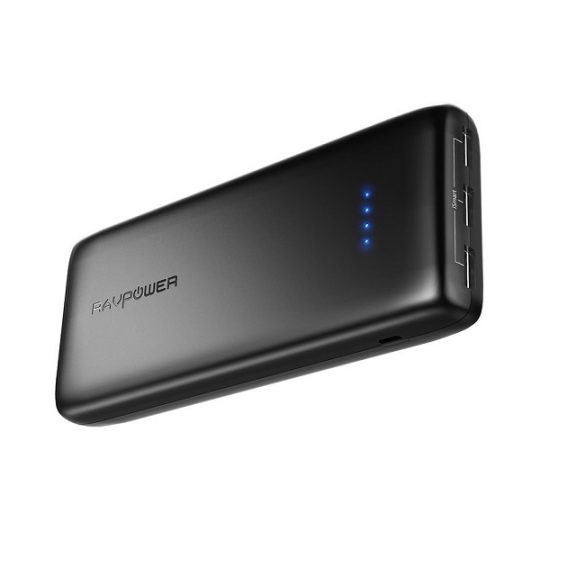 RAVPower is a popular name in power banks. They have launched many power banks with different features. And the RAVPower 22000mAh Portable Charger is one of the Best Power Bank the company produces.
Most of the power banks have a plain slim design. And this power bank is no different. The power bank is wrapped with a scratch-resistant shell, which is highly durable. The device contains 3 USB charging ports but does not support Qualcomm Quick Charge.
What's inside the box?
Lifetime Card
RAVPower Ace Series 22000mAh Portable Charger
2 x Micro USB Charging Cables
Carry Pouch
User Guide​
Best Power Bank from Poweradd:
Pilot 4GS 12000mAh:
Price: $22.99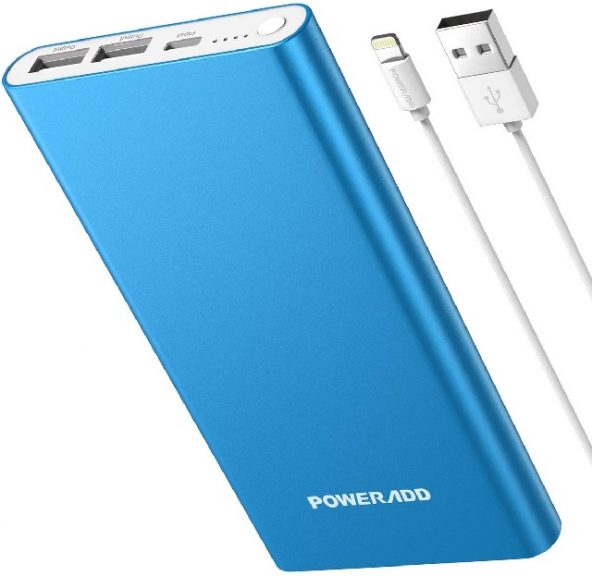 Colors available: Rose gold, Black, Green, Silver, and Blue.
Pilot 4GS 12ooomAh power bank designed by Poweradd is one of the most stylish and cool looking portable chargers. The power bank is slightly bigger than the iPhone. This lightweight power bank has a dual USB port.
It takes approximately 10 hrs to charge the power bank fully. If the Pilot 4GS power bank is left used, it will store power for future use for six months. And this power is bank made of high-quality Li-Po batteries that make it more durable than other competitive products.
To provide convenience for Apple users, the power bank is supplied with one built-in Lightning Cable (Apple Certified).
What's inside the box?
Poweradd Pilot 4GS 12000mAh Power Bank
Lightning Cable
User's Manual
Feedback Card
The Pilot 4GS 12ooomAh power bank is probably one of the Best Power Banks available in the market.
Best Power Bank from Aukey:
Aukey Sprint Lightning :
Price: $45.99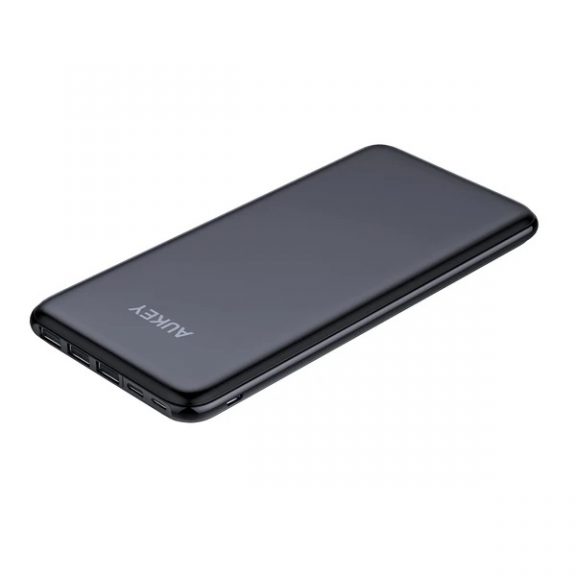 The Aukey Sprint Lightning Power bank has a power of 20000mAh that is enough to charge any smartphone several times. The ultra-slim power bank is stylish, and the matte finish keeps the power bank fingerprint free. The power bank has tree inputs- USB-C, Lightning, and Micro-USB. You can choose any port to charge your power bank.
The Aukey Sprint lightning power bank also has a Low-Current Charging Mode. This mode used to charge low-power devices like the fitness watch, wireless earphones, etc. The battery made up of high-quality Li-Polymer batteries.
This power bank will be the best choice if you are looking for the Best Power Bank.
Best Power Bank from Samsung:
Samsung 25W Portable Battery:
Price: 49.99$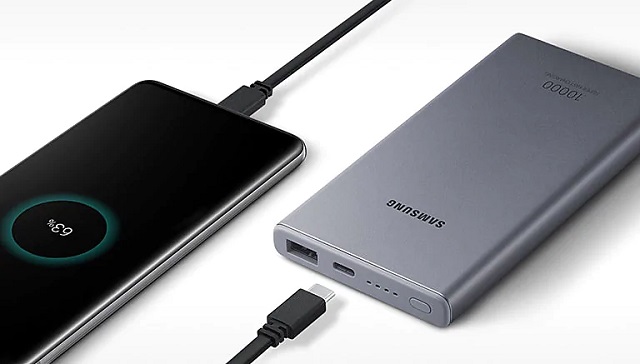 Samsung's 25W portable power bank has 10000mAh power capacity. The power bank can charge your smartphone so quickly. The Samsung power bank is compatible with different types of charging protocols.
The power bank has an ultra-slim design, which gives the power bank a cool design. The four led lights to indicate how much juice is left. The power bank has only one port.
Best Power Bank from Belkin:
Pocket Power 5K:
Price: 29.99$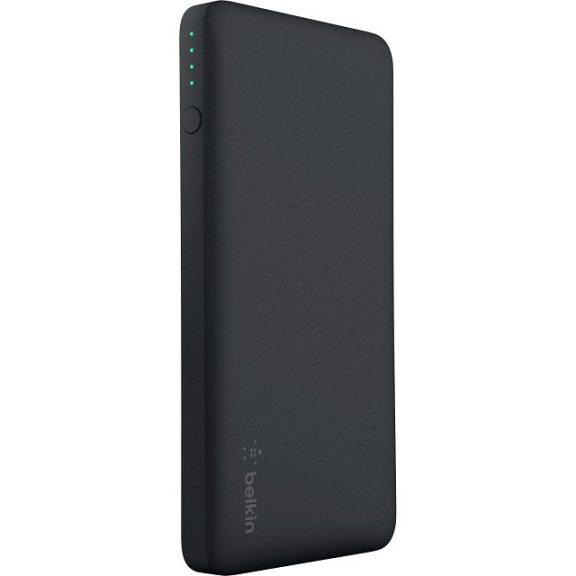 The slim, lightweight power bank with 5000mAh capacity adds up to 35 hrs of video playback to your device. The Pocket Power 5K Power Bank has a single universal USB-A port. The high-quality, efficient polymer batteries housed inside the plastic shell of the power bank.
The batteries used by Belkin include sensors that monitor heat, voltage, and circuitry. Excess heat, voltage fluctuation, or circuit abnormalities activate an override that shuts the battery down immediately for ultimate safety.
What's in the box?
5,000mAh power bank
6-inch micro-USB cable
So these are the Best Power Bank available on the market. You can visit the official site of the power banks listed above for further reference. I hope this blog post helped you to find the Best Power Bank that suit your preferences.