Nowadays, kids smartwatches are not only just a timepiece. It comes with excellent features like fitness tracking, GPS tracking, and many more. The fitness tracking feature encourages children to go outside and always keeps them active. Besides, GPS tracking allows parents to track them. Both of these features make it more than just a timepiece. The Kids Smartwatch enables the users to make and receive calls also.
This one is an excellent introduction to technology that each kid wants to have. In this article, we have discussed the best smartwatches for children. After long research, we have given you the best top timepieces for your kids.
Benefits of Kids Smartwatch:
Have you bought a smartwatch before? If yes, then you may know how helpful and beneficial they are. This one is an ideal alternative to smartphones.
Sometimes, when you give phones to your kids, it may not be perfect as all kids are not mature or responsible enough. However, these devices are securely attached to kids' wrists and are less expensive, but it doesn't give you access to inappropriate content.
A few devices feature educational games, GPS trackers, and SOS buttons. With the help of this, parents can track their children while they are with friends or at their school. A few devices also come with two-way calls benefits, with the help of which you can stay in contact with the user.
These are useful for the older ones also. Kids who are six years old and up can use these devices that come with fitness trackers, timers, and calendars. You may feel that a smartwatch is distracting your kid. In this case, these may not be the best investment.
Top Seven Best Smartwatches for Kids
321OU Touch Screen Bluetooth Smart Watch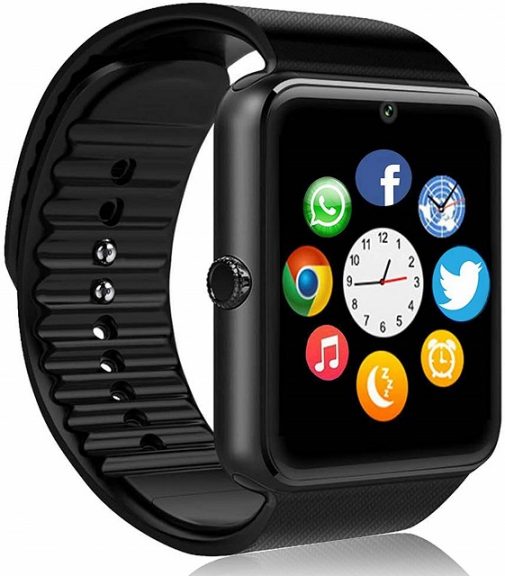 Description: This device is budget-friendly and simple to use. It can make connections with both iOS and Android phones with the help of Bluetooth. There is a SIM card model that enables children to make calls directly from the watch, but you have to buy and install the network SIM card. With the help of this device, you can monitor sleep, track movement, steps, and exercise.
It comes with a few other features, such as a camera, image viewer, music player, calculator, alarm clock, and calendar. The device doesn't have plenty of extra games, but it is durable and affordable, making the device perfect for children.
Features:
Meet requirements:
This completely Upgraded Smartwatch can fulfill all the requirements of users. It comes with Stylish UI-designed, diversified clock interface, along with an ergonomic smartwatch dial. Besides, the device features a sweat-proof strap, a high sensitivity touch screen of size 1.54-inch, a newly upgraded TPU91 material, and longer battery life that make it the best model for your healthy life.
Compatibility:
This device supports IOS & Android like iPhone 12/12 mini/12 max/ 11/ 11 pro/ X/ XS/ XR/ 9/ 8/ 8 plus/7/7 plus/6/6 plus/6s/6s plus/5/5s. For Samsung mobile versions, it is compatible with Galaxy A52, A21, A20, S12, S11, S10, S 9, S9 Plus, Samsung S8, S8 Plus, S7, S7 Edge, S6, S6 Edge, S5, Galaxy Note 12, 11, 10, 9, 8,7,6, 5, Google Pixel/ Google Pixel XL, HTC, Sony, LG, HUAWEI, ZTE, etc. It is compatible with partial functions for iPhone users.
Multi-purpose:
The device has many uses, such as a Pedometer, sleep monitoring, sedentary reminder, etc. It can be used as an Image viewer, Sound recorder (need to put in an SD card ), Remote capture, Alarm clock, Calendar, Camera (0.3M). For a sound recorder, you have to use an SD card.
Working model:
You have to make connections between watch and mobile with the help of Bluetooth. After that, your job is to download the APP and install it. It is known as BTNotification or FunRun, or Fundo.
With the help of the application, users can read push messages of Whatsapp, Twitter, Facebook, and other applications; make or receive calls; view and reply to text messages, etc. Installing a GSM Network SIM Card into your watch allows you to make phone calls directly and answer and dial-up, send/reply messages.
Used as a gift:
Whether you have any type of queries regarding this, you can ask. This new upgraded model is available with many functions, and it is simple to use. You can use it as a gift for family, friends, or classmates.
Music Player:
You can play songs from the mobile phone with which the watch is connected. You merely have to click on the watch to play music, and you don't need to take out your mobile from the packet.
Pros:
Multi-purpose use
Used as a music player
Compatible with iOS and Android models
Fulfill requirements
Cons:
Not compatible with Verizon phones
Garmin Vivofit jr 2 Kids Smartwatch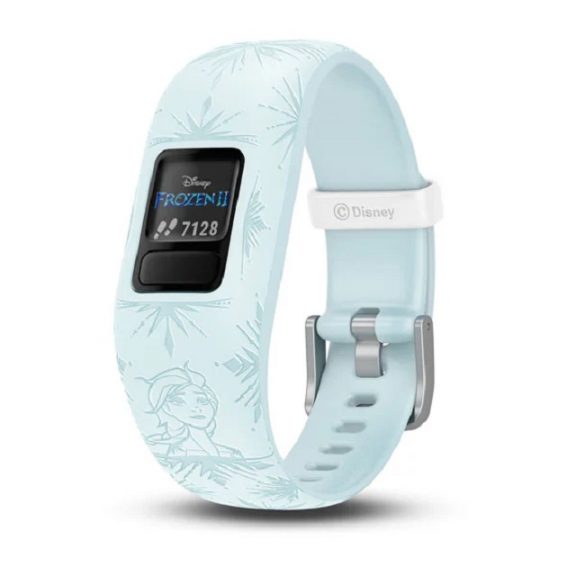 Description: It is a water-resistant and durable device that encourages children to use a 60-minute themed story. The design styles of the device are Star Wars, Marvel, Frozen, etc.
With the device's help, you can track steps, and it lets us know the proper time. Besides, the device prompts one hour of daily recommended activity.
Features:
Meet goals: The watch helps meet users' daily activity goals that provide children more chances to race against the clock. Kids can collect gems using which you can reveal new portions of the galactic map.
Personal Assistant: What makes the device special is that it is not only for the kids to enjoy. It allows the parents also to view activity, responsibilities, sleep, chore data, etc. Now, an entire family can compete for a daily step challenge, assign tasks and chores, designate a reward virtual coin value, etc. They can also know the number of coins their kids have. Kids can redeem the in-app coins for agreed-upon rewards.
Used as a reminder: Guardians can chore and schedule alerts from their mobile phone app. Users can use the watch for recurring weekly or even daily. Kids can use these as reminders when needed.
Friendly Challenges: It offers challenges like Toe-to-Toe that allow children to sync with nearby friends to challenge others. If you want to download the app, then you need to go to the Connect IQ Store. From there, you have to download this to a supported device for challenging your children to a step competition.
Play together: Now, your family can be a part of these weekly step challenges. You can make other custom challenges, and if you want, you can leave comments for each other in the app.
Pros:
Toe-to-Toe challenge
Personal assistant
Sixty minutes of regular recommended activity
Cons:
iTouch PlayZoom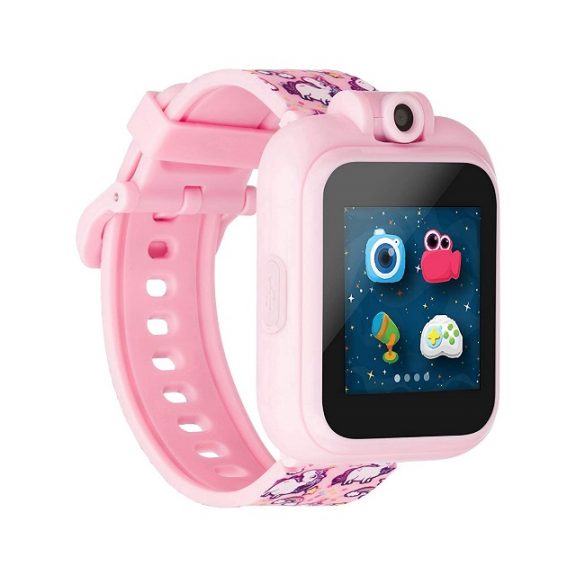 Description: The main motive of the product is to help kids stay active and learn how to tell time. It comes with two different cameras that are preferable to the kids that are swivel camera and a video camera. These help to make photos with fun effects and videos, respectively. These types of simple games and motivational tools are preferable to parents as these help to teach kids the importance of movement and activity.
It is ideal for young kids. This cheap model doesn't have any cellular, Wi-Fi, or Bluetooth connection. However, parents don't need to worry about SIM cards, data plans, or phone compatibility. The model is available in multiple color options and comes with specialized bands and patterns that enable children to personalize the watch to their styles.
Features:
Both learning and fun: With the help of the watch, your kid can know the process to tell time, set the alarm, video record, get active and fit, etc.
Safe enough: What makes it attractive is that it is safe for any kid age as it doesn't need a credit card.
Camera: Kids love to take pictures using the camera. This device can hold up to 50 photos that you can save and upload onto your computer with the help of a USB.
Battery: Now, your kid can use the watch all day long, due to which you don't require swapping out pesky watch batteries. You can use a USB charging cable also, but for this, you need to order it.
Perfect to use: This device is ideal for teaching. Besides, it enables children to express their unique personalities. Now, you can select any design you prefer from more than ten unique band designs and watch faces. You can use PlayZoom Smartwatches as these are ideal for kids of all ages.
Pros:
Perfect for teaching
Rechargeable battery
Safe for kids
Swivel and video camera
Cons:
VTech Kidizoom Smartwatch DX2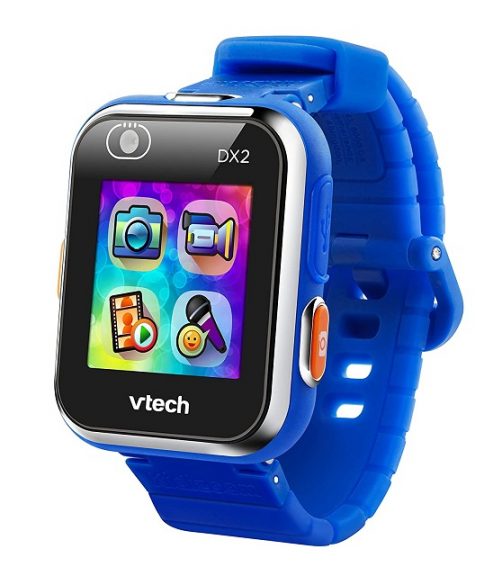 Description: Parents who want to buy a watch without any calling feature can use this model. This VTech Kidizoom Smartwatch DX2 model is available in many kid-friendly colors such a pink, blue, camouflage, etc. With the help of this device, kids can take pictures, shoot videos, play games, etc.
This gadget comes with a simple activity tracker which encourages the children to games like Racing Run, Crazy Dance, and Funky Jump. It is perfect for the younger kids and those parents who don't need any GPS tracking or call capabilities facility on the phone.
Features:
Design: It is available in a Stylish and kid-friendly design. This splash-proof wristband is secure enough and has the ideal size for kids' wrists. Besides, using this, you can capture awesome videos, pictures, and selfies, customize them with funny filters, and many more.
Gaming experience: It gives you an excellent gaming experience like the Monster Detector game. While playing the game, you feel like having an AR experience to capture monsters in the real world. It comes with a motion sensor for a pedometer, active play challenges, and sound effects.
It allows parents to share images as well as videos safely. They only need to upload them to a computer. You can get free games here, watch faces and camera effects.
Battery: It is mainly for kids of 4+ years and can be available with a battery. The device allows its users to charge it merely using the Micro-USB cable connected to a computer. Make sure that you are not using any third-party adapter. The device is equipped with parental game controls and time limits. There doesn't exist any Bluetooth or Wi-Fi that makes the device secure.
Tracking: It comes with a pedometer for tracking steps and encouraging active play. The device comes with a breathable strap and kid-tough design, making the gadget ideal for regular usage.
Easy use: The touch screen of the device can be learned quickly and used efficiently. You can take the help of the shutter button for taking images on the fly.
Pros:
Motion sensor for active play challenges
Easy-to-use
Kid-tough design
Monster Detector game is available
Cons:
Problems with touch screen
TickTalk 4 Kids Smartwatch
Description: The device can keep parental anxiety at bay using GPS tracking, geofencing, and an SOS button. It features iHeart Radio Family and can stream music or stories. It has only one drawback, which is its expensive price. What makes it attractive is that it is for both kids and parents. Kids get to know how to communicate through video calls, voice calls, voice messages, preset text messages, emojis, GIFs, or photos.
Kids don't get any access to a full keyboard, but they can use the device's camera for taking pictures, selfies, or videos. It comes with other features also such as a step counter, do not disturb/school mode, and a reminder list.
Features:
Connect with favorite people: The device is equipped with different features such as video calling, voice calling, Wi-Fi calling, Talk-To-Text and preset text responses, voice messages, photos, emojis, and GIFs. These features help your kid to stay connected always.
Emergency feature: The watch has accurate GPS location tracking, emergency SOS, and more than twenty parental controls. Besides, you can block any number you prefer, set any reminder, and many more.
Camera: The 2x 5-megapixel cameras of the watch make it very special. Along with capturing photos and videos, it allows you to share double selfies and snapshots. Just select any of these two— individual and group messages and chats— for sending Talk-To-Text messages, preset responses, GIFs, emojis, voice recordings, etc.
Meet regular goals: You can set your regular goals using the activity tracker. It allows you to track steps and join the competition with TickTalk friends for earning gold, silver, or bronze medals in the Step Championship.
Music player: The iHeartRadio Family offers free and unlimited streaming music. It provides famous kid-friendly songs, podcasts, stories, etc., for free, but it is only accessible for the clients of the United States.
SOS button: An SOS button is available here, enabling you to dial one designated contact while pressing it for 5 seconds. The device also comes with a way for dialing 911 on a keyboard-less watch. Hence, you need to click the silver button one time and then the red button two times to connect with emergency services.
Pros:
911 dialing along with SOS button
iHeartRadio Family for unlimited music
Fulfill regular goals
2x 5-megapixel cameras
Cons:
Not support Verizon or Sprint
Games are not available
Xplora X5 Play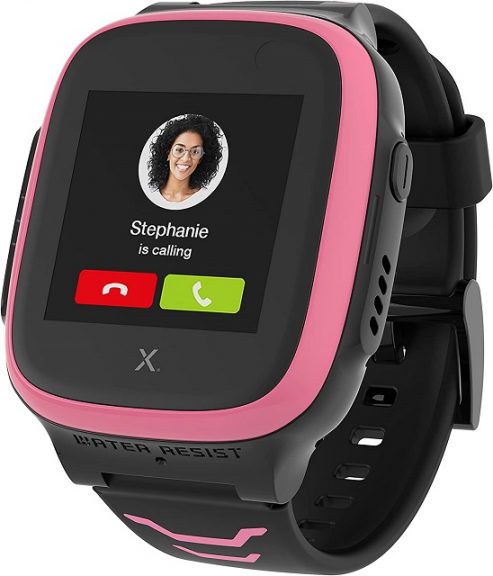 Description: It comes with a few unique features that make it different from other devices. The device features gaming and the usual safety precautions.
It is unique because it has an IP68 rating that indicates you can submerge the device even on water. While you will spend plenty of time at the pool, lake, or beach, you need such a device, especially if your kid forgets to take it off.
Features:
Safety: Using the device, parents can get entire control over their kids, like who is on the contact list of their kids, etc. Kids can add up to fifty contacts as they grow the list of their friends will also increase. The device has a limitation on the child's text responses due to which kids are allowed to share merely an emoji, image, or voice message. Besides, when you press the side SOS button and hold it for ten seconds, it will activate. This duration is a little bit longer compared to Angel Watch and TickTalk 4.
It comes with a GPS tracker for tracking your kid at any time. The gadget also enables you to set up a geofence "safety zone." As a result, you will receive a notification while your kid will cross the distance limits.
Camera: It features a 2MP selfie camera that allows you to store near about a thousand images and videos. The quality of the video and audio is quite impressive.
Games: It comes with an interactive game platform known as "Goplay," which encourages kids to be active. Your kid can earn one coin when they cross every 1,000 steps logged on the watch. When they want to play virtual games or buy products, they can redeem coins to do that.
Networks: It is superbly compatible with the T-mobile network and does not support Verizon, Sprint, or U.S. Cellular. You may require to buy a SIM card separately.
Pros:
Best support with T-mobile network
Goplay interactive gaming platform
2MP selfie camera
GPS tracker
IP68 rating
Cons:
SIM card is not available
Little Tikes Tobi Robot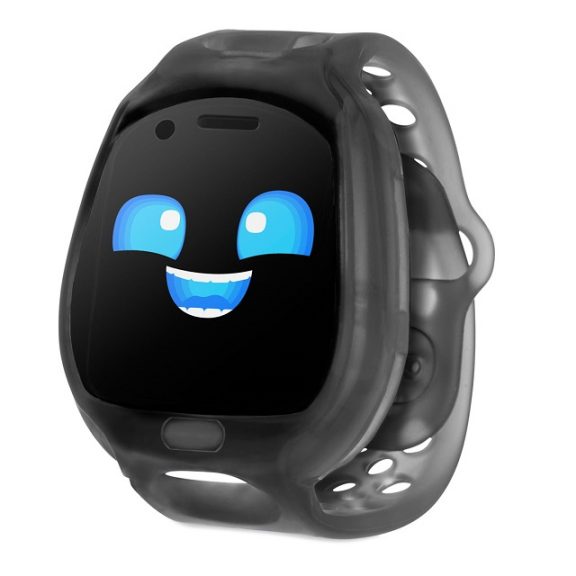 Description: When you buy this watch, it will remind you of the Tamagotchi keychains, famous in the '90s. Kids can see the animated face on the smartwatch. The brand is one of the most budget-friendly models you will ever see on the market.
However, when it comes to features, it cannot compete with other watches on this list. It indicates that the device is produced especially for entertainment and learning, not for safety purposes or as a stepping stone of independence.
Features:
Enjoyable: This gadget has an enjoyable personality like it has moving robot arms and legs, fun sound effects, and more than 100 expressions. It comes with a stopwatch, timer, alarm clock, calendar, reminders, and more than fifty watch faces which assist kids in letting them know the time.
Games: It features an augmented reality Search & Seek game, learning, dance activity game, etc. Besides, a motion sensor is available in this gadget for the built-in pedometer, which helps to keep children always active, healthy, and moving. When kids play games, they can earn rewards for more play.
Camera: With the help of the two built-in cameras, you are capable of filming a video, taking selfies, and capturing photos. You can include cool stickers during editing. It has a 512 MB memory storage to store up to 3,000 640 x 480 pixels images or videos of nearly 30 minutes of 320 x 240 pixels size.
Simple usage: It is equipped with a kid-friendly touchscreen, a built-in rechargeable battery, etc. A micro-USB cable exists that you can use to charge the device and share photos and videos to your PC.
Durability: This gadget is designed so that it can withstand the indoors and outdoors activities of kids. Kids can play with the device in three ways, like wearing it on the wrist, attaching it to clothes with a clip included, or setting it on a tabletop with the display stand.
Pros:
Durable
Pre-installed rechargeable battery
Kid-friendly touchscreen
Default camera
512 MB memory storage
Cons:
SOS button is unavailable
Kids Smartwatch Buying Guide:
Key points to look for while buying the best one:
When you are going to purchase the best Kids Smartwatch model for your kid, you need to consider many things. You may feel it is hard while choosing the best one. The factors you have to consider while buying are as follows:- style, durability, reliability, type of watch, and many more.
Let's have a look at the buying factors we have discussed below.
Durability:
When you buy anything for your kid, the vital thing you have to consider is the durability of the product. Sometimes, Scuffs and scratches can be seen on a watch's face that makes the device completely useless, especially when it comes to a smartwatch. That is why you always need to buy a scratch-resistant watch that can last for as long as possible.
GPS Tracking:
A few Kids Smartwatches are there that come with GPS trackers. Many people want to get this feature while buying their devices. With the help of this, they can track their children during school hours and on playdates. Some people think this feature is a must-have. If you also want to have this one, then you must require a SIM card. After that, your task is to connect the smartwatch and an application on your phone for tracking the steps. A few models are there that come with geo-fencing and location alerts features. It also allows you to set a distance limit for the user. As a result, when the user crosses the distance, you will get notifications.
Comfort:
When it is about optimal comfort features, there are two things you need to consider. These Kids Smartwatches have flexible straps that keep them on the wrist of your children. As a result, they can play with it and don't want to take off the watch. Besides, these are easy to operate and simple to read.
Kids can easily use these devices when they find them with a clear digital time display and a large clock face. There is also an alternative way to choose a model that offers battery life for long periods. Don't purchase such watches that need charging in the mid-day or after a few hours of use. They are not ideal for the kids.
It relies on you which kind of watch you want to use. A few devices work as a fitness tracker, whereas a few are more app orientated. These devices contain different categories that can vary from brand to brand. It depends entirely on which purpose you want it to use as it is more than just time-telling.
Age:
It is a factor that you have to consider also before buying the best Kids Smartwatch. Kids of different ages have different preferences, and their requirements also vary. Younger kids have to use a watch that can work as a time teacher helping them in learning hours and minutes. Older kids want to use such devices which are more techy and exciting.
Waterproof:
It is one of the crucial aspects you must consider while purchasing smartwatches for your kids. You have to check before buying whether these are waterproof or not. A waterproof watch allows your kid to keep it with them when swimming, taking showers, washing their hands, etc. You don't need to remember such things as the device will make your job done.
However, you should know that all digital sports watches don't have this facility. Besides, not all these devices come with a splash-proof feature. If your kid forgets to remove the watch before taking a shower, washing their hands, then the waterproof quality is a must-have feature.
Ease to Use:
It depends on the kids how they will use the device. A few kids are tech-wizzes, and they can easily use most of the technology except reading the user manual. On the other hand, a few kids need simple guidance to read. You need to go for that device that is perfect according to your kid's age. You need to check whether they are getting frustrated or disheartened with it.
Style:
Style is a dependable factor that you need to consider too. Your kids may not want to wear any watch that doesn't fulfill their expectations.
Battery life:
When you need to charge your watch every few hours, you will get disturbed. It may even be the reason for your frustration. In most cases, these devices are capable of holding the charge quite well.
Games and Apps:
You need to decide whether you want your kid to play games or not. Generally, the devices come with one or two pre-installed games. If your kid uses them during school periods, it can distract their studies.
SOS Button:
It also belongs to one of the desirable features for young kids. This one is a power switch. If you press it sometimes or hold it in for seconds, the watch notifies you and calls to the selected emergency numbers.
Two-way communication:
Whether you prefer to buy a watch that you can operate as a mobile also, you must consider the two-way communication functions. With the help of the feature, you can call your kid, text them, and vice versa. Hence, you must require a compatible SIM card and a data plan. In most cases, users have to control each thing from an application that supports the device. A few devices are available that enable you to call and message from numbers in the phonebook. It allows users to add up to ten contacts.
Voice Command:
A few devices enable users to work on voice commands such as making calls, answering calls, searching the internet, etc.
Smartwatch interface:
Before buying the best model, you need to consider which interface you want to use. It depends on you whether you wish to use buttons or a touchscreen. For searching apps on the watch, you need to swipe it on the small screen. Make sure that the device is not making any disturbances while opening the apps.
Remote Features:
Apart from answering calls or sending calls and displaying messages, it can help you find a lost phone.
Price:
The price depends on the functionalities of the device. Generally, those devices which have minimum features cost around Rs 1000 to Rs 1800.
However, kids should not use expensive watches. Devices with SOS features are available at more prices.
Data Synchronization:
Devices that can synchronize data allows you not to miss any notifications. As a result, you will get all notifications from Facebook, WhatsApp, SMS easily.
Conclusion:
This article discusses smartwatches for kids and provides the best seven kids smartwatches on the market. Different devices come with various features. It depends upon you for which purpose you want to buy the watch.
Frequently Asked Questions:
What is a kid's smartwatch?
It is a toned-down and more affordable version of regular smartwatches designed mainly for kids. These come with plenty of activities and games, messaging and phone call capabilities, as well as fitness tracking. Children can use this as a great education tool. Multiple devices are stand-alone, and these don't need to take the help of a phone.
Are these ideal for kids?
These devices are perfect for increasing your child's learning as well as development. Most of the devices come with education elements and fitness tracking features with the help of which children get to know about healthy, active lifestyles. These also allow you to contact your kid easily via call, message, GPS data, etc. Those younger kids need to choose a device that comes with adequate parental controls that keep the devices safe when connected.
Which one is the best smartwatch brand for kids?
There are a few best models for kids that follow:- TickTalk, Vtech, Prograce, Fitbit, and Garmin.