In short, the e-book reader is not in the bathtub. What ended up with a defective device is no longer a problem with the Kindle Oasis 2017. Because Amazon's new e-reader is waterproof. In addition, it has a larger display and a radio play function.
A hot bubble bath and a good book – it often does not need to relax. But if you trust yourself with a printed work in the tub, sometimes comes back with swollen book pages. If you prefer to use an e-book reader, you must pay attention that the Reader does not dive. A previously inadvertent dive for these devices usually resulted in a total failure.
Not so for the latest model of the Kindle series, because the significantly revised Kindle Oasis 2017 is the first Amazon reader to a depth of two meters and 60 minutes waterproof (IPX8). Therefore, the reader does not need to worry if "the Oasis is wet on the beach or falls into the bathtub, the jacuzzi or the pool," says a message from Amazon.
But this is not the only innovation that the new model Kindle Oasis 2017 wants to convince: Instead of the usual six-inch screen diagonal, Kindle Oasis 2017 has seven inches to offer, with the same pixel density of 300 dpi. In addition, the new model also plays audio books. If you have enough of reading, choose an Audiobook from the Audible offer, which Amazon practically integrated in Kindle Oasis 2017. The sound is sent via Bluetooth to speakers or headphones.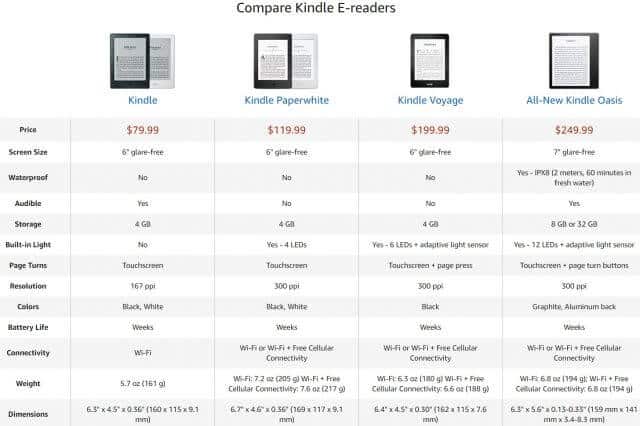 Since Amazon's audio files are much bigger than e-books, Amazon has also expanded the available memory: the small version with 8 gigabytes of memory still has twice as much space as the predecessor model of this series and offers the possibility to store thousands of books. The larger version of Kindle Oasis 2017 has 32 gigabytes of memory.
At Kindle Oasis 2017 thinnest point, the reader measures just 3.4 millimeters. Even with the larger display, Kindle Oasis 2017 weighs only 194 grams and is thus even ten grams lighter than the Kindle Paperwhite, the most successful Kindle so far. Even if a recharge rate according to Amazon equals for several weeks, the battery does not last forever. If the battery is empty, the Kindle Oasis 2017 is fully charged again within two hours thanks to the quick charge function.
The cheapest version of the Kindle Oasis 2017 costs 230 euros, the most expensive including mobile phone connection as well as 32 gigabytes of storage 320 euros. From today, pre-orders are possible, the first devices are delivered according to Amazon starting from 31 October 2017.