The ThingMaker from Mattel is designed as a toy printer for the children's room. 3D printing is a whole new way to go in the mainstream.
That every household has its own 3D printer remains beautiful Utopia – for a variety of reasons. But a machine that allows children to design and create their own toys? Sounds like you could use that.
More specifically, it is a machine equipped with Autodesk software that makes the printing of toys and jewelry child-friendly in the truest sense of the word. The individual parts can simply be plugged together. It is the first 3D printer to make it into the mainstream and thus affect the entire consumer industry.
There is a market for 3D printers – just hitherto stop in private households. Technology analyst Joe Kempton from the Tech analyst firm Canaly estimates that the total turnover of 3D printers and related materials and services by mid-2015 amounted to $ 1.8 billion. This figure is to grow to 20 billion by 2019.
Two-thirds of all 3D printers are sold to businesses, which is equivalent to 85 percent of total sales. "Companies, especially from the automotive, aerospace and medical sectors, are investing enormous sums in 3D printing," says Kempton. Private individuals, on the other hand, have almost nothing. 3D printers are expensive, complicated and lack a well-defined benefit – unless you are part of the maker scene. ThingMaker tries to remove all these hurdles; And the second largest toy manufacturer in the world.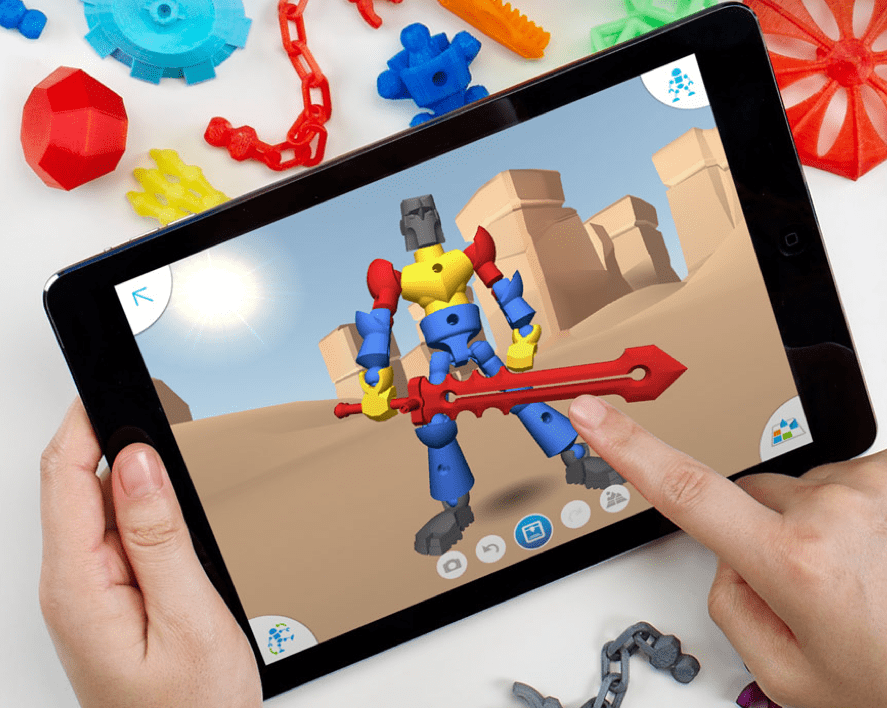 "With traditional 3D printers, you need to know about file formats, you have to teach yourself how to repair techniques and have geometric understanding about structures that support the image," says Dan Pressman, Creative Director of Autodesk. "We can make this superfluous."
Children can work with prefabricated patterns or create their own creation
The solution comes in the form of a closed developer environment. Children (or their parents) can work with pre-built patterns or create their own creation in the ThingMaker Design app, which works with the simple drag-and-drop principle and works with 3D visualizations of the finished product (similar to an Autodesk Lite) for children. With a simple push of a button, the printer starts to produce the toys.
However, to demystify the 3D printing process is only one reason why ThingMaker works so well. Equally important is the price. With $ 300, it is not the most affordable consumer-oriented 3D printer, but quite close – that has its own advantages and disadvantages.
"On the one hand, these inexpensive devices offer an excellent opportunity to inspire children to learn about this new technology, to bring them to design and manufacturing techniques, and to train their creative skills," says Kempton. "However, printers in this price class will not be as reliable. Many small problems can interfere with the process, such as poor calibration, excessive heat or humidity. "
Every 3D printing process is time-consuming, and if there is a delay in the process, this can lead to a breakdown in the objects as well as in the children. But Mattel and Autodesk are considered reliable and experienced.
Probably, Mattel can afford the low price simply because it makes more money with the frequent use of the device. "Brands such as Barbie and Hot Wheels create enough incentive (for children and parents) to buy the filaments," says Kempton. And these established brands are just the beginning. ThingMaker is designed to make the 3D print of just about any imaginable figure possible.
Testers have begun to make chains and bracelets out of action figure pieces
"Our goal is to produce parts for the entire range of toys," says Pressman. He thinks mainly of cars and action figures, but he was also surprised by the creativity that testers developed: The ThingMaker design app has a jewelry function, because testers began to make chains and bracelets out of action figure parts , "I've seen people make whole vehicles from parts that were actually meant for action figures," says Pressman, which is wonderful and a bit frightening. You do not need a ready-made plan for the 3D printer, but you can simply connect your favorite heads with your favorite body and legs, and a new toy will come to life.
The ThingMaker design app also works with any other 3D printer that can read STL files. Alternatively, ThingMaker can also print templates from other sources. It is deliberately kept open to help the still young industry as a whole. The ThingMaker is perhaps not the ultimate solution for 3D printing, but certainly the most accessible.