So we thought that innovativeness is sole arena of Apple but even core consumer electronics companies are mainly the front runner when it comes to innovativeness. Sony has turned head at the MWC with its launch of a projector which possess the capability to turn any kind of surface into one of kind Touchscreen. This Xperia Touch projector has been named Xperia Touch which will be made available to the market worldwide during the Spring at a price point of £1350.
This projector effectively makes use of the infrared sensors in order to detect the movement of the user's fingers and presses on the surface. In short users will be able to use any surface like table or a wall just like they use the screen on their Smartphone and tablets.
Features of the Xperia Touch
Apart from the touch Sony has stated that this Xperia Touch projector will come with the support for hand gestures. It has placed an advanced finger detection technology into the Xperia Touch projector which even allows users to have complete control over the screen right by waving their fingers.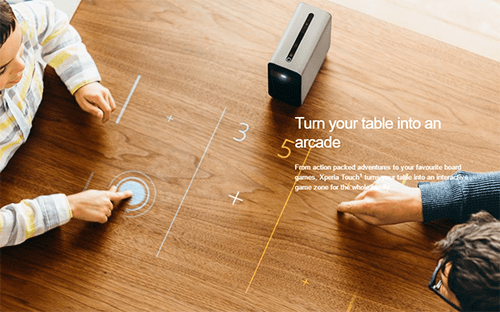 The gesture support is great as even waving fingers or pinching their fingers helps in performing select taste with ease and simplicity. Sony Xperia Touch is powered by Android and can crate display for the size of 80 inches right from one corner to another.
Specifications of the Xperia Touch
Sony has brought a proximity sensor in the Xperia Touch which ensures that the device turns whenever someone walks past it.  On the ports front it has a USB C and HDMI Type D and on connectivity front it offers Bluetooth and NFC.
Bringing Bluetooth on this device is smart approach by Sony as it will allow users to connect wireless speakers to indulge in some enhanced entertainment. Xperia Touch also has a 13 MP camera which can be used for video calls and there is also a two way stereo speakers.
Xperia Touch has a commendable specification which includes a 1.6 GHZ Snapdragon 650 Soc along with 3GB RAM and 32GB of internal storage. This projector is portable and Sony has stated that it will offer about one hours of continuous playback to the users.
Sony has kept mum about the battery backup of this device but given the fact it has only an hour of video playback then one has to keep the power cord with oneself at all time.
Sony Xperia Touch is way ahead of the traditional projectors with its support for Android and high end specifications. The automatic calibration of the projector is set at 80 inch projection with a resolution of 1366×768.
It has brightness scale of 100 Lumen only which doesn't offer clearest of picture quality. Even during the presentation some of the picture was appearing washed out under the lights. But touch capability is amazing as it can easily work over quite a distance with great feedback and offered a reliable gestures support.