People use the sound Equalization method to adjust the balance between audible frequency items. In previous times, we usually use heavy instruments as equalizers. But, nowadays, equalizer apps can help us in this case. These Best Windows 10 Equalizer apps can perform equalizing tasks within a few seconds in your personal computer. You can access a few sound features by using these apps like Environment, Surround, Equalizer, Base Management, etc.
The Windows 10 have in built audio equalizer with limited options. There fore everyone search for an audio equalizer for Windows.  Here, we have given details about the top seven best windows 10 equalizer. You can get both free and paid software from this list. These types of apps are preferable for those who want to play music and massive games. You can use the presets and customize it to enjoy the music of your choice.
It enables the users to adjust the loudness of particular audio frequencies. Go through our article correctly to know the best Windows 10 equalizer?
List of Best Windows 10 Equalizer to Improve Your PC Audio
1. Equalizer APO
2. Equalizer Pro
3. Viper4Windows
4. FXSound
5. Voicemeeter Banana
6. Boom 3D
7. EQ Audio Equalizer
Best Windows 10 Equalizer for Better Audio
1. Equalizer APO
We recommend you to go for this software that is most customizable and powerful. This excellent app can operate an Audio Processing Object (APO). That's why named as Equalizer APO. So, if the audio uses APIs such as ASIO or WASAPI, it is not going to work.
You can get benefits of multiple filters, minimal CPU use, etc. This app can support 3D surround audio. It also allows you to make different profiles and hop between those profiles in a flash.
But the disadvantage is that there doesn't exist any graphical user interface (GUI). In this case, users have to edit those filters in a TXT file. However, you can take the help of third-party GUIs. Peace Equalizer can be useful in this purpose.
The easy to use interference and quick response feature make this app the best windows ten equalizer. It is compatible with VST plugin integration. The new version of this app released on 10th June 2019. This app is entirely free to use.
2. Equalizer Pro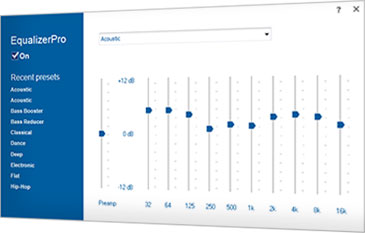 It is one of the famous windows apps on our list. Equalizer Pro app has a clutter-free and clean interface that makes it more user-friendly compared to the Equalizer APO app.
This app has an exceptional feature that is known as the ten-band equalizer. This app offers 20 presets, and a system-wide bass boost feature. It comes with a Pre-Amp volume control feature. That means it can adjust a single band by boosting its low tones.
With the help of it, you can increase the settings of the bass tone without masking it. Using the app, you can make custom presets that you can use further with your programs. It assists in increasing low tones. And therefore, it boosts the overall audio output. Besides, you don't need to separate each band to improve the overall audio output.
But this app is not available for free. It allows you to enjoy a free seven-day trial. But after that, you have to pay its charges fees for the license.
3. Viper4Windows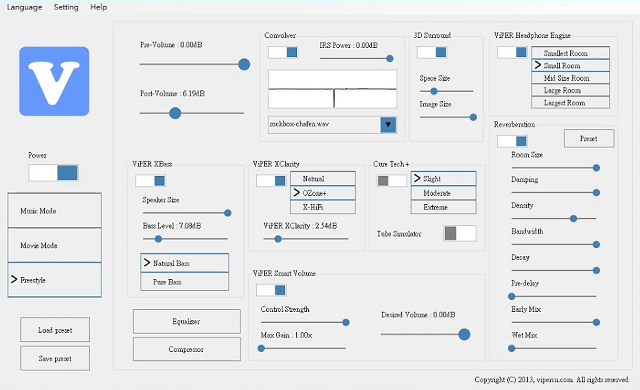 Viper4Windows an open-source sound equalizer that can support in Windows 10, Windows Vista, 7, and 8.1. it comes with quality 18 bands. It is a consumer-level computer-based settings. Best fit for your PC. The range of the band starts from 120dB to 13dB. Again, it also helps to make your profiles or permits you to use any available presets.
It helps the users to manage the surround sound settings as you want. Besides, you can increase the sound quality to the low-end sounds. This app features settings for controlling the audio damping, density, bandwidth, decay, and more. It is free to use.
4. FXSound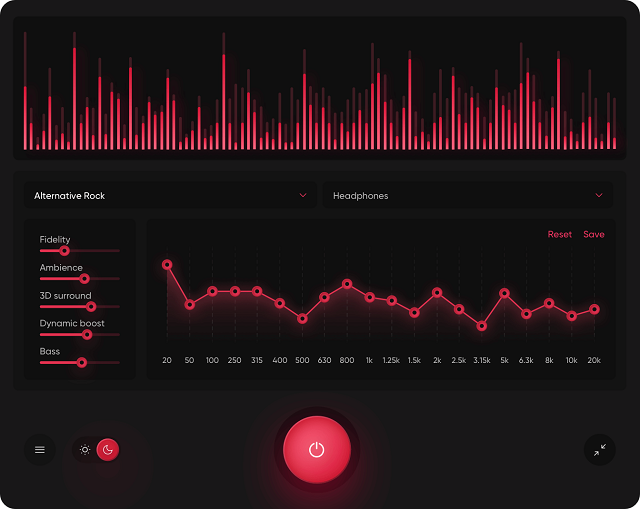 In FxSound  app, you can find two tools that are the equalizer and the real-time audio processing feature. The FXSound app contains ten bands from 110Hz to 15KHz. You can get here some customizable sliders that are beneficial for different purposes. For example, fidelity is useful in decreasing the muffled sound in compressed sound and ambience for adding more stereo depth.
Dynamic boost assists to enhance the loudness with increasing the dynamic range. This app comes with a few preset profiles such as Rap, Alternative Rock, Dialog Boost, Country, Techno, and countless more. While you are listening to music on the web, you can see the real-time processing excelling.
This app contains a 32-bit processor, whereas the internet audio needs merely 16-bit. With the help of this processor, the app can manage ambience and surround sound of the audio. And then, the processor re-dithers the app into 16-bit. It allows FXSound to get improvement on the theoretical limits of the 16-bit output of the web.
You can get a free seven-day trial. After that, you need to pay an amount. Moreover, it allows to increment audio signals and improve the sound of the computer. Now, you can quickly get top-quality audio within a few minutes.
5. Voicemeeter Banana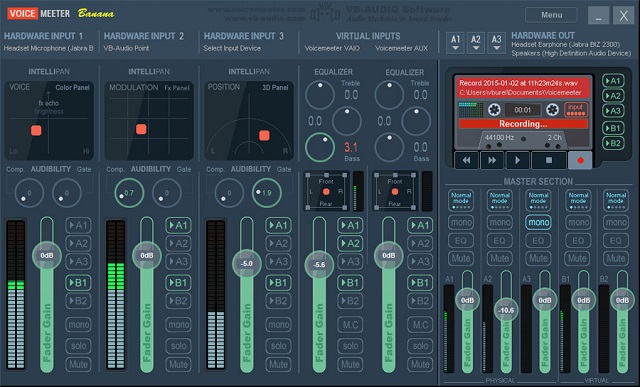 Do you need to do plenty of works with a microphone? If you have to upload a few videos on YouTube, this app is the best option for you. The advanced audio mixer is the main feature of the Voicemeeter Banana. You can control the audio of your computer with the help of this app to record or stream anything. This app enables you to control the sound volume using a remote.
With the help of the feature, you can manage both audio input and output. When you are talking to your friends or family or casting any screen using Twitch, it allows you to make the audio crisper and less distorted. Besides, this app also allows you to play with the preset settings. It is available in the app's Master Section. This app is available for free. It will enable you to pay for anything that you prefer in this software.
This app features Parametric EQ and Audio Recorder, Advanced Virtual Audio Mixer, etc. Moreover, it comes with Universal Virtual Audio Device that further assists to connect everything.
6. Boom 3D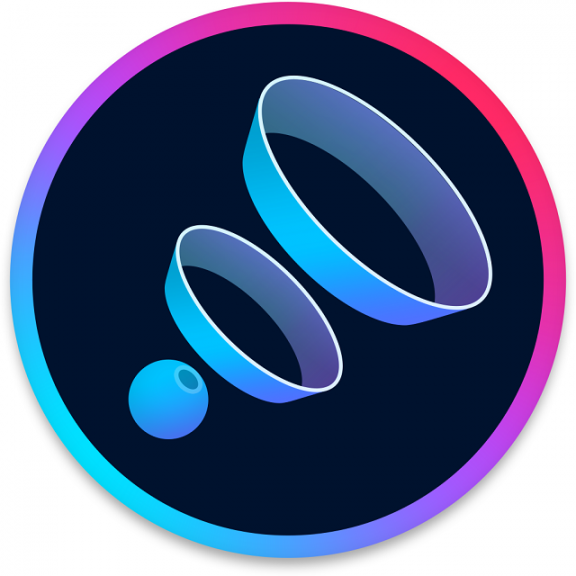 This app is beneficial for both macOS and Windows 10. This app is for those people who want to listen the computer audio using their headphones. Using the app, you can get all the audio output into 3D surround sound. Boom3D is an advanced equalizer that we represent on our list. It comes with 31 bands and dozens of presets. These bands and presets help to give an immersive listening experience. To use this app, you need to pay a chargeable amount.
With the help of this app, you can get full control to fine-tune those songs that you love to listen. Besides, Boom3D can enhance audio volume. It features an App volume controller and strong audio effects.
7. EQ Audio Equalizer
Compared to other Windows 10 audio equalizers, this app is slightly different. Usually, we run EXE files on the Windows OS. But, the app is a Chrome app, not an EXE file. As a result, it has both benefits and drawbacks. This app is compatible with only those audios that will be created from a chrome web browser.
Usually, most people prefer to hear audio via Chrome on the desktop. It doesn't matter if it is Netflix, YouTube, Spotify, or anything else. It also works across all the devices that can run Chrome. The app allows you to get superb sound quality. You can adjust the sound effects using the app. Moreover, you can say that you will get the top audio quality by using this app.
Conclusion: From this article, you can get detailed information about the top seven best windows 10 Equalizer and the advantages. Now choose any one of the equalizer best suits your requirements.