Most people who use android devices must have come across this term. But if you check their acknowledgment, you may see they have reported storage issues. According to many users, the app occupies a high amount of storage. Besides, multiple system apps are there that have claimed storage and advanced facility issues. These three apps – CoolEUkor, chocoEUkor, and roseEUkor are synonymous. All of these apps work in font settings and management. Let's take a look at the details of the app. After reading this article, we hope that you can decide whether you should disable or enable it.
What is Bloatware?
It refers to the pre-installed apps that can be found on Android devices. Generally, android smartphones contain some pre-installed apps such as weather apps and news apps. A few people are there for whom the apps are beneficial. On the other hand, some people find the apps disturbing. Be careful while installing them. If you install it from some unknown or untrusted source, it can cause harm to your device.
In a single line, Bloatware is a pre-installed app that you can't uninstall. It means that Bloatware is a bunch of unnecessary apps. These apps have a connection with Android OS. By cleaning the cache memory or doing a hard reset, you will not uninstall or remove Bloatware from the device.
Why do manufacturers Install Bloatware?
A few brands, such as Samsung and Mi, prefer to install Bloatware on their devices. Generally, android has a vast user base. Therefore, the app you don't want or like; may be helpful for others. However, a few apps are there that should be present in android devices. Weather and news apps are instances of such apps.
Similarly, a few users may find apps like Cooleukor, and Roseeukor apps unnecessary. On the other hand, these are useful for many people. However, it is vital to know the risks and disadvantages of Bloatware. Generally, the bloatware apps don't cause any immediate threat. However, remember that these apps can drain both the memory and battery of your phone. So, let's know about the app, its drawbacks,  and so on. And the good news is that almost every bloatware app is safe to remove. These are not harmful to your device. Besides, it won't affect the Android performance and stability.
What is CoolEUkor?
It is a pre-installed font app that can be found in Samsung models. It is compatible with the fonts of the default keyboard. Besides, it allows the user to change the texts into various fonts. In short, the application is a font managing app.
The app comes with alternative fonts. Usually, you can find here a bunch of
non-English fonts. Korean font is an example of it. Using the font, you can translate any text into the Korean Language. However, the drawback is that this app drains the battery and internal storage of the android device. Due to which a few users find this app very annoying.
The app is not harmful. It is not a virus. However, a few users think it is spyware. But it's not true. While producing the devices, manufacturers install the app on smartphones. Then, you get the phone in your hand with some pre-installed apps. However, by rooting your device, you can uninstall the package on your android. You can use Titanium Backup for removing this app. Do you have any root rights? If not, then you merely prevent the font packages from working by disabling them. If you want to do this, you need to hit the application Manager option available on the package. After doing that, you have to tap on the "Force Stop" and "Disable" options.
Purpose of CoolEUkor:
People use the app for font setting and management. It comes with a few default fonts.
The alternative fonts can be used in all applications. However, the app helps to design only a few basic fonts. The system app does not contain any additional and updated options or fonts.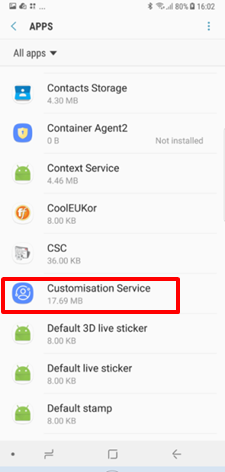 Disadvantages of the CoolEUkor Application:  
The app does not cause any harm to Android devices.  Samsung supplies the app with almost all of its latest devices.
You can find this app in the Samsung Note series. However, a few cons are still there that you can face after installing it on your device. Here, we have given some disadvantages of the app. Let's have a look at those points.
RAM Usages: The app is designed in such a way so that it can be run in the background. As a result, it consumes the RAM continuously.
Storage Usages: This app is available on the Android internal storage. You can't remove it. If you don't have sufficient space on your device, you can face issues. The application consumes plenty of internal storage. Multiple users find this app very annoying for this reason.
Data Update: The app comes with an auto-update feature. Users will not be able to control its frequency of updates and the installation of Bloatware. Therefore, users who have a limited data plan can face problems. In that case, they need to pay money for extra data.
How to Remove CoolEUkor?
It is a system app. Therefore, you have to follow the same process that needs to be followed for removing any other system app. If you want to disable the app or stop its working process, then take the help of a system app. A few apps are there that gain root access themselves. You only need to give root access permission. Besides, a few apps are there that disable the system apps without root access. Here, we have discussed all the details regarding this.
Using Forced Disable:
First, your task is to go to the Settings option.
Then, you have to go to the applications field.
After that, your job is to look for the application.
Next, you need to hit the force disable option.
With the Aid of Third-Party Apps:
You can use third-party apps to remove the system app. But it needs to be root access gaining app. Otherwise, the apps should force you to zip this in the storage. When you zip it, you don't need to uninstall that app. Its usage will be restricted. However, a few users don't get satisfaction with this zipping process. In that case, they can follow the uninstalling process.
ROM toolbox: People use it for rooted smartphones. With the help of the toolbox, you can remove the system app that is already available on your smartphone. Here, you only need to root your device. Until you complete the process correctly, you will not be able to use it. The rooting process is harmful to any hardware of a device. A few people are there who prefer to use the package disabler pro app.
Package disabler pro: It is a system app zipper. This third-party app helps to restrict the usage of resources and storage. As a result, users find the app secured. If you want, you can install the app again from it. For this, you only need to access the disabled apps field. If you don't want to root your smartphone, the app is perfect for you. It helps you to uninstall or zip the pre-installed application. You must not remove the android package from your device unless you don't want to change the operating system.
Steps to Uninstall the Apps:
First, you have to install the application. You can get this available from Google Play Store.
Then, you need to launch the third-party app, i.e., Package disabler pro, in the smartphone you have.
You can get all the apps available on a list.
Then, find the app there.
At last, you have to select the disable option.
Substitute Font Apps:
When you remove or disable the app completely, you may need a substitute font app. Here, we have given a few font apps. These apps offer basic font settings, but you can also use the app as a good content creation platform.
iFont:
It is a font generator and manager. In this app, the fonts get updated periodically. You can download the fonts as per your choice. Then, you can save it in my fonts field section. You only have to go to the old font settings. Just select it from the "my install" field. The font app offers the users font services for languages like English, French, and Spanish.
Stylish Fonts:
It is specially designed for android devices. The app comes with a variety of features. It showcases the messages in various font types in a comparative view.
You can get a default- font style setting option here. It also suggests a bio that you can create yourself using your desired fonts and offer basic features of font apps.
Fonty:
If you are a content creator, then it is an ideal tool for you. Along with multiple editing options, it has numerous font styles. It uses more than 15 languages. Additionally, it comes with exporting facilities to other messaging
apps in your Samsung mobile. In the app, most created fonts can be saved automatically. As a result, users can access it as drafts. If you are using this app for the first time, you will get guidelines and support. Thus, this app will guide you to learn the font editing works.
Font Changer:
This application offers 140+ font styles. Besides, it comes with various editing facilities such as text converters, boring to funnier text converters, etc. With the help of this fonts app, you can perform text creation of any picture. It helps you to edit font colors, background colors, and many more. What makes this app exceptional is that the user can edit his font style without opening the app itself. It enables you to send promotional texts, invite for events & shops with edited fonts and characters, etc.
Hi Font:
With the help of this app, you can download fonts instantly. Up to 4000 people use the app. The app contains updated and categorized fonts. It helps the user to get access to the fonts with ease. Here, you can get various sections of quotes in colorful fonts.
Gothic Keyboard:
This app comes with many themes on its keyboard. When you are going to type anything using the keyboard, you can see creative animations appearing. The app has a wide variety of fonts, such as gloomy and ccC designs. Due to this, it is becoming one of the most demanding apps. The app provides updated fonts regularly. This application comes with an advanced feature that is Smart word prediction. Cloud computing technology is used to design it. You can get the swipe typing feature on this keyboard. Besides, you can get a speech-to-text transformation facility in the app. The themes used here are as follows:- typewriter and piano theme. These themes are more demanding compared to the other themes.
Font Fix:
You can get hundreds of fonts available here. Among these fonts, a few are used for personal needs. On the other hand, a few fonts are used for commercial purposes. You can get a preview of this app here. This app is compatible with all smartphones with android versions. However, it comes with a drawback. It can't be run in those phones which have Marshmallow in them. However, you can do periodic bug fixing.
Phonto:
It is a great digital tool for photographers. You can edit images using the advanced text insertion feature of the app. People who are using android devices can use it. However, if you are using iOS, you can get some additional features that are not available for android devices. It allows you to set size, color, stroke, width, and background color for texts as per your needs. You can even impose shadow. Besides, the app comes with a text rotating feature and a letter & line spacing feature. It comes with an ad-free and premium option.
Conclusion:
We hope that after reading this entire article, you have now understood the working process of CoolEUkor. However, now a few readers will want to disable it due to its outdated and restricted features & facilities. You need to disable the app as uninstalling it won't work. Apps like ROM toolbox and package disabler pro are helpful in this case. Besides, you can get various font apps that can be a substitute for CoolEUkor, such as font fix, ifont, stylish font, font changer, gothic keyboard, phonto, fonty, and hi font. A few users consider the application a spy app. But it isn't a spy app.
Frequently Asked Questions:
 What is a Bloatware App?
It is a built-in app that can't be uninstalled from your Android device.
It is neither a spy app nor a virus. It is typical Bloatware.
There is no relation between the app and spyware. As the app drains a lot of storage, people misunderstood it as a virus.
 What is the difference between coolEUkor and ChocoEUkor?
There are not too many differences between these two font management apps. You may find both of these pre-installed apps in several versions of android phones. You are unable to uninstall these system apps without root access.