The FCC wanted mobile providers such as AT&T, T-Mobile, and Sprint to support TTY technology for years. These technologies enable you to send typed messages across mobile lines. But when voice communications shifted towards wireless and Bluetooth handsets and devices, TTY tech became helpful for mobile users. So it is when the FCC implemented RTT technology. So, what is RTT calling on Android?
The FCC instructed all wireless companies to create supportable networks on December 31, 2017. It is a plugin feature enabled for the accessibility feature. We expect local and regional providers to develop wireless devices supporting RTT by June 30, 2021. This article lets you know all about RTT as assistive phone technology. So, what is the call meaning?
What is RTT Call?
It stands for real-time text. It is an assistive technology tool that sends texts from a handset in real time when you type it to a recipient. Afterward, the recipient reads the message and simultaneously responds to you in real-time.
With the help of this call feature, you can instantly send text messages while typing them and don't need to tap on send.
In this case, you will require a wireless handset like an iPhone or Android Mobile phone using IP-based technology on networks supporting the feature.
How RTT Calls Work:
It allows users to view their real-time text captions to stream their speech during a phone call. In addition, the call feature can offer incorporate characters, multiple languages, and emojis.
Besides, it allows you to type the messages appearing on display. In addition, it is possible to call other wireless phone users like individuals, businesses, and government agencies. If you want, use 911 to contact emergency services or 711 to access relay services.
These calls are initiated and received using the same ten-digit numbers used for voice calls. In this case, the devices use IP-based technology on networks that support the feature.
How Do You Disable RTT Call Notifications on Android Cell Phones?
It is possible to disable it by following these steps.
Your first task is to go to the Settings app and open it.
Then, your job is to choose the Notifications menu.
Hit the gear icon adjacent to Real-Time Text.
Then, you should toggle off the Notifications option.
Android mobiles are available in different OEMs. Therefore, the steps you should follow can rely on the phone model. Hence, you need to go through the steps.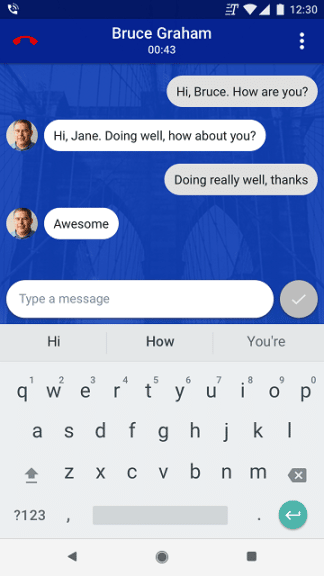 Head toward Settings.
After that, you should tap on the Apps & Notifications option.
You need to click the See All Apps option below App Notifications.
Then, scroll down the page until the message screen is visible.
Tap on it.
Then, you should hit the Notifications button.
Now, try to toggle off the RTT Notifications button.
Finally, you should reboot the device.
What Does RTT Do?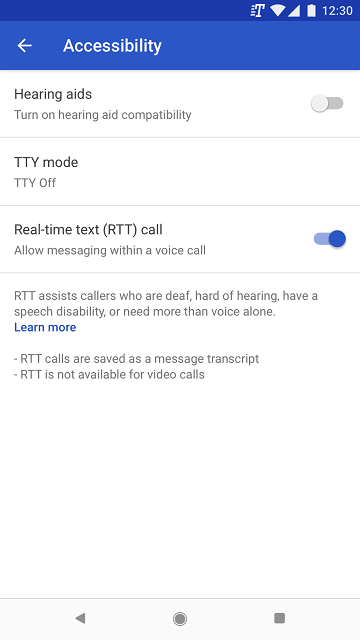 It is a handy feature to transmit text messages to recipients in real-time. Generally, people who are hearing can use it.
It allows you and your friend or known ones to share a split screen. As a result, they can see every word you are typing because they can view your messaging. Moreover, the immediate messages can mimic voice exchanges. Therefore, it is helpful for those who have hearing difficulties.
What Is Samsung's Real-Time Text Feature?
It is a technology that replaces Text Telephone (TTY) technology for deaf people. You can make voice calls using your similar mobile number, send text character-by-character while typing, enable 911 communications, and employ TTY backward compatibility. Ensure that the caller and the receiver should be aware of the call while speaking.
How to Turn Off RTT on Android?
You can use Netsanity parental controls to restrict SMS messaging and phone calls for contacts.
Your first task is to tap on Manage Devices to see the device management page.
Then, you should tap on the Messaging tile in the upper navigation bar.
After that, your job is to hit the Disable SMS Messaging option to block all text messages entirely.
How Do You Get RTT Off Your Phone?
Your first task is to go to Apps and then Settings. It can be accessed from the home display.
Choose the General tab whether you use the tab view.
Next, you can access the hearing by choosing Accessibility. Then, you can select Hearing from the drop-down menu.
Now, your job is to toggle on the RTT Call switch.
You can choose the operation mode by hitting the RTT operation mode button. In this case, you should select Visible during calls. Ensure to choose the visible option always.
Tap RTT on an outgoing call to choose the chosen option: Manual.
What is TTY Mode On Android?
It represents Text-to-voice or voice-to-text technology used for people with hearing and speech difficulties to communicate. In recent times, technology has been used in most phones. Therefore, there is no need to acquire a separate TTY device.
How Do you Record A Phone Conversation On Your Phone?
You should first launch your Voice android app. Then, you should hit the menu button and tap on Settings. You can see the incoming call choices under the heading "Calls." You can begin recording by dialing 4. It is as easy as you choose the Phone.
Make a Call with RTT:
Your first task is to hit the Phone icon from a Home screen enabling this mode.
If you don't find this, swipe up or down from the display center and click on Phone.
Then, you can type a ten-digit number from the Keypad tab on the lower left. After that, you should hit the RTT call icon at the bottom.
Instead, you can choose a contact from the Contacts tab in the lower right. After that, you should hit the RTT call icon.
How Do you Turn On The Real-Time Text On Samsung?
You should follow these steps to learn how to turn on RTT on Android.
It is possible to access the app's display by swiping up or down from your Home display.
Hence, Standard mode and Home screen layout are all which are covered.
After that, you should tap on Settings.
Next, your job is to toggle on or off the Real-Time Text.
Always click visible if you want to power on or off the keyboard.
How Do You Turn Off Real-Time Text On Samsung?
You should first open your Phone app on the mobile.
Then, you should tap on More to access Settings.
Next, you need to click on Accessibility in the menu bar.
Power off the switch whether you see Real-time text.
Why are your Galaxy S9 text messages out of order?
Generally, wrong "Date & Time" settings cause the Samsung Galaxy S9 text message order problem. You can find the Date and time under Settings. Next, you should go to General Management. Ensure that you have chosen "Automatic time zone" and "Automatic date and time" on the Date and Time tab.
How Do you Stop Incoming Calls From A Particular Number Without Blocking?
You can access the Phone app from the home screen. If you want to see the available choices, you should hit the Android settings/options button.
Next, click on the 'Call settings' to alter the mobile's settings.
Then, you should click on 'Call rejection' to end the call.
Use the 'Auto refuse mode' checkbox temporarily block all incoming calls.
If you are willing to see the list, you should click on Auto Reject List when you have yet to see it.
Type the mobile number which you are willing to block.
Difference between RTT and TTY:
Tty wants you to send messages in turn. But on the opposite side, the text character is transmitted in real-time, letting a conversational flow of communication.
It is suitable on both iOS and Android devices with updated OS. Besides, it doesn't need specialized equipment.
Conclusion:
Deaf and deaf-blind people with speech-related disabilities can enjoy the feature as they don't need to use specialized devices. While making a call or receiving one, you can see the acronym at the display top.
Device users don't need to buy specialized tools to send real-time texts on wireless mobiles. Thus, it can offer great flexibility and Accessibility.
Frequently Asked Questions:
How Can you Stop Texting And Making Phone Calls?
You need to hit the display top twice or slide down twice from the top. In this case, it is possible to mute all calls, texts, alerts, and alarms when you hit the 'Do not Disturb' button.
When Using Other Samsung Smartphones, What Is The Difference Between Call And Text?
You should use the Tab or Galaxy mobile to receive phone calls. Besides, it is possible to send text messages with the help of the Call & Text feature. Once you sign into a similar Samsung account, you won't find any distance restriction.
Why Does RTT Randomly Turn On Android?
Several reasons exist why it can turn on the device randomly. Malfunctioning is a reason for the problem causing devices to enable unintentionally.