If you are looking for the best power conditioner in the market, you will find these items from several brands. As there are so many options, you may face difficulties in choosing the suitable one for your purpose. All power conditioners are not of the same quality, due to which you should always do proper research before buying one.
What is a Power Conditioner?
A power conditioner is a machine that can offer protection to your sensitive electrical components against fluctuating voltage. It works as a buffer between your gadgets and the power outlet. It is designed to improve the quality of power provided to a PC component. This device is related to a voltage regulator that helps to improve the power quality through transient impulse protection, power factor correction, or noise suppression. It not only regulates voltage fluctuations but also electromagnetic and radio frequency interference.
It helps to offer dynamic power adjustments and remove spikes, surges, noise, sags & frequency irregularities. Thus, it helps to regulate and clean AC power. Spikes, noise, etc., can damage your system or affect the performance of your components. Both users and big corporations use these. IEEE, NEMA, and other standards recognize power conditioning.
These may be electronic or transformer-based. Also, we know it as a line conditioner. It enables you to correct voltage and waveform distortions. Besides, it helps to remove external electrical noise caused by motors, radios, etc. Frequency and electromagnetic interference are some examples of external electrical noises.
What is Power Conditioning? How does Power Conditioner work? 
It works as a buffer between the Power Outlet and the Gadgets connected to it. Previously‌, people used to do power conditioning in industrial, research, and laboratory applications.
Benefits of Power Line Conditioner:
Power line conditioners intakes the power and then modify it based on the requirements of the connected machinery and devices.
 Equipment Protection:
It protects your system against voltage surges via phone lines, electrical lines, Coaxes TV inputs, and LAN connections. Otherwise, your system may fail, or you can face degradation in system performance.
Noise Removal:
It helps to remove noise that comes from radio and TV stations, mobile devices, motors, etc.
Fluctuation Correction:
The machine helps to correct fluctuating voltage and waveform distortions.
Types of Power Conditioners:
Passive-Type Filters:
These are the least expensive type of Conditioner. This Passive-type filter helps to keep high-frequency noise components away with the help of a capacitor. They come with basic noise-reduction capabilities.
Balanced Transformer:
It helps to reduce noise superior to passive inductor-capacitor models. Besides, this tool comes with a balanced isolation transformer that helps balance the AC power feed. It generates less noise and is ideal for audio and video components. Compared to passive-type filters, these cost higher. Besides, these are heavier and bigger also. It provides a limited offer for the damping effect of the balancing transformer.
AC Regenerative Types:
These are bigger and costlier than others. It generates plenty of heat during operation. However, it helps to address the issues that are related to noise in the audio and video spectrum. This type of machine helps to correct waveform distortion, regulate AC voltage, and reduce lower order harmonic noise. The working function of an AC regenerative power conditioner is the same as a power generator. These top-class items use automatic voltage stabilization circuitry along with a microprocessor-controlled variable transformer. Thus, it helps to provide new AC voltage to your entertainment system.
Best Features of Power Conditioner:
The features are as follows:-
Wall Wart Spacing Indicator:
It is one of the significant features you must consider before picking the right one to protect home theaters and other AV equipment. There are a few old AV equipments that are equipped with a big-sized plug. These consume space two times of a single outlet.
Master On/Off Switch:
Ensure that the product you have chosen comes with a master switch. It helps to trim down the electric bill every month. You can power off the components when you don't need them. Thus, you can save your money and bill.
RFI/EMI Noise Filtration:
It is a bare minimum feature that a conditioner should come with. After filtering away electrical interference, you must get improved sound and visual quality of the home theater system.
Warranty:
All line conditioners must have a warranty and insurance policy. Ensure that you have gone through the warranty terms and conditions before buying the right one.
How much do power conditioning devices cost?
These cost from $80 to up to $3,000. The price of these machines depends on the type, options, and quality. A few of these are available as solo, whereas others are available with point-of-use surge protection devices.
Why do you need to purchase a Power Conditioner for your Home Studio?
If you want to protect the gear in the home recording studio, you just need a surge protector. This machine doesn't allow electrical surges to fry your component. There are a lot of power strip models available in the market. But you should know why you will need it.
Benefits of Power Conditioner:
We have given here the benefits that you will get from it are not from a traditional power strip.
Electrical Noise Reduction:
Multiple devices are designed especially for recording studios. You can identify this while you find them available as rackmount units. These also feature a cancel-out noise that is made by all equipment.
Every piece of equipment creates noise, and these filters are used to reduce those noises. Besides, these help eliminate noise interference caused by many different gears of various types. Whether you have plugged multiple gear pieces into the same electrical circuit except using any power strip, then you can hear the interference in your recordings. You can reduce noise using a power conditioner when you cannot eliminate it.
More Effective Surge Protection:
The devices provide much better surge protection compared to intensive power strips. It is another benefit that you can get from a power conditioner. Usually, a strip is designed to prevent surges. However, the less expensive models can only stop smaller surges, whereas big surges can pass through to the equipment.
We already discuss that they vary in size and functions according to their individual use. Some conditioners focus on voltage regulation whereas others protect against the power quality problems. They are rated from V-A (Voltage Amperes) to kV-A (kilovolt Amperes). The impedance will be Zero at all frequencies. The power output will follow sine wave with the amplitude and frequency according system standard specification and the respective national standards.
Functioning:
It regulates the variation in the Peak and RMS voltage. It regulates RMS in both Swell and Dip.
The Repetitive variation in RMS voltage between 91 to 110% can produce flicker in the lighting equipments that can be rectified.
It can regulate the spikes, impulses or surges caused by inductive loads or lightening.
It can modify and regulate Under-voltage or Brownout.
Regulates Overvoltage caused due to voltage raise.
Controls Frequency variations
Maintain the harmonics and
 Maintain non-zero low frequency impedance when load draws more power or in the voltage drops.
And maintain non-zero high frequency impedance when load demands more amount of current, dips and spikes.
The cost of such devices determines how adequate the surge protection will be. It is because less expensive models don't allow any surges to pass through to your equipment. However, a few conditioners are there that can get damaged in operation. In this case, you should replace the device or repair it. Don't worry, as equipment will remain safe hence. More expensive models are capable of handling any type of surge. These help to offer protection to your equipment.
Top Five Best Power Conditioners
1.Furman PST-8D SMP EVS LiFT
Description: The product comes with an advanced Linear Filtering technology that helps to reduce AC line noise and contamination. Thus, it offers enhanced audio/video clarity to the users. It features SMP+ or Series Multi-Stage Protection Plus used for the top level of AC surge suppression.

This device comes with an automatic extreme voltage shutdown feature that protects the precious equipment. Thus, it saves your device from harmful wiring faults in over-voltage conditions. With the help of the Zero ground contamination circuitry feature, you can ensure that it offers pure AC power. This way, it helps to guard vital audio/video components. You can find cable satellite and Telco connectors available with this product. These offer advanced protection to the attached equipment.
Features:
Useful for home theater equipment: The product provides safe power to electronic devices. It features Series Multi-Stage Protection (SMP) that offers maintenance-free surge suppression. Eliminating noise from AC line, LiFT, or Linear Filtering Technology helps to provide clear sound and high-definition video.
Outlets: Furman PST-8D comes with eight outlets, including one telephone protection circuit and one coaxial protection circuit. It protects your priceless electronic machines and service lines.
Safeguards electronics: The SMP or Series Multi-Stage Protection provides maintenance-free surge suppression. It indicates that it doesn't cause damage to the system. There will not be any service calls or downtime. It protects cable and telephone lines also.
Linear Filtering Technology: It is LiFT that makes sure that all attached equipment is getting clean, filtered power. Thus, the technology helps to reduce noise. Besides, it offers improved sound and image quality from TVs, computers, and other electronics.
Extreme-Voltage Shutdown: As soon as your device experiences voltage more than 137 volts or higher, this feature will disconnect power automatically. Thus, it protects the connected components from being potentially damaged. Therefore, you don't need to replace your expensive components.
Design: It has excellent quality construction and a sturdy aluminum chassis. Besides, the product offers users a warranty that helps them cover the loss of electronics.
Pros:
Series Multi-Stage Protection
It contains sturdy aluminum chassis
Extreme-Voltage Shutdown
Linear Filtering Technology
Cons:
Something is loose inside
Panamax MR4300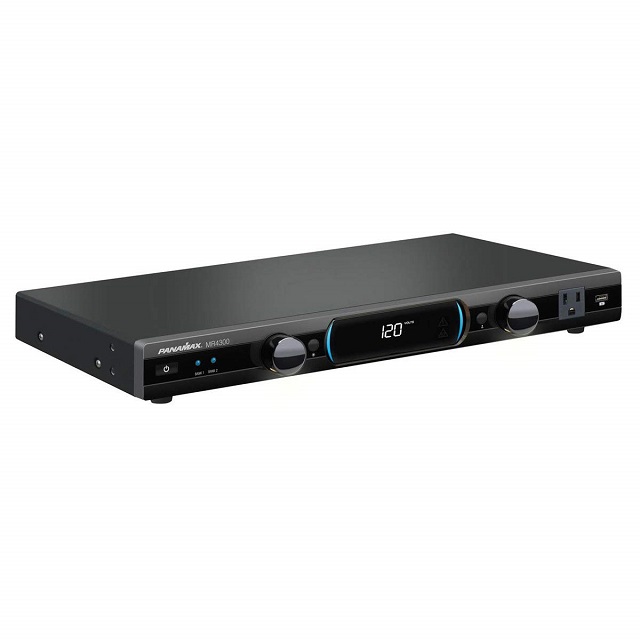 Description: This product is specially designed to offer protected and filtered power to the home theater system. It comes with a patented AVM circuitry that offers ultimate protection in power and filtering for AV equipment.
It offers nine secured outlets, two pairs of universal CATV/satellite connectors, one pair of RJ-45, and one pair of RJ-11 in/out connectors. The product has level 3 noise filtration that provides two isolated linear filtered outlet banks along with 2 High current outlets. These help to improve the image and sound of the AV gear.
Features:
Outlets: It comes with nine secured outlets that can help to monitor voltage automatically and protect or disconnect technology.
Protection to power strikes: The product protects against damaging power spikes as well as power fluctuations. These may cause danger to the AV system components.
Voltage monitoring: The Avm assists in monitoring the incoming line voltage continuously for surges and spikes. It can unplug the components during an overvoltage or under-voltage condition.
Warranty: The unique thing about this feature is that it comes with a lifetime product warranty. Besides, the product offers a Limited Lifetime connected equipment protection policy.
Pros:
Two isolated linear filtered outlet banks
Nine secured outlets
Lifetime connected equipment protection policy
Patented AVM circuitry
Cons:
Accell D080B-008K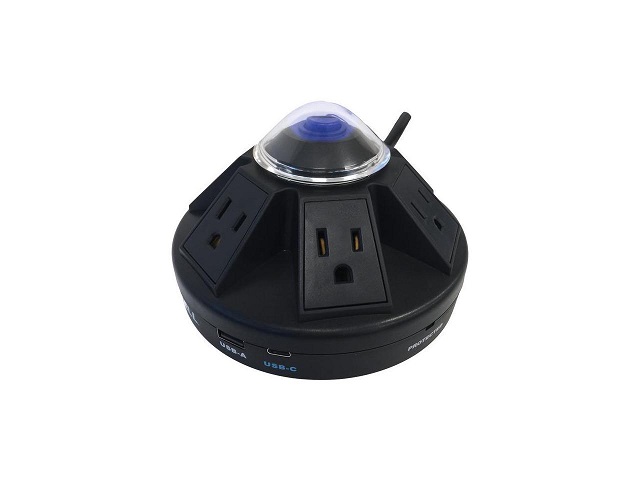 Description:  If you are looking for a power conditioner that has the capability to offer surge protection to your valuable electronics, then this product is suitable for you. It can offer 1080 joules of surge protection with ease to the precious electronics. Besides, the product can accommodate up to 5 bulky transformer plugs easily. This device can offer more flexibility compared to a standard surge protector.
This product has a default Noise Reduction Filter using which you can decrease line static caused by "dirty" power. You can find both Line noise and electrical static available as snow in your picture. Besides, these can also be available as cracking in the audio. It is the filter that helps to isolate the components from power-generated noise so that you can enjoy a clear picture and sound.
As soon as the product reaches the maximum joule rating, it won't conduct power after that. Thus, it assures you that your components are protected appropriately.
Features: 
Wall Mountable: It is a Two-way wall-mountable device, which means you can easily mount the product to a wall to save space. You can mount this as you prefer for improved accessibility.
Ideal for different applications: The device is perfect for home, Garage, Workshop, or Construction sites.
Outlets: All the outlets support a power adaptor, due to which no outlet is going to be wasted while you use this unique, patented designed device.
Built-in Noise Reduction Filter: If any minor fluctuations in power occur, it can influence the performance of your components.
5-Year Manufacturing Warranty: It comes with a rugged and durable design that allows your device to last for a lifetime. Accell Corporation gives a warranty to the product to be free of defects in material.
Pros:
Five-year manufacturing warranty
Outlets are compatible with power adaptor
Two-way wall mountable
Ideal to use in the home, garage, etc.
Built-in Noise Reduction Filter

Cons:
Pyle-Pro PCO800
Description: If you are willing to keep your equipment secured in the best way, then this product is ideal for you. It helps to keep the wiring organized. You can get eight rear outlets available in this rack mount Surge Protector that has 4 Wall Warts.
The product comes with a front panel switch that helps to control the power distribution. It comes with a default circuit breaker and a 15 Amp (1800 watt) power rating. These ensure that the gear is protected enough.
Features: 
1800W power: The primary objective of the design of this product is to enhance the power quality provided to the home appliance. In this case, the device needs to use transient impulse protection, power factor correction, or noise suppression to supply the power.
8 Outlets: There are a total of eight rear outlets with four wall warts that assure you that you will get sufficient space to plug in PC components or other devices. A front panel switch is the controller of the outlets.
Rackmount: The product has a rugged single rack space metal housing that makes the tool more reliable. Besides, this metal housing offers more stability. The product's weight is only 5.20 lbs, whereas the dimension is 19″ W X 1 ¾" H X 7 ¾" D. It is fully rack-mountable.
Simple to operate: The 19″ compact surge protector box is very easy to use without hassle. Hence, users need to tap on the front panel power switch merely.
Protects your devices: The product has triple mode varistor surge and spike protection. These features protect your components from noise interference, voltage fluctuations, and electrical surges. Besides, the features can boost the lifespan of the connected components.
Pros:
Triple mode varistor surge and spike protection
Eight standard rear outlets
Front panel switch
Completely rack-mountable
Simple to operate
Reliable
Cons:
Internal components are very cheap
APC J25B 8-Outlet J-Type Power Conditioner
Description: Compared to other products, this J-Type Conditioner is different. The reason is that it comes with a battery backup that is not usually seen in power conditioners. It offers surge and spike protection to the electrical equipment to secure them.
The product contains isolated noise filter banks. Besides, it is equipped with eight outlets that enable you to connect almost all electrical devices. It comes in a sleek & compact component design that is integrated with the AV system and furniture. The eight outlets offer security with a guarantee against dangerous power transients. It helps to eliminate the Radio Frequency Interference and Electromagnetic.
Features: 
Battery backup: As the tool is backed up, the battery power is 1500VA (865W); therefore it can eliminate interruptions. It helps to save recordings that are kept on DVRs and offers protection to the saved console games. With the help of a battery, the device can keep the satellite running even when the power goes out. It keeps the files of the computer stored and secured.
Voltage Regulation: It comes with an Automatic Voltage Regulation (AVR) feature protecting sensitive power supplies. In addition, it also helps to keep the voltage level safe. The feature helps your device to increase the audio and video quality (J35B only).
Outlets: The power-saving outlets of this product are capable of detecting while the PC is off or in standby mode. Then, these power off the current to the attached equipment to save money and power.
Display: It is equipped with a Dual-Color display to convey the changing unit and power environment conditions. The display is usually available in blue. However, it turns to red to alert you in alarming situations.
Pros:
Power-saving outlets
AVR or Automatic Voltage Regulation
Dual-Color LCD
1500VA battery backup
Cons:
Poor battery interface connector
Best Power Conditioner Buying Guide:
When you purchase the best line conditioner for your home's purpose, it is essential to plan out the budget.
Features and Functions:
Nowadays, devices come with multiple features and functioning qualities. But all of the features are always not essential for us. Therefore, it is vital to determine the features that you want to have in your product. Try to buy a power line conditioner that can meet your needs. For example, the product you will purchase should suit office AV equipment, home theater or musical gigs, etc. You need to ensure that you are not paying for the features that you won't use in the future.
Number of Outlets:
It is an aspect you need to decide as it relies on the number of attached AV equipment you want.
Rack-mount Capability:
This factor is vital and needs to be considered before choosing the right brand and model.
Environment:
Are you living inside an old building? Do you Experience power disturbances and power grid disruptions frequently? Then, it is essential to use a power line conditioner. With the help of a correct product, you can safeguard the home theater and AV equipment.
Whether you want to live in an area with old buildings, it is recommended to ensure that the location does not suffer any severe power line problems. Otherwise, it can damage your valuable AV equipment.
However, if you can avoid moving into an old building or area with power line problems, you don't have to use a product with multiple features and functions.
Conclusion:
We have given here details about the Power conditioner and discussed the five best power conditioners. I hope our article is helpful.
Frequently Asked Questions: 
Are power conditioners always essential for a home theater?
They are beneficial for home theaters in most cases. However, if you don't come with expensive equipment, use a surge protector. It helps to offer the protection that is required. Whether you come with any valuable home theater equipment, then you should buy a power conditioner.
Do power conditioners actually work?
The basic models are useful to use only with specific audio equipment. But these offer less accuracy than the high-end models. It helps to minimize line noise.
Is a power conditioner the same as a surge protector?
Apart from the price factor, many things differentiate these two. When you search more detail, you find surge protectors offering merely essential protection. On the other hand, a conditioner provides complete protection for electronic components.
How long do power conditioners last?
It helps to increase the lifespan of your precious home theater equipment. However, if you can, then replace it every two years.
What is the difference between a power conditioner and a UPS?
UPS or Uninterruptible Power Supply is a device that comes with a backup battery. It helps to run the device for a few minutes when the power goes out.
On the flip side, it is a machine that filters power and distributes it to electronic gears of different types like studio monitors or audio interfaces.