In this 4K era, HDMI has become one of the common ways to connect all multimedia devices to an LED. However, people prefer to use devices with a monitor which connects using components. You can not find the perfect connection cable because there is a cross-connection.Do you want to have an HDMI to component converter? Check out our top five products where all of these are reliable.
What is an HDMI to Component Converter?
HDMI to component converter is a type of converter used to convert High Definition Multimedia Interface video signal to Analog component/YPbPr.
Best Five HDMI to Component Converter:
Universal Premium Quality to Video Converter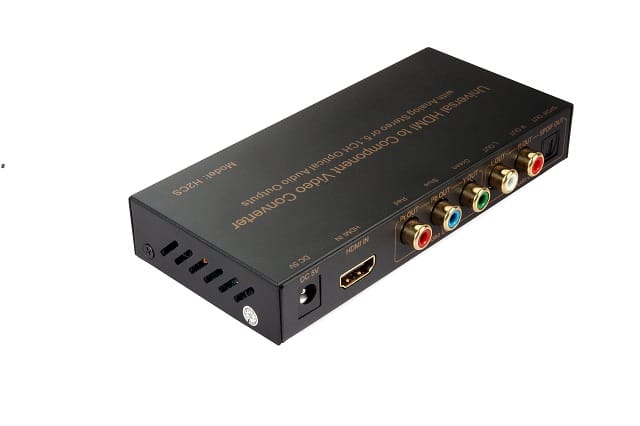 Description:
Usually, most televisions are compatible with component video input of 1080i. Therefore, you should check the TV's component video input specifications. For instance, Sony and Panasonic 1080P TVs are compatible with only component video input up to 1080i.
Besides, Toshiba and LG 1080P TVs are compatible with 1080P component video inputs. Remember that if you get 1080i video but no 1080P video, it indicates that your HDTV is not compatible with 1080P.
Features:
Compatibility: It can support incoming video formats up to 1080P. Besides, the product is compatible with component output with Scaler. It is suitable for 480i, 576i, 720P, 1080i, 1080P.
Usage: You can use Universal 100V – 240V Power Adapter with US Plug. In addition, it is compatible with NTSC and PAL Systems.
Audio output and format: The Optical Audio Output allows you to use the Audio Format Upto Dolby Digital 5.1CH / AC3. In addition, RCA L/R Analog Output is compatible with the High definition Audio Format of 2CH / Stereo. Besides, the product can provide the ultimate support for worldwide applications from Standard TVs to 1080P HDTVs.
Design: It is made up of complete metal jacket construction. Besides, it has all I/Os on the Back Panel. You can get One Year Manufacturer Warranty.
Pros:
1-year manufacturer warranty
Supports NTSC and PAL Systems
Cons:
Syncing problems with audio-video
Hdiwousp to 1080P Video Scaler Converter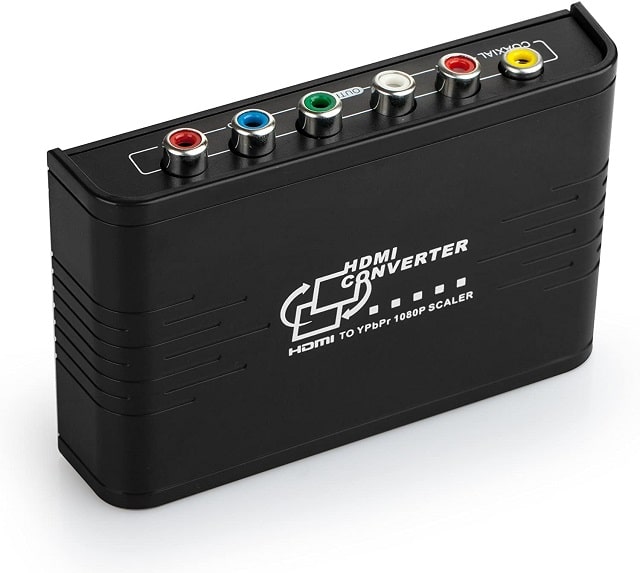 Description:
Its unique design allows people to convert a digital High definition Multimedia Interface or DVI signal from a High definition Multimedia Interface or DVI-enabled source to RGB video with R/L audio. You can use a DVI-HDMI connector here though it isn't included. This product lets you see the digital video you can showcase on an RGB display through a standard component video cable.
Features:
Compatibility: It enables you to use high-definition input into analog YPbPr video and R/L audio with Coaxial audio signal output. In addition, the model is compatible with digital Coaxial and R / L Stereo Audio output. However, it can help you to amplify without connecting HDTV/Monitor, and the model doesn't support reverse usage.
Moreover, the product provides both up-scaling and down-scaling functions. Therefore, you can use it for 165MHz/1.65Gbps per channel bandwidth. Furthermore, it is compatible with OSD (On-Screen Display) for input and output resolutions.
Connected devices: It enables you to use HDCP 1.2 and DVI by a DVI-HDMI cable or connector. However, the cable doesn't come with the product. You can use the product with Xbox/ PS3/ PS4/ Apple TV/ Roku/ Fire TV/ STB/ Blu-ray Players/ Game Console / DVD / Notebook, etc. Remember that the device won't receive any signal if the HDMI version is more than 1.3.
Resolution: The device is suitable for 1080p, 720P, 576p, 480p input resolution; and 1080p, 720P, 480p Ypbpr output resolution.
Installation: You can install the model easily as it does not require any setup. Hence, you can not use it in reverse. You should hit the "RESOLUTION" button to choose the best output resolution.
Pros:
Simple to use
Easy installation
Suitable for different input resolution
Cons:
It doesn't support reverse usage
Portta Electronics & Technology Limited to Converter
Description:
It doesn't support Component to HDMI. Therefore, it is not possible to use it in reverse. Ensure that your signal device comes with HDMI output. If you find the model not supporting YPbPr 1080p input, ensure that you need to lower the input signal to 1080i or 720p. Otherwise, you can't use it.
Ensure that you must connect the connector of the video & audio signal. You have to attach the green to green(Y), blue to blue (Pb), and red to red (Pr). You need to attach red to red for audio while connecting to white. Otherwise, it can cause the display to be abnormal.
Features:
Simple to Use: You can install the product very quickly. Hence, you don't need to use any settings. This one is a resolution pass-through model for conversion between video formats. But you can not use it to convert the input/output video resolutions;
Compatibility: You can use it for two-channel LPCM in the audio output format. Besides, it supports HDMI 1.3 and HDCP 1.2. Moreover, it is compatible with 165MHz/1.65Gbps per channel bandwidth for High definition Multimedia Interface Input. Hence, 6.75 Gbps is the bandwidth for all channels.
HDMI resolutions: It supports 480P@60Hz, 576P@50Hz, 720P@50/60Hz, and 1080i@50/60Hz.
Video resolutions: The device supports various resolutions, including 480P@60Hz, 576P@50Hz, 720P@50/60Hz, & 1080i@50/60Hz.
Pros:
Easy to use
Quick installation
Cons:
LiNKFOR 1080P to Converter: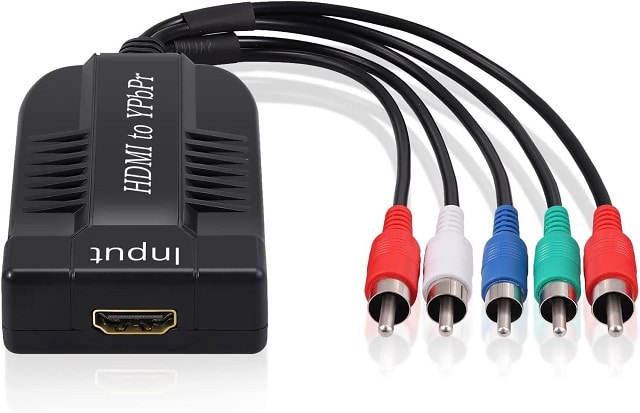 Description:
You need to attach the high-definition input from the source device to this model. Then, you need to attach the YPbPr output to the display device. After that, your task is to turn on all connected devices. Next, you should select the input of the display device to the YPbPr channel. Now, you have to set this signal output of the source device to the High definition multimedia interface.
Features:
No reverse: It never supports YPbPr to HDMI. Therefore, you can not use it in reverse.
High resolution: It is suitable with 1080p, 720P, 576p, 576i, 480p, 480i high-definition input resolution and 1080p,720P,480p YPbPr output resolution. Besides, the product is compliant with its 1.3 version, not supporting 2.0 or above and HDCP2.2.
Resolution Button: You need to take the help of the RESOLUTION button to choose the best output resolution. Besides, the device can adjust resolutions including 480p/60hz, 576p/60hz, 720p/50hz, 720/60hz, 1080p/50hz, 1080/60hz, etc. You don't have to install drivers.
Compatibility: It allows you to use for Blu-Ray, HD-DVD, VHS, DVD player, HDTV box, HD PVRs, HD DVRs, HD recorder, PS3, Xbox 360, Xbox, Firestick, Roku, Apple TV, PC, HD camera, Notebook, Fire TV, STB, Game Console, etc.
Pros:
Supports Blu-ray, VHS, STB, PS3, etc
The resolution button is available
Cons:
Unable to connect old Xbox 360
NEWCARE to Adapter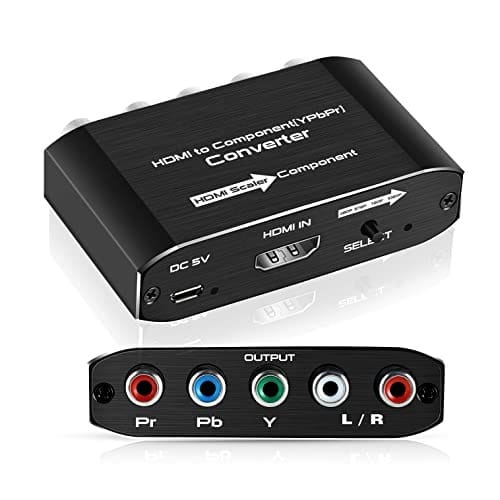 Description:
You can not use the product in reverse. If you want to use it, the display resolution of the monitor or television should be higher or the same as the signal source. Otherwise, you can not use it. In addition, you can't use the model with a soundbar, amplifier, headphones, or other audio devices, including Bose system.
Features:
One-Way Transform: You can use it only in one way. Therefore, ensure that the signal is one-way. Besides, you should ensure that the input signal is the YPbPr port, not the RCA port.
Vivid Video: It allows you to attach the YPbPr old DVD player or game console/ Xbox 360 to the new display. In addition, it is compatible with the highest video resolution, up to 1080P.
YPbPr output: The product supports 480P/60Hz, 576P/50Hz, 720P/50,60Hz, 1080P/50,60Hz(Max.) When it comes to high-definition input resolution, it is suitable for 1080p, 1080i, 720P, 576p, 576i, 480p, 480i. Remember that Sink and  Source should have a similar resolution to make this product work.
HD Audio: It is compatible with uncompressed audio. For instance, the product supports DTS Digital, Dolby Digital like DTS-HD, and Dolby True HD. In addition, you can use the model with PCM stereo.
Simple Operation: You can install and operate it easily, and it doesn't need any extra software. In this case, you must plug the AC adapter directly to give power.
Accessories: It includes a suitable adapter based on the model and a 1.5V Power Adapter. Besides, it offers the best After-sale service.
Pros:
Best After-sale service
Easy to operate
No additional software
Cons:
HDMI to Component Converter Buying Guide:
These are lucrative when it comes to connecting your audio and video devices. But you must do some research before buying one. We advise you to purchase the best model after going through these factors.
Cable:
Choosing the best High definition Multimedia Interface cable is essential for networking. You can get multiple options from high speed to Ethernet and everything between. Thus, you need to know your requirements first. Then, select a cable that can cater to your needs in the best way.
Compatibility:
You must not want a converter that is unsuitable for every device. Therefore, choose a model which can connect to many screens. So, you should select one which comes with extensive compatibility. Make sure it is suitable for all of your devices.
Connectivity:
Keep in mind that all products are not the same. Each model comes with different connectivity options. Besides, you can see differences in their ports and usability. Therefore, you must confirm that you have chosen the correct one that works smoothly with your devices.
Cable Length:
Try to buy those products which have longer cable lengths. Compared to others, these are better and more flexible. However, remember that you must not use short cables. These are useless, which can affect the final results.
Scaling:
While converting videos on an HDTV, you must consider this factor. Ensure that you should have both upscale and downscale capabilities. Try to buy the best device as it can provide the ultimate performance. You can see movies in crisp quality. All types of people, including nearsighted people, can see it easily.
Signal Processing:
It is a crucial factor you must consider before purchasing the best model. This factor lets you know how efficiently and quickly a device converts signal transmission. Therefore, it is recommended to use a product that is easy to use and can offer smooth & hassle-free working.
Durability:
While buying any product, you must want that your device lasts long and becomes durable. But these can break down before giving these a proper try. So if you want to avoid the issue, you should use a model with an ensured sturdy build, such as rust-resistant metal. The reason for that is these materials can offer extra strength. Therefore, your device won't twist or bend easily.
Video Quality:
Are you willing to purchase a quality model? If yes, then video quality is something that you must consider. While buying the best, you will find ample models available. Hence, it depends on you which one is ideal for your requirements. Whether you are willing to have 480p, 720p, or 1080p, your job is to use a connector. These are the option to choose the desired stuff.
User manual:
When you have a user manual, it is necessary to play the video easily. It is not so simple to connect everything and use your connector except by reading the user manual. Therefore, you must choose your product wisely to avoid issues.
Reviews:
You can check out multiple reviews, which leads to a safer purchase. You need to check out most reviews to decide which is the best. Ensure that you must not sort out a great deal based on price. You are unable to grab the correct model using it.
When you consider these factors, you can ensure that it is time to take a final decision. If necessary, check the reviews to finalize which model is the best.
Conclusion:
After considering the buying guide and the best five HDMI to Component Converter products, you can Choose your choice. Design, frequency support, and other features can make sure that you have got the best model.
Frequently Asked Questions:
Can you convert HDMI to component?
Yes, it is possible using a converter. It allows you to take your video signal. Thus, you can convert the signal into an analog format with high resolutions.
Do HDMI to component cables work?
Yes, these work. Whether you are eager to enjoy a higher-quality movie or watching experience, you can do using the simple adapters. Most HDTVs use the High Definition Multimedia Interface connector, which can offer sound and color better than analog signals.
However, you don't have to worry if you have an old TV set. It is because you can get an inexpensive HDMI Interface to component converters to convert your video signal from one type to another. But unfortunately, all converters can not convert components and composite video to High definition Multimedia Interface. Therefore, you must be aware while buying.
Can a receiver convert High definition Multimedia Interface to component?
The AV receiver can not convert a composite or component video input into an HDMI output.